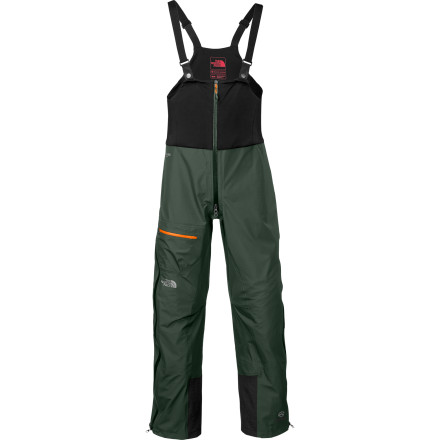 Once your mountain-filled dreams take you above and beyond your local icefalls and simple summits, let The North Face Meru Gore Bib Pants protect your most ambitious alpine missions where the worst weather on earth greets you daily. This sturdy, stretchy bib features a Gore-Tex Active Shell to ensure protection against skin-searing snow and ice,while its alpine-ready articulation enables unrestricted movements. This Summit Series bib includes enhanced features requested by The North Face athletes Conrad Anker, Jimmy Chin, and Renan Ozturk.
Guaranteed waterproof and highly breathable Gore-Tex Active Shell features an incredibly durable outer shell to keep any amount of snow, rain, or rime out
Fully taped seams mean no drops can get through and send you back to base camp
Stretchy bib top with FlashDry thermal technology features microporous particles to encourage the evaporation of moisture in the fabric as well as from skin, which enables evaporative cooling while climbing
Articulated alpine fit matches your body's position while you climb or belay
Low-profile suspenders provide a custom fit, stand up to lots of abuse, and won't feel bulky
Full-length two-way side zippers combine to form a drop-seat for easy bathroom breaks
Three-way front zipper opens extra low for easy on-off at camp
Integrated gaiters lock onto your mountaineering boots to keep out the cold and snow
Thigh zip pocket stows a multi-tool to aid your demanding climb
Keprotec kick patches prevent tears and wear from crampons and sharp granite
Bib goes with The North Face Summit Series Meru Kit
Great bibs
Gender:

Male

Familiarity:

I've put it through the wringer
I'm 5'11" and 170 with a 32" waist and needed a large.

I used them most recently on a 7 day ski mountaineering trip across the sierras, temps ranged from 60 and sunny to 11? and storming. They breathe exceptionally well and I was warm enough while active in the warmest Patagonia capilene long underwear.

The rainbow zip is convenient. Low profile bib straps are comfy if you arrange them right with your pack straps. Amazingly breathable. Thigh pocket is gusseted so it doesn't press the contents into your leg making it useable.

Gaiter zips allow for use with my Scarpa Mobe ski boots.

Cons: there are only enough zippers to vent one leg at a time (install 2 more pulls next gen TNF).

Only one inseam length, if you're very tall they may be short on you.

I added some cord to the thigh zipper and middle crotch zipper so I could use them with a pack and gloves on, easy fix and personal preference.

Weak attachment of suspenders is tearing. This would be an EASY fix even in the backcountry but is a little annoying. Count on TNF to fix it though, great company to deal with in my experience.

Overall the best bibs I've seen for skiing and climbing, owing to their great cut and breathability. If you need more than a soft shell pant this is the best choice!
like these bibs, but they were cut on the small side---I ordered XXL I have a 40 waist 32 inseam and they were too small
Good Shell Pant.
Gender:

Male

Familiarity:

I've used it once or twice and have initial impressions
I haven't quite put this pant to the test in snowy conditions but I've had it in fairly cold temps 10-20 and it worked just fine. It's a shell just like any other and as expected you have to really layer carefully under it or you will be cold. I've spent the last 3 months dealing with the Oakley Sethmo bib pants and jacket and have had a hell of a time figuring out what I have to wear underneath to stay warm. I was hoping that this TNF pant would be a little bit warmer as a shell and that I'd only have to wear one pair of baselayer pants underneath. I was wrong. You need 2 pairs of baselayer pants underneath this shell if it's below 30 degrees. The upside is that they fit really well and are light. My ski edge doesn't clamp down on the side of the opposing leg and nearly cause me to crash like a lot of my ski pants have lately with this pant either. So overall, if you really want a good Gor-Tex ski pant with good performance ski fit this is a good pant, you just need to layer accordingly like you would with any shell.


I tried these on in the store, I did buy...
I tried these on in the store, I did buy the jacket, but the pants were a tad short, anyone else have this issue? im not tall. 5 11, and I tried a med. fit everywhere but the lenth
keegs, I'm 5'11 also and haven't had any problem with the fit of the Large size. Unless they are hanging above your boot I woudn't worry. They are meant for mountaineering or ice climbing and are meant to fit snug or to the body fairly tight or form fitting. I'm using mine for skiing but I wanted them form fitting because I'm tired of almost crashing right in the middle of an important turn because my ski edge clamps down on my opposing leg. So, no I haven't had a problem with the length and if you know what these pants are meant for, you won't either.


I'm 5'11" with 32" waist and a large fit me better.


does the meru bib work well for skiing?...
does the meru bib work well for skiing? did they slip easily over your ski boots?
The gaiters have zippers making them easy to get over your boots. If I try to stretch the gaiters over my boots without unzipping them its a tight fit.
Yes, the Meru bib pant works well for skiing and does slip somewhat easily over your boots. When I say somewhat it is something I'm thankful for because I was having a problem with my ski edge clamping down on my pant leg in the middle of big turns. These pant legs barely fit over my ski boots but as long as they do, I'm okay with it.
Awesome bibs so far.
Gender:

Male

Familiarity:

I've used it once or twice and have initial impressions
I've only gotten out in the mountains about seven hours in these so far, hiking and skiing (with my son on the flats), but my first impression is that they are awesome pants made of bomber materials and the fit chart got me the perfect size.



First, the fit - I'm 6' / 195lbs and my waist size put me in the middle of the XL - the fit is perfect, no tight areas or binding but not saggy anywhere - love it.



The bibs seem well put together, and while the primary material has a rather soft hand leading me to worry initially about it's durability, I soon put them to the test on my first use by tripping on a rock and totally eating shit on sharp rocks of Sonora Pass - I was sure they would be scuffed or maybe torn, but they survived without a mark... impressive.



The Bad - two design points which need to be addressed in the long term:



1. The lack of quick-releaseability of the suspenders - so if you have the suspenders on over your base layers as is my habit, you have to take all your top layers off to remove the bibs. Not a deal breaker, but a bit inconvenient when it's still dumping but you want to de-bib for the long drive home. I'm thinking I'll probably end up modifying the straps myself to add quick release buckles of some sort.



2. TNF, Y U NO LIKE POCKETS??? Seriously guys, there could be some sweet storage integrated into the bib uppers with zero bulk gained, and each leg could get a cargo pocket instead of just the one. While you're at it, those pockets could use at least a cm increase in each dimension to be of much use. Right now, keys and a clif bar and you're about maxed out.



Overall I'm stoked with these bibs so far, and I'm stoked that TNF didn't immediatly jump on the $500+ bandwagon like so many other manufacturers have done.
Is this bib insulated or is it just a...
Is this bib insulated or is it just a soft/hard shell?
These bibs are a waterproof shell only with no insulation.