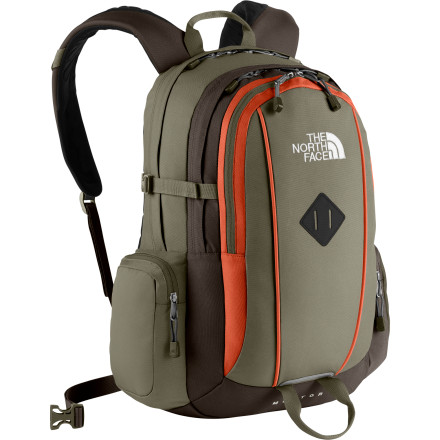 Description
Let The North Face Mentor Backpack introduce you to a more organized carrying system.
The North Face made the Mentor Backpack with pockets in the main compartment, an organizer in the secondary compartment, a large front pocket, and side zip pockets—all so you don't have to go on a five-minute excavation just to find your stuff. A stitched back panel and padded shoulder straps make carrying a heavy load more comfortable. Pack the Mentor Backpack for a full day at school or a sightseeing tour around the city. The North Face Mentor Backpack's waist-belt is removable, so you can carry your lighter gear without having extra straps dangling down.
Share your thoughts
What do you think of the
The North Face
Mentor Backpack - 2150cu in
? Share a...
Love it!
Gender:

Male

Familiarity:

I've put it through the wringer
I've had this for 3 years now and it's been the best pack I've ever owned. Fits my 17" laptop perfectly. Great build quality. Will last for years to come I'm sure.
Huge and Laptop Compatible up to 17"
When I saw the gear I was greatly surprised because is a larger than the pictures show. Excellent quality and service.
Perfect for a high school student
This is our second NF Mentor backpack. My daughter brings home really heavy textbooks and this backpack is up for the task. In addition, it has plenty of room for other items.
The Mentor does what it's made for, a great day to day pack for school/work. Personally, I use it to work and back and it has been sufficient. Wouldn't mind if it were a little bit bigger though. The only other qualm I have is the zippers, though sturdy, seem to "catch" often, and are not very smooth operationally. This seems to be a common occurence in most Northface bags I've owned.
Another Great North Face Pack!
I have purchased the following: 1-Surge, 2-Box Shots, 1-2007 model Recon, 2-2009 model Recons, and 1-Mentor, the Mentor being the most recent. I have given 3 of them as gifts, and was very proud to give them. The Mentor is a great pack for any occasion, whether taking a hike to where you want to be, to taking a couple of days' clothing for a short trip. The Recon has a nice place to put damp items, or caps, etc. with the mesh compartment, but for a carry-on at the airport, or keeping things dry (and private) the Mentor works great! I would recommend it for anyone. Also, it is well made, as are the others mentioned.
Holds a lot more than I assumed. I used it to travel to Europe for 10 days and it did the trick. It was stuffed in various overhead compartments (it was fully stuffed and allowed on over 7 different planes flying 3 different airlines) and held together as expected from The North Face. The padding is good because it's not too much but still has a 1/2 inch or so of give. I'm 6' 4" and it adjusted to fit comfortably. Just buy it :)
is the northface mentor designed specifically...
is the northface mentor designed specifically for women? thanks..
A gift. Recipient states perfect for skiing and even taking to the gym. Loved it!
Well, the bag is nice. it sits good on the back and the internal split is smart. However, a laptop back should protect the laptop. In this bag there is now protection from most sides, so you must use a laptop sleeve. another issue is that the chest strap is missing for no good reason.

So - make sure to use a sleeve or get a bag with a padded laptop slot.
Awesome backpack, very spacious
This backpack is much larger than i expected, it has a sleek look, and many pockets. its main pocket is large enough for about two to three days of clothing, or a laptop and two large textbooks(although i held three i had no laptop in it). The water bottle holder is fine if you don't mind leaving it unzipped for larger bottles(from 16 oz. bottles and up, can't fit gatorade bottles in it, at least i never tried), the smaller ones fit jut fine into the pocket.
It's a nice backpack.
I like it a lot. It helps me to organize better. The only thing that I wish it could have more is the place where I can put my water bottle. Other than that, I really like it.
Does this have a special compartment for...
Does this have a special compartment for a laptop??
This pack does not have a laptop compartment sleeve.
This is incorrect. There is certainly a laptop sleeve, as I use it every day to and from school.
Im taking this backpack to Europe. Will...
Im taking this backpack to Europe. Will it work for a weeks worth of clothes and a laptop?
That'll be pretty small for a weeks worth of gear. The laptop may fit, but unless you wear the same clothes every day, you would rather a larger pack. Check out The North Face Terra 40. It's a bit bigger with trim styling (read: not a lot of straps and crap hanging off of it) and not too spendy. Have a blast!You'll need @ least a 3500ci pack for a week in Europe.
Nice backpack, straps a little close
This is a very nice pack, very good quality. My husband only wore it one time and returned it because the straps were too close together for his build (6'1" 190lb). He needed a pack to wear on his Suzuki GSXR and found that when he wore this the straps rubbed against his neck too much. For any other function (or smaller build) I think this would be a great pack to have.
good bag holds on when i get going.stuff stays dry trust me im out in the grind hard.has alot of room
This backpack is very organized and is in general excellent. The main compartment is large enough to hold 3-4 textbooks, and the laptop sleeve is spacious and sturdy. The secondary compartment has a typical, effective organizer for pens and loose items. The secondary compartment itself is not large enough for letter-sized items, but holds smaller books and loose items well. The third compartment in the their is somewhat redundant to the second, but gives you an additional partition for separating items. To its detriment, the side pockets are not large enough to hold a water bottle; there isn't a good place for that. Calculators, computer peripherals (power cables, headphones, etc) and similar quick access items fit well there. The straps are comfortable, though I'm concerned the fabric component at the base of the straps will break under strain. I'm pleased with the backpack, though I wish it were larger.