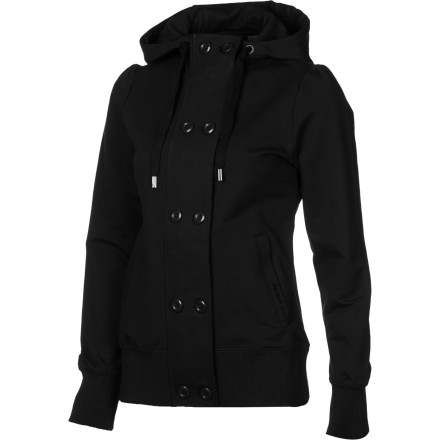 Detail Images
Ask that successful, rugged mountain man to walk you to your car after you zip up The North Face Women's Make Out Full-Zip Hooded Sweatshirt and then let your hormones take over in the alley. With a slight stretch and a concealed front zipper, this soft French terry fleece hoody feels great in the chill, but all you'll be thinking about is discretely prepping your mouth with a mint that you've been carrying in the Make Out's front pocket.
What do you think about this product?
Have questions about this product?
Sometimes I like wearing a hoodie without looking too hoodlummy. Super comfy but a little more refined perhaps? I love it.
Saw this on a friend and loved it. Found it on BackCountry. It is a stylish, North Face Hoodie. It fits perfect and looks great. It is dressier than an average "hoodie" so can be worn for casual wear. I would highly recommend it. I also bought one for my 23 year old daughter for her birthday and she loves it. We live in different towns so we can both have and wear it!
I'm a nurse, and we wear a lot of hoodies over our scrubs. This one looks PROFESSIONAL. More colors, please!