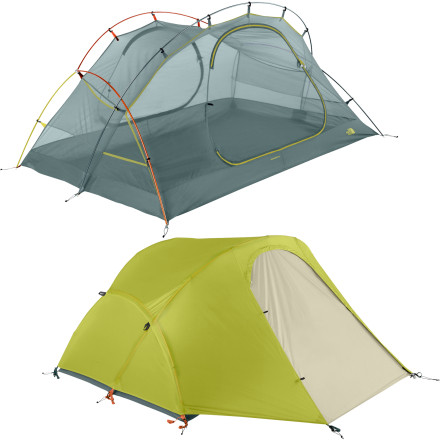 The North Face Madraque 33 Tent abandons conventional pole design to provide steeper walls for more interior and vestibule space when you need it. Dual doors let the three people get in and out quickly while the large vestibules keep rain off your boots and packs during the night. The North Face added stash pockets to keep small items from getting lost in the floor clutter, and you even get a compression stuff sack to ensure this tent doesn't take up too much pack space.
Obviously this tent is capable of the...
Obviously this tent is capable of the outdoors, my only question is if it can fit 3 people comfortably?
James,

Yes, this tent should fit 3 people inside very comfortably, especially if snuggling is an option and you're not hiking with a 7-foot, 300-pound muscle-y man who snores and has bad BO. Stink happens. You will DEFINITELY have room in this tent for two people and some gear.

Happy trails!
I'm not sure what "abandons conventional...
I'm not sure what "abandons conventional pole design" means, but the tent looks like it has a lot of loops and hoops to hold it up. Is the set up complicated? How does it work?
Best Answer
The set up is actually very simple - it's actually all color coded. Blue poles will go to blue grommets, blue clips will clip onto it, etc. The 'abandons conventional pole design' applies to the poles that are yellow and orange. They are connected at a hub, and that helps reduce weight while still providing steeper side walls and more space and headroom in the interior. Although this is labeled as a 3 pole tent, it's actually difficult to say how many poles it has. The orange and yellow poles, being hubbed, are all connected by the same shock cord and are attached together. The blue pole is separate. The 'Jake's Feet' on the orange and yellow poles make it very easy for one person to pitch without poles coming out of grommets.
This is a very comfortable and remarkably sturdy tent! I've sat out some pretty strong storms with 4 people in it sitting up and playing cards without it feeling cramped or unstable. I work for TNF, and we had one in demo gear to check out. I used it so many times I decided I needed one for myself, and have been very pleased with the purchase!
Hopefully this answers your question.
Is there a vestibule at each door?
Is there a vestibule at each door?
There are vestibules at both doors. However, the "back door" vestibule is approximately 1/2 the size of the front.
Unanswered Question
My son and I will be camping this summer...
My son and I will be camping this summer on a number of Boy Scout adventure trips. Wil this tent do the trick? I live in Germany, so rain is always likely. Thanks. Dave