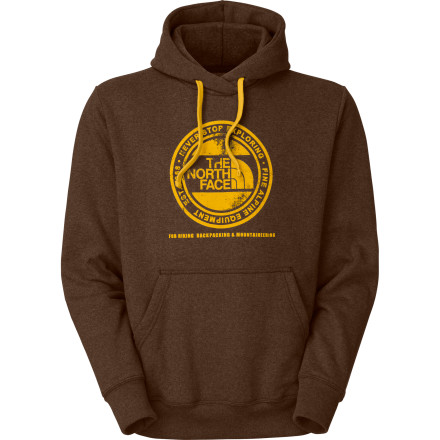 Another great item from backcountry and the north face.. Fits a bit small but maybe it's time to shed some of the winter weight...
This has quickly become my favorite hoodie that i have ever owned. ridiculously comfy. Very soft inside. Breaths rather nicely, but still a pretty warm hoodie. Def worth the money, i wish they had more colors and different logos because i would def order another one with out and hesitation.. so happy with this!
I wanted something comfortable for hanging out at home or casual hangouts, and this hoodie fit the bill. The fleece is really soft inside, and you can tell by the feel that it's really well made. I ran the hoodie through the drier so it wouldn't be quite so baggy, and I shrunk the sleeves a bit shorter than I wanted so be careful if you're going to machine dry this hoodie--it will shrink a bit. Also, the neck and hood are snug around my neck so it really holds in warmth. Perfect for chilly mornings, but maybe too warm for inside if the heat is turned up past 68.



All in all, it's just what I needed for chilly,chill times when comfort is key.
just got this today.....put it on went out for a walk with the dog in 30 degree weather with just a tee shirt on under this and i was fine. Also this is one seriously comfy hoodie....love it. i am 5'8" 180 lbs and the XL fits me great not to long or baggy. i have broad shoulders and can never seem to get size right and this fits great.....hopefully it wont shrink to much!