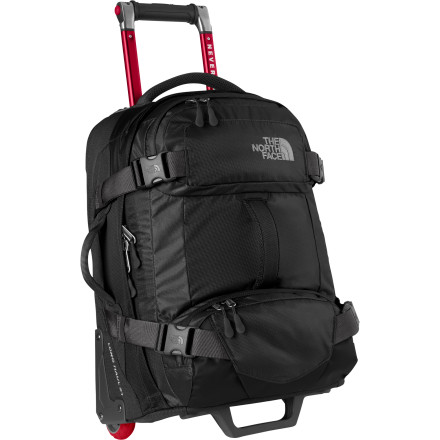 Detail Images
Description
In it for the long haul.
Get set for your next globetrotting adventure with The North Face Longhaul 30 Rolling Gear Bag. The Longhaul is generously sized to hold your clothes and other necessities for a week or more, yet is cut narrow enough to slide easily down train aisles.
External organizer pockets stash maps and travel guides
Smaller internal mesh and zip pockets keep you organized
Roll-top wet/dry compartment segregates damp items when you're on the go
Handles on the bottom, front, and side, make it easy to lift the bag
Internal bungee compresses your gear to limit shifting and allow you to pack more in the main compartment
Business- card window facilitates easy identification of your bag
Unanswered Question
On the North face long haul 30 bag how long is the handle extended, mine extends only 12 in.
How much would overnight or next day...
How much would overnight or next day shipping be to Springfield Il? I leave on Thursday!
Best Answer
Mary Ann,



Typically those rates are around $25-30$ for an item this size. However, we would want to run those numbers based on your exact shipping details. Please contact our Gearheads Team by chat or phone and we will be happy to help you with that ASAP.
Excellent Luggage
Familiarity:

I've put it through the wringer
I recently purchased this bag as a substitute for some other luggage that I have in anticipation of a two week trip to Europe. I also travel a lot for business and have generally not been impressed with all the various luggage items that I own. This bag was great and I am really glad I got it rather than another piece of rolling luggage. It is a large bag but meets all airline requirements. There are lots of handles and pockets which make it easy to pick up from any side and the outer pockets are great for storing items you need to get at quickly. The handle is very sturdy and robust, the bag rolls very well through airports or down a city street and is easy to turn and manuver. The size of the bag combined with the rigid back and adjustable cinching straps make it easy to pack it completely full or partially full and cinch it to the correct size. Bag also stands out well on the carousel and is easy to recognize. The material quality is very nice as you would expect from TNF, zippers and pockets are all robust. I love it! This will now be my preferred luggage over a more traditional suitcase.
Is this bag big enough for a 5-7 day ski...
Is this bag big enough for a 5-7 day ski trip with ski boots?
Is this bag waterproof, or at least very...
Is this bag waterproof, or at least very water resistant? In other words, can it be left out in the rain with getting soaked through?
Best Answer
Hello,



It is water resistant to a certain degree. I have travelled with the bag frequently and decided to clean it with a pressure wash and soap (approx 3 min). Water didn't enter the bag and tended to bead up and roll off the bag. I wouldn't leave it out in the rain though.
I just received the bag a few days ago, the pictures are a bit misleading. This is a huge bag (and was shipped in a box that could have fit 3 of these bags in it). The pictures show a short looking backpack. I know it holds 88 liters but its all in the heigh. It's 33" tall without the handle extended. I wish I could have kept the bag, but it was too large for my application. Well built and constructed.
Great Bag! Roomy Enough and Stylish.
Used this bag for the first time for a 2+ week trip to Europe. I found it stylish and well-designed, and especially easy to roll and to lift.

While I could have fit in the 26", I was happy to have some extra room, and if you have less gear and tighten the outside straps on this bag, it gets fairly compact.

The upper outside pocket is roomy enough to hold a significant dob kit and a makeup case. The bottom outside pocket was bonus room.

The bag unzips completely giving easy access to all, and the inside of the black bag is red, which made me happy each time I opened it.

Our other bags are from the Eagle Creek ORV collection. While the fabric on The North Face doesn't seem as durable, I think the bag will still hold up well.
I'm comparing this to the sidetrack 25-the...
I'm comparing this to the sidetrack 25-the sidetrack 25 looks like a suitcase with non collapsing sides however i'm looking for a 30 inch when this rolling gear bag empty is this a softside that collapses or do the sides stay up like the sidetrack? is there a 30 inch sidetrack-anyone know thanks for your help
Hello,

The softside does collapse as required. However the base is rigid (non-collapable) allowing for it to stand up right even when empty.
I just got one of these before my last adventure and I fell in love with it. It's sturdy, easy to roll around and comes with all the important compartments I need for staying organized. Since I find my self running through train stations all winter it's the perfect size to fit the gear I need and to lug this and the rest of my gear around!
Does somebody know for how many kilos this...
Does somebody know for how many kilos this bag can carry ?
Is it adequate for up to 32 k ?

Thanks !
Yes it adequate for up to 32 kg. I have packed over 35kg into the bag on previous trips.
would this bag fit / allowed as a...
would this bag fit / allowed as a carry-on?..
Hey Pepo I think you will have a hard time getting this one on as a carry on, it's pretty big, the carry on version of this is the longhaul 21. Check it out here: http://www.backcountry.com/the-north-face-longhaul-21-rolling-gear-bag-2000cu-in
Is the Weimaraner Brown color closer to a...
Is the Weimaraner Brown color closer to a chocolate brown or more of a tan khaki? I'm a little bit colorblind and have a hard time telling.
It definitely is more khaki than chocolate brown.