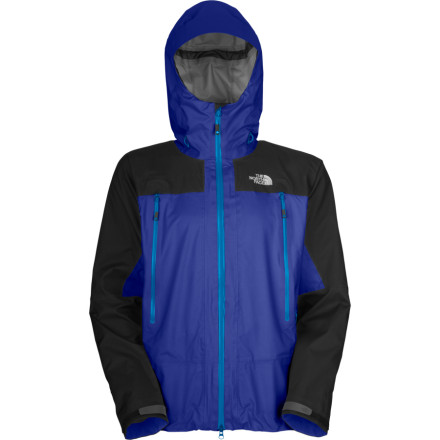 Community Images
There isn't a fast-food stop on the summit of Mt. Rainier. There isn't a coffee shop or a place to get a cocktail. There isn't anything, and that is one of the reasons you have to go there. It will be just you and nature, and you will be completely ready for it. The North Face's Lockoff Jacket uses a Gore-Tex Pro Shell to keep moisture and wind out while remaining breathable, and the adjustable hem and hood let you cinch this jacket tight around you.
The 3-layer Gore-Tex Pro Shell provides big-mountain protection from water and wind
Ultra-lightweight for easy packing and easy movement
Underarm zips let you dump extra heat when heavy trekking gets your blood pumping
PU zips help keep moisture from coming in at connection points
Looks Goot At First But Long Term Quality is Lacking!
I had this jacket for about a year in my closet but I didn't get to wear this jacket much until recently with the continous days of late Autumn rainfall in the North East. I didn't wear this jacket during rough skiing or any heavy backpacking trips only light day hiking and running weekend errands around the city. After only one wash with very mild "Goretex/DWR friendly" powdered detergent and a line dry I noticed the taped seams rippling and coming apart along the main zipper. Also the outer nylon shell that attaches to the gortex developed what looked like Black spots all over but on closer inspection it is the gortex lining seperating from the nylon shell!!! This is from maybe 3-5 times of light wear and 1 time carefully washing the jacket. I no longer recommend this jacket and it seems that TNF has long ago discontinued it but it still sells on eBay for less. Even at $100 this jacket it not worth it!
If you live on the West Coast or Cascades this is the ultimate everything jacket to have.I've been waiting years for this jacket.Epic rain and snow you stay dry.Athletic fit for skinny people like me.No bulky loose fitting joke.Classic Scott Schmidt colors
how can you go wrong.
Decker ski with Olympic gold medalist
Skiing Decker in the Blackcomb backcountry with a friend who got a gold medal in the 2008 Olympics in rowing.
Good enough for the Highlands. Good enough for me.
I took my Lockoff to the Scottish Highlands and wore it on hikes in Glencoe. Though it was incredibly windy and wet to the extreme, the Lockoff kept me dry as a bone so I could head right to the pub for a cask-conditioned ale at journey's end. Great fit. Great performance. The North Face Summit Series gear is at least as good as the best stuff out there, and often much, much better. I couldn't be happier with this jacket.