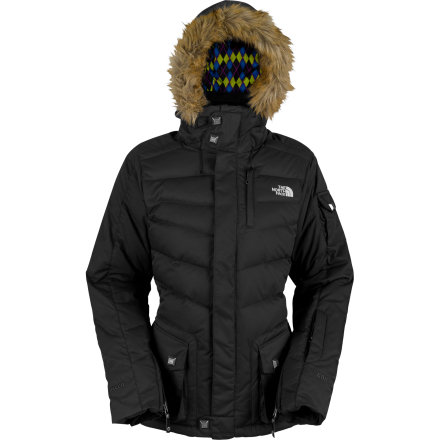 Bought this jacket in May, b/c I fell in love with it online... Didnt want to write a review till I got to try it out... The fit is great, the look is great, and the warmth is great! I locked myself out of my car the other day and had to wait outside during a severe winter storm (as I live in Pennsylvania), it was super cold, super windy, and super snowy! However, I was super warm! I must say it is a steal at the price and is so worth it! I love this jacket!
I am 5' 9", 150 lbs. I thought I needed a L but it turns out a M is perfect even in the body length as well as sleeve length. True to Size, do not order too big or you will end up with way too much room in the upper arm and waist. Cute jacket, more alternative looking then in the photo. Large trim details, but still cute.

The ONLY thing I do not like is the faux fur...it looks really cheap! they should have put better fur on the hood. BUMMER! over all cute style and fit.
North Face La Fonda Jacket
I normally wear a size 10 but had read reviews that the North Face jackets ran small so I ordered an extra large. It fit fine in the armpits and across the chest but it was too large around the bottom and the sleeves were too long - and I have long arms. I also don't like the color of the inside - I don't like blue.
I bought this jacket for super cold mornings ranging from 0 degrees to 15 degrees F. It's awesome, fits to it's true size, doesn't run small or big. It's really comfortable and warm and I love the zippers along the inside of the arms for ventilation. That's something you'll get use to after while because at first it will feel like there's cardboard along the sleeves.

The fur around the hood zips off also, and when you do zip it off it doesn't completely cover your head, more like 3/4 of your head. I like it that way though. The entire hood zips off too.

I've had it on when it's been dumping (snow) out and it's totally waterproof and keeps me warm. I don't sweat in it either because I wear thin layers underneath. I wore it on the mountain on a blue bird day thinking it might be too hot with it on but it was perfect with all vent pockets as well. I haven't worn it in the pouring rain yet though so can't say a review on that yet, I don't plan on taking it out in the rain anyways.

I'm completely happy with the jacket and it looks really good too. I've had it for two months now and it's totally what I wanted.
I've been wearing this jacket for several months now in Chicago, and I have no complaints. It keeps me warm even when I wear light-weight shirts underneath. The hood is definitely big enough to cover my head when it rains- if anything, the hood is a little big for my head. I'm tall, so I love the length of the jacket's torso and arms. I'm fairly thin, but I ordered the medium for the length, and it fits me just right- a little snug without being constraining. The best part is that the hood unzips off, but you can also unzip just the fur off if you want to change up the look. I love all of the pockets- I'm still finding new pockets today!
serious jacket, ugly lining
This is a serious jacket for the slopes, especially if you are 25 or under. I'm not. The lining was even more wild than it shows up online - don't know why they couldn't just make it black! The closure hardware is also a little industrial looking. Fit was good (I'm 5'4", 111 lbs.) but sleeves were maybe a little long.
Does this jacket run small or true to...
Does this jacket run small or true to size?
Yes. Sleeve is slightly shorter than expected. I'm 5'7" and 119 lbs.
Unanswered Question
Just wondering if the hood is pretty large...
Just wondering if the hood is pretty large to cover when it rains?
, ☃bcs_badge_alumni_label☃
Length: The center back length is 27 inches [size M] (+/- 1" per size).

Weight: 3.41 lb
where should this jacket hit, in terms of...
where should this jacket hit, in terms of length?
, ☃bcs_badge_alumni_label☃
With a 27 inch center back length, this jacket should fall just below the belt.
getting stoked for winter. This jacket is perfect for storm days when it's dumping out--keeps you warm and dry if it's snowing (you might get wet if you're out in the pouring rain for a while, but otherwise you'll stay toasty) and it's a longer length, which I love. Good pockets & features, too.