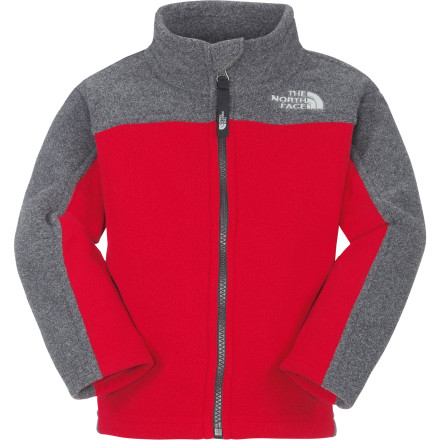 Detail Images
The North Face Toddler Boys' Khumbu Fleece Jacket will keep hyper diapers warm in the winter whether he's skiing, sledding, or starting snowball fights. The zippered pockets will keep his most beloved toys warm—and his hands when he takes off his gloves. The kid-friendly EZ Zip front zipper glides smoothly and can be operated by little hands in frigid weather.
My toddler loves his fleece he wears it all the time thanks for good quality:)
I have a 3 year old and he's between 3T and 4T in clothes. I got the 4T in this coat for him to grow into a little. The 4T fits really well and doesn't drown him at all. We do have to roll back the sleeves so they don't cover his hands. The torso fits great and is a little long but not by much. This coat is perfect for your little guy any where from 2 1/2 to 4 1/2 in age I would say. The zippers are super easy to slide up and down. It's a very warm jacket. The zipper has a cover at the top of the neck so that it won't bother your little dude. I would say good value for this jacket. Well worth the money and if you have more kids coming along, this coat will be durable enough to pass down.
Are the sides of this jacket (under the...
Are the sides of this jacket (under the arms) grey as well? Zappos shows grey sides but this doesn't. Thanks.
Yes, there are gray strips down the sizes.
The boys jacket at small size is listed...
The boys jacket at small size is listed on sale at $41.97 yet it registers at $59.95 when I tried to check-out. I am buying three jackets altogether so please let me know why the sale price (it's last years color) isn't showing up when I try to pay.
Thank you.
whichever color or size you were looking for is sold out...thats why that price is not showing up.