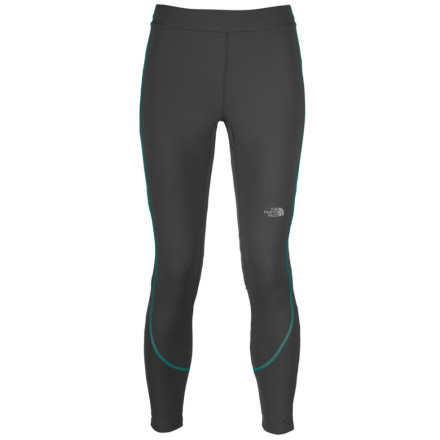 The North Face Women's Kenetix Tight does more than just keep your legs warm on your cold-weather runs; this stretchy tight provides a compressive fit that supports your muscles as you move. Breathable mesh panels keep you cool and comfortable, and The North Face treated the crotch gusset to protect against odors in the fabric. Calf zips make it easy to get in and out of the Kenetix tight, and a back zip pocket stows your small essentials.
use it to run in new zealand in spring. awesome fitting. love the little pocket in the back. very flattering
i'm 5'3" and i wear Medium. I think i can go for small but i have a straight figure so M fit my waist.
Although i did exchange the tights for a larger size, i am most happy with them. Nice features like the side ankle zippers and back ipod pocket.
The North Face Kenetix Tight - Women's
These tights did not work for me because they were too long---both in rise and length, even though I bought them in size XS. Also, I found the zipper on the ankle to be quite annoying, especially since it kept getting unzipped on its own. I even tried folding the top down and letting the extra fabric gather around my ankles. Then I saw how unattractive that was and just returned the tights. I do not recommend these tights for those of us who are 5'2" and shorter. I also bought the CW-X Performx tights in XS and they fit much better.
Super cute, super flattering, cute colors, perfectly tight...tight enough at the ankles (and I have teeeeeny ankles). I am 5'7 1/2 and 120, XS fits PERFECT. They run a bit big, so XS is perfect even though I'm S in all else!!
These are great tights! Or pants, or whatever you want to call them.
I have worn them as a base layer for skiing and was warm and comfortable.
They are very comfortable.
I love the zipper ankle, they are snug down to the bottom but the zipper makes it easy to get them off and on.
The mesh behind the knee is nice too, for keeping you cool.
The zipper pocket in the back is handy, I like having one of those.
I've worn them running/working out at the gym and they are great for that.
But my favorite day was two weeks ago I wore them for a half marathon and they were sooo perfect. It was mid 50's and they kept me warm enough and not hot.
LOVE them. They look good alone but are thin enough to layer under stuff.
Awesome buy!
And did I mention they are flattering?
I'm 5'6" 113 lbs and I bought an XS
And the contrast stitching on mine, pink on black is cute.
I bought a size small, and I am 5'8" and 128 lbs. They fit great. I wear them when it's anywhere from 30-45 degrees outside, and they keep me warm without me overheating. The ventilation on the back of the knee is perfect. The thickness of the tights are also fairly thick, but there is no fuzzy backing on the inside. I still like them for longer runs when it's cold outside b/c I feel like my legs are able to breathe.
Are these insulation tights? I live where...
Are these insulation tights? I live where I sometimes run in snow and ca -5°C. Are these warm for that or just like normal "summer" tights.
I´ll reply to myself. These are great, look at fit fantastic but they are not warm. they are just normal. By warm I was thinking more of a insulation tights but these are like normal running tights in my opinion.
I agree, they are not insulated tights. I wear them for above freezing temps.