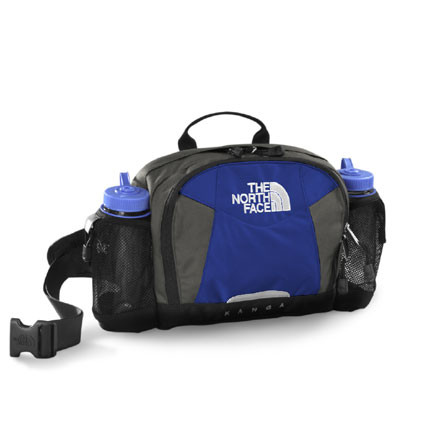 Not into getting back-sweat from carrying a pack on your day hike? Store an extra layer, two water bottles, and some energy bars in The North Face Kanga Lumbar Pack and strap this carrier around your waist. The foam back panel feels comfortable against your lower back, while mesh pockets on the front keep your bottles close at hand. Two pockets in the Kanga Lumbar Pack's front compartment hold small bottles of sunscreen and keys.
I use 40 oz (or so) stainless steel bottles, and the pack couldn't hold them. I was so disappointed because I've been looking for a pack just like this, but it needs to hold the larger bottles. Oh, well, I just modified another so it could hold two. Otherwise it's a great pack!!
Will this hold 2 1-litter camelbak water...
Will this hold 2 1-litter camelbak water bottles
I'm not sure. It does not come with any bottles, just the pack. I purchased two camelback 21oz bottles and they work great.
I ordered this pack and sent it back. For a female it's a little wide so it didn't feel right. I also didn't like the belt which was a thin (2") strap for most of it's length. Other lumbar packs have a nice, wide stabilizing belt for the first 6-8". I got the Kelty Oriole instead (not here).
I am a Bike Patrol Police Officer. I needed a bag that had a separator in it. An area for forms and a slim ticket book and another for misc items. The Kanga has been perfect for this. I have surprised crusier officers with the assortment of forms and items I have produced from the bag at calls.
I really like this little pack, I use it almost daily for work. It has ample room for me to carry some of my extra gear and is nice and light. The biggest downside is that there is no shoulder strap. It was easy enough to put one there, but it would have been nice to have one included.
I purchased it for long walks and the storage capacity is great, but I found the water bottle pockets on the sides interfered with swinging my arms in a stride. A small, but irritating product fitment issue for me. (I'm 135 lbs with a 29" waist). So, I'll be looking for a narrower style.
Its a great pack, I can fit alot of things inside, such as cd player, cd's, wallet, cell phone, etc. Great product, would def recommend to a friend, in fact I already have!
I bought the Kanga to originally use as a purse because I like to carry around so much stuff and I like slinging it over my shoulder and across my back. I have used it to summit small peaks and on numerous day hikes when I'm backpacking and I like it a LOT. It is the perfect size for my rain gear and an extra warm layer plus a couple of granola bars, 4 L of H2O, and my Elph Camera. It would be nice if it had a few gear loops, though.