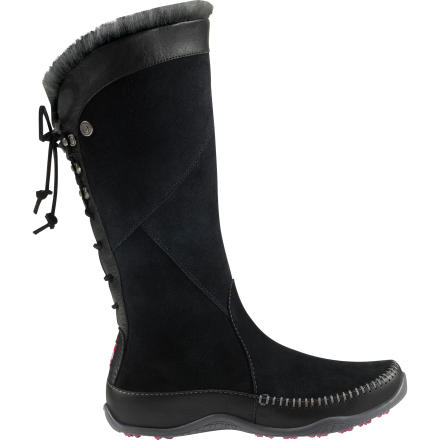 You wouldn't guess it by looking at The North Face Women's Janey Boot, but this winter boot has a waterproof HydroSeal membrane and a waterproof leather upper. That means you can dash around town in a virtual white-out without suffering wet socks and cold feet.
40% Recycled P.E.T. faux-fur and tricot lining for earth-friendly comfort
TNF Winter Grip rubber outsole and temperature-sensitive Ice Pick lugs for grip on slippery sidewalks
Moccasin-inspired look for sleek style
I got these boots just in time as the temps plummeted to -16° and we have lots of snow! I have a high arched foot and the first time I put the boots on they were a bit snug but after wearing them a few times they have formed to my foot and feel great! Very good grippy soles and good ankle support. It took me a little while to figure out the best way to put them on but now I slip them on quickly and I've been wearing them every time I go out. Now that they aren't so tight anymore they even keep my feet warm with thin socks on. Great boots!
I have a new pair of these Janey boots..they...
I have a new pair of these Janey boots..they are nice, and i want to keep them that way. I know they are "waterproof" but the outside leather is a nice suede that would seem to get damaged if gotten wet (even though they wouldn't be wet inside)
Would it make sense to apply a few coats of a spray waterproof to protect the external suede?

Anyone done this? What kind should I use?
Yes, definitely. I've had luck using Nikwax's spray-on waterproofing spray. They make one specifically for suede. It doesn't make the fabric waterproof as much as it creates a coating on top of the suede to make it easier for water to bead up and harder for snow to stick, keeping the suede looking good longer. I'll usually re-spray my boots 1-2x a season - once in the fall and again around mid-winter if needed.
While I'm awake - I'm in these boots.
I'm a hydrogeologist, hiker and caver. I know boots. These may not be for hiking, but ohhhhh.

These are so comfy, so soft, my feet have never felt better in the winter. I have the black, just got the brown (in 2 days from backcountry) and will buy the grey next year. I have small, flat, skinny feet, so I usually flop around in regular boots. Between the laces and the zippers, I'm in as tight as it gets - finally. But, my toes can still wiggle. I also had bunion surgery in my 20's, so comfort is a big deal to me.

I'm short. It's nice that these boots give the option of leaving the top up for a little fluff, or roll it over for a lot of fluff. (I like it up.)

Granted, I live in central Texas, but I'm in an old house with all wood floors. In winter, the ceiling might be warm, but the floors are not. I put these on, instead of slippers, when I get out of bed in the morning.
Oh! My! God! I've lived in mountain and snow country for 35 years, and these are the most comfortable, stable, stylish snow boots I've ever owned. True to fit. Get lots of compliments. I ring the bell for the Salvation Army bucket during the holidays, and this year, my feet stayed absolutely toasty standing outside on cold concrete in 17-degree-minus weather. Buy these boots as long as you don't live in Durango, CO. I want to have the only ones here (SMILE)!

She Cooks, She Skis, She Hikes, She Camps!
How wide are the calves on the boot? Look...
How wide are the calves on the boot? Look great, would like to order but as comments are so positive!
Hello, i just recieved my boots last night. To be honset i have been buying boots online because i have large calves and often felt embarassed when i couldn't fit boots i wanted in the shops. After shopping around and having to send back another pair of boots back because they did not zip up, i finally decided to take a risk and buy this pair. And guess what, IT FITS!!! I am so happy with it, it looks better than i thought it would considering my tree trunks! they are adjustable at the back so you won't have to worry :)
I just moved to new York. Would these be...
I just moved to new York. Would these be good boots for NY winters?
If you are wearing them to just be your everyday Winter boots, then I would say yes
Unanswered Question
I have wide calves, are these boots...
I have wide calves, are these boots adjustable in the back?
These boots were the only things I asked for for Christmas and santa didn't let me down. Really warm, I wouldn't recommend them for extreme cold but for daily wear and for walking they're awesome. Super comfortable, look great with skinny jeans, and everyone one of my co workers now wants a pair. Best present ever!!
I bought these after I fell in the driveway for the second time in my Uggs. These have great grip- no problems so far. I love that the back is adjustable to keep them nice and tight. I haven't had any problems with discoloration- they're water resistant and off white- on the gray side of white, which has really resisted showing muck from the snow. Nice and warm too, I really recommend them.
Unanswered Question
Write your question here...They are very...
Write your question here...They are very cute, but do the white boots tend to get very dirty when wearing them in the winter with snow and salt?
The boot's really nice. Its really warm and comfortable. I bought Uggs last winter and thought it would resist the snow but NO! I paid $190 for the Uggs but it was not worth it. I bought this shoe for $154. Its on sale now for $139, so grab the opportunity that you will not regreat. However, for me the boot looked loose at the ankle region. I don't know if it's just me. Otherwise, the boot is great, water/snow resistant and in my opinion better than Uggs
These boots are versatile, stylish, and high quality. I wish I had found them before I bought my Cargo II boots from Uggs. Not only are they more stylish (in my opinion) they are water resistant, super warm, and well over $50 less! Well worth the money, I am in my 20's and I find that I can wear them tall with only a little faux fur showing for a more reserved look, or if I want to look cute for an evening at the bar, turn down the fur and play up my outfit. I've received compliments from both women and guys, of all ages and I adore them. I have nothing bad to say about these boots, they've already accompanied me through rain and snow, and they still look great! Any teenage-20 something daughter or sister will love them, and Mom will definitely want her own pair too!
These boots are advertised as being usable...
These boots are advertised as being usable for snowshoeing, which I plan on starting this winter. Any comments, I am looking for nice boots that could be used for snowshoeing as well as daily wear.
While you could use these for snowshoeing (you can use just about any shoe for snowshoeing even sneakers), they would likely get soaked and start to look trashy with any use.
I'd look more at a boot by sorel if they fit you.
Or if its not that cold and you have some regular hiking boots those will work too.
are these boots waterproof? warm enough...
are these boots waterproof? warm enough for 20 minute walks in the 25degree cold of Stockholm Swedish December?
They are fully waterproof, but I feel I should point out that if it's 25 degrees out, water won't be liquid. It'll all be frozen, so waterproofing won't be an issue.
Um, at 25 degrees there can be plenty of liquid water on the ground. And those not from Colorado are aware that snow isn't always light and fluffy but wet and slushy.
I am moving to Alaska for the winter. How...
I am moving to Alaska for the winter. How will these work out?
See my answer to your question on the Abby Boots - I believe you will be better off with a 400 Gram insulation boot. I have some suggestions for you over there.
Write your question here... Do they tie...
Write your question here... Do they tie up in the back or do they have a side zipper?
Best Answer
They tie in the back. Check out this link it will show you a good photo:

http://www.zappos.com/the-north-face-womens-janey-black-alloy-grey
They have both, I don't ever untie my boots, I unzip the side, slide my foot in and adjust my jeans that way. Tying them up is a p.i.a.