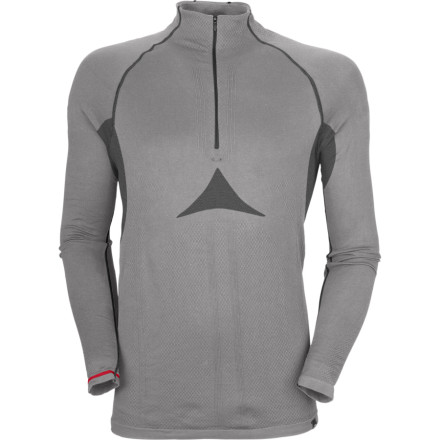 When winter weather surprises your fall backpacking party, put on The North Face Hybrid Zip Neck Top to stay warm as you hike. The Hybrid features warmer zones equipped with more insulation and cooler zones with mesh vents to expel excess body heat where it is produced. The advanced hollow core fiber fabric wicks moisture, dries quickly, and resists odors for extended use on your next backpacking trip. The zip neck adds to the Hybrid's breathability, and the flatlocked seams on the shoulders let you carry a heavy pack without chafing.
What do you think about this product?
Have questions about this product?
North Face Hybrid dZip Neck Top-Long Sleeve
So it's New York City in the middle of a blizzard. Eighteen inches of snow are falling and the gentle breezes are blowing the snow horizontally at 50 mph. I am toasty warm in my North Face Hybrid Zip Neck Top as a base layer. I am warm, but not wet because my perspiration has been wicked away from my body. I wore this shirt for a week after the blizzard and I didn't wash it 'cause I knew I would need it the next day. It never had an odor from my body. And when I finally did wash it (by hand, 'cause I love it so), I hung it up over the tub and it was dry by the next morning. So I am in love. I am taking my hybrid to Jackson, WY, this February for a snow shoeing vacation and I really don't care how cold it gets. I am ready.