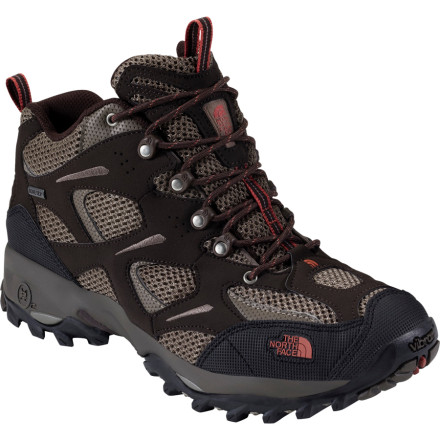 Detail Images

Community Images
Share your thoughts
What do you think of the
The North Face
Hedgehog Mid GTX XCR Shoe - Men's
? Share a...
So here's the skinny... For a water proof middie they rock.
-Yes the tread is on the soft side, so it wears out.... Just like a normal shoe...
-The top eyelet/tongue shape is a little inconvenient but if you back lace your shoe you will have no problem.

Those two "issues" aside this boot is killer. I wear them constantly and have had no issues. I have a wide foot and had no break in period with these. Not to mention they are uber comfortable and keep you dry through some of the worst...
So for me these boots were worth every penny.
I used these for several months now. I am looking for a new pair to replace these. I have three major issues with them. One, I get blisters or sore spots on my little toes after walking for more than 5 miles on trails. Just not wide enough for my feet. Maybe I should have gone with a 1/2 size larger, but I didn't notice the issues until I walked further in them. Another issue is the lack of forefoot cushioning. The heel is cushioned very well and it just seems like they left out the cushioning on the forefoot. I can feel every rock and root on the trail and that starts bothering my feet after miles, especially on downhill sections when you are landing on your forefoot. The lack of forefoot cushioning tends to push your foot forward as if in heels, which also leads to my toe fit issue. I tried adding gel insoles, but there really isn't enough toe box room for those. The last issue is the soft tread. Great for gripping rocks, but wears out super fast. Otherwise, they are good boots, but you should try them on and others on before committing to them. It is so difficult to find boots that fit like running shoes with added support and height.
Tried these before settling on the TNF Vindicator GTX. This is a light weight and very comfortable shoe, but had more of a high top sneaker feel than a hiking shoe. The Vindicator seemed to have a stiffer feel and a better Vibram sole. It also seemed it was built sturdier and for the same price. Not knocking it, but it just didnt feel durable or like it would last long.
Rated best in Backpacking Mag, BUT...

After a year's use:
1 - Laces blew out after a couple months.
2 - Very sweaty under any sun. (Very waterproof, but not breathable enough)
4. Toe rubber pealed away from scuff guard front after the first times getting wet and drying.
5. Tongue is too short and top lace nearly lays against your sock.
6. Very narrow.
7. Almost too much toe box wiggle room vertically.
Very grippy, lightweight, waterproof. These shoes are extremely comfortable and offer lots of vertical toe room. I have never had shoes that grip like these do; the tread does not clog either.
Had these boots for about a month now and they are great. They are light weight and they have great traction. My only issue with these boots are the laces which I do not like. I like a thicker lace, but that is the only complaint I have for these boots. I am spending three weeks on the AT the end of May and June, we will see how they hold up then!
Fit great and comfortable right out of the box. Hiked 3 trails of at least moderate intensity recently at Zion Natl Park and 2 days of "urban hiking" in Las Vegas on concrete. The boots just felt better and better regarding comfort. Great traction in moderate scrambling. So far holding up like new.
I have been a backpacker for nearly 40 years. But I haven't updated my footwear Since I bought my Vasque Hiker II's over 30 years ago (they are still in good shape but wiegh a ton) I decided it was time for my feet to enter the 21st century and couldn't be happier with these boots. Waterproof and breathable along with good support and comfort, I LIKE THEM!
OK folks, here's the scoop...I have waited about 10 months to submit a review of these boots. True, they are very waterproof, very lightweight, grip is great, fit is just right, and the boot has held up VERY well. I have worn them almost every day since purchasing. My feet got a little too warm during the summer when the temp was in the high 90's, but heck, it's even hot in flip flops at those times, so I can wave that off.

Now here's the buts...several folks have commented on the laces. Mine lasted about 4 months before failing. They were too long, and too thin. I replaced with thicker leather laces, and have had no problems.

Here's but number two...the top of the tongue has a V shape, and it is too short. When I use the very top eyelets and tie the laces, the knot slides over the top of the tongue and onto my sock/ankle. So I have taken to lacing to the 2nd from top eyelet and that works fine. Except it would be nice to be able to use the first eyelet and have a tighter fit when getting down on the trails.

Would I buy another beastly pair? Well, I thought these were the bomb until I had the two probs noted above. But even though, yeah, I would definately hook onto another pair.

Perhaps the North Face folks could fix the lace/tongue? If they would it would be the perfect boot, for me, anyway.

All the best, Taul Paul
Super comfortable - they are keeping my feet very warm this winter!
My husband loves these boots. He says they feel like tennis shoes but they have the durability of boots. Very light weight and the Gore-Tex works great.
New boots arrived, true fit to size, very comfortable out of the box. Hopefully they will hold up. Kudos to backcountry.com Excellent price, service, shipping and correspondence...I will be back.
OK, it was an earlier model, but after owning one pair for a few months, I went online and bought two more pairs. I have big feet and it's hard to find shoes that fit, don't rub, have good traction, etc., etc. I use these for moderate day hikes, road walks and such. Always amazed at how waterproof they are. Tread is pretty good, though not quite as solid as a traditional Vibram sole on a wet rock.
I have yet to use them on a hike, but i have been wearing them often going to mall and else where. They look great but confort is average. I have had hiking boots that are more comfortable but, they are not that bad. I can't wait to try them out on the trail. The first day I had them on for about 8+ hrs and my left little toe was a little sore and the bottom of my feet were also sore. Maybe if it had a little more cushion it would have been better. I did spend most of the day walking on concrete. They may be better on the trail. Over all not bad but not the best. If you are in to looks they are a great boot.
i have really wide feet would you recommend...
i have really wide feet would you recommend these
Best Answer
I have a 10 E and they worked for me, but if your feet are wider than that I think they might be too snug.
Very functional. Water resistant/proof! NO BLISTERS! I typically get blisters with all boots, but these didn't cause blisters at all, even after some long hikes. Thanks TNF!
The shoes were great. except they are a bit narrow at the toes. I went on one hike and the shoe was very tight at the side of my toes. These shoes seem designed for a narrow foot.
Great hikers and style can't be beat, especially the discontinued pumpkin color. Have been using them for snowshoeing so far and have been warm and dry. Like other reviews, these do run wide, and North Face dropped the ball on the laces, but double knots take care of the problem.
Do you still have these in the Pumpkin...
Do you still have these in the Pumpkin Orange? That was what I was looking for. I wear a US 10.5 size
They have them in nickel/pumpkin orange. Check the drop down they are there.