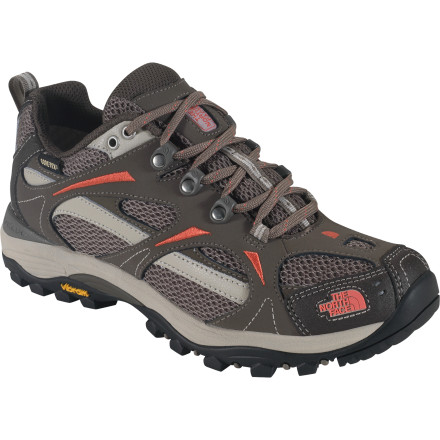 Light and fast treks into the wild don't always require huge hiking boots. The North Face Hedgehog GTX XCR III Shoe is flexible and comfortable like a shoe but features a waterproof breathable Gore-Tex membrane to keep your toes dry in gnarly terrain.
Gore-Tex XCR waterproof breathable membrane blocks water, mud, and snow from soaking through the upper
Breathable mesh panels help foot sweat evaporate so your toes stay dry
Durable Vibram rubber provides excellent traction in both wet and dry conditions
Molded rubber toe cap protects your foot from sticks and rocks on trail
Heal Cradle technology stabilizes your foot and provides extra cushioning over rough trails
Compression-molded EVA midsole absorbs shocks and offers exceptional cushioning
TPU stability shank provides lateral (side to side) and torsional (twisting) stability for a firm, but pliable flex
Kept Dry
Familiarity:

I've used it several times

Fit:

True to size
I have an older version of these shoes in men's so I was hesitant when to buy them for my girlfriend but they worked great. Water resistance was incredible. With only 3 days of walking we hiked about 50 miles in 5 days in Banff/Jasper and they worked great. Her only complaint was that they rubbed on her inside ankle a little. The picture on this website is not the actual color of the shoes, but she liked them more when she got them
Unanswered Question
What width do these shoes come in? Do you...
What width do these shoes come in? Do you have EEE in any women's waterproof shoes?
where dose this pair of shoes made??
where dose this pair of shoes made??
Mesh, leather, and rubber. I would definitely recommend them, I have a pair and they are my favorite hiking shoes.
yeah... I bought them. they are really light!
A redesign that should not have happened!
This was my third pair of Hedgehogs over several years, used mainly for trail hiking in the woods. I have been in love with them for their lightweight performance, awesome "sticky" tread on loose terrain, and all around comfort. Since my last pair North Face seems to have done a complete redesign, and I was completely disappointed. To start with, they are heavier and made of a stiffer material. Your heel slips out as you walk unless you use the higher eyelet and lace up tight. They also are true to length in size but feel much narrower than my other two pairs. I tried them out on a five mile hike and by the time I was done I had blisters along the top knuckles of both big toes. You know how when you walk and lift your heel a shoe creases across the toe portion? Well the material used in the shoe is so stiff that it creased right into my toes, leaving the aforementioned blisters before my hike was complete. Additionally me feet were HOT, something that only happens to me when I am wearing insulated hunting boots. Needless to say the shoes are going back and I'll be looking on ebay for the older model. Backcountry was awesome with a no-hassle return, something that is wonderful especially since I already wore them once.
Hedgehog III GTX XCR Shoe
When I first got these shoes, I was afraid I would have to send them back because the sides kept digging into my ankles but I decided to give it some time and I'm glad I did. After wearing them a few times, the sides loosened up and now they fit just fine. They have a great grip on loose, rocky terrain and just about everywhere else EXCEPT wet rocks (personal experiance talking here). They have plenty of support and I would definitely recommend them.
I've had these shoes for approximately 3 years now and they've held up nicely. I use them as an everyday shoe and they've kept my feet dry throughout the harsh winters here in Chicago & Milwaukee, provided me with good footing when hiking in Utah's Zion Canyon and a lifesaver when met with a big puddle with no way around it when crossing streets. It is a very comfortable shoe. The sole has great traction whether you're walking on ice, snow, slippery rain soaked surfaces, sand swept rocky terrain, and more. As a person with extremely narrow, flat feet, the standard width works fine for me. Highly recommended.
Are they warm?? Would they be a good shoe...
Are they warm?? Would they be a good shoe for Alaska??
Hanging out in Alaska in the sprin/summer? Yes. Winter? Not a chance if you are outside for more than 20 minutes. Make sense? Hope this helps.
I use these to hike in Georgia in the summer. They're a little warmer than my running shoes, but my feet are still very comfortable in 80-degree + temps.

These are probably closer to a trail runner than a real hiking boot, though the soles do have some stiffness. I bought them specifically because I wanted something cool and lightweight for day hiking and short overnights.

I bought them on clearance at REI last July. When I first got them, I thought they were too small and debated whether to return them for a half-size larger, but they loosened up a bunch within the first day. Just wore them on a 12 mile hike with Superfeet insoles. No hot spots or blisters anywhere. I have narrow ankles, so it's hard to find shoes that don't cause heel slippage. These have plenty of room for my toes and keep my heels in tight. Probably would not work as well for wide feet. Love these shoes!

Thinking of getting another pair, but the price just went up online. If they don't go on sale again in my size, I'll get the blue ones that are out for 2012 when they go on clearance, as the blue is very pretty too!
The shoes are fantastic. They run normal sizing (i.e. you don't have to order a half size "too big" or "too small"), as are they a normal width (neither wide nor narrow). I owned an older version of these, and have to agree with the previous reviewer: this version is remarkably even better than before. The patented North Face insoles are the notable improvement. These really provide a lot of support and cushioning (i have a high arch), all the while without going overboard. I haven't had a chance to thoroughly test the waterproof ability, though the shoes have an odd "crinkle" sound to them right out of the box. (the GTX, i assume?) I'll go ahead and give the benefit of the doubt, though, since i trekked through an Appalachian blizzard in the last Hedgehogs and maintained dry feet :) I'll update, only if these fail to perform similarly. The laces, too, are a nice update such that the new construction helps them stay tied better. I tried similar styles by both Merrell and Keen, but none held a light to these 'hogs.
Bottom line: get these shoes.
Ok..these have been my favorite shoes for the past 7 years. I buy the same thing every 9 to 10 months. Well the improvements are the best...and I wasn't even sure they needed to be improved on. The toe box is a bit more rounded (a good thing) and the innersole is the best. For an all around waterproof lite hiker - these can't be beat. And Backcountry is the best for offering discounts and the arrive quickly.
What is the difference between the Hedgehog...
What is the difference between the Hedgehog GTX XCR lll and the ll and the plain one?
Best Answer
The hedgehog III has an updated outsole and some fancy new color ways. It is basically the same shoe with a few tweaks.

This is a good shoe, but you should also check out the Merrell Siren Sport GTX

http://www.backcountry.com/merrell-siren-sport-gtx-xcr-shoe-womens