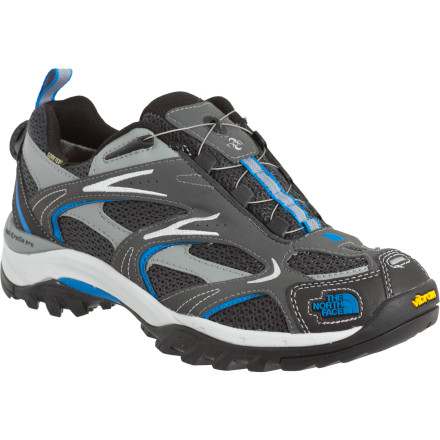 The North Face Hedgehog GTX XCR Boa III Hiking Shoe - Men's - Backcountry Exclusive
View Larger Image
Detail Images
Because this particular Men's Hedgehog GTX XCR Boa III Hiking Shoe is exclusive to Backcountry.com, it's packed with an array of features to give you steadfast footing in technical terrain and to keep your foot dry when the weather bares down. It's light, it's made to move fast, and it's focused at hikers who turn a cheek to heavy boots in favor of something a little more agile but just as technical.
Gore-Tex waterproof breathable membrane protects your foot from moisture outside (foul, wet weather) and allows sweaty moisture inside your shoe to escape to the outside
Northotic Pro+ footbed uses EVA for durability, a cradle-shaped heel for control plus heel gel for cushioning, and an OrthoLite forefoot for padding
Cradle heel shape provides support for carrying light loads but still allows for enough response so you can feel the trail below
Snake Plate winds back and forth underfoot, providing protection and support
Vibram outsole has a durable, reliable build and offers supreme traction on everything from wet, loamy trails to loose, rocky desert terrain
Unanswered Question
how to order this product
how to order this product


I bought these for my husband. He put these on right out of the box, andwore them all day.

Very comfortable, true to size, look great.

He comments nearly everytime he puts them on that he really likes them. Hes owned them now for a month and he uses them for everyday casual.
Great for Hiking
Gender:

Male

Familiarity:

I've used it several times
The grip on these is great for steep pitches of packed dirt, sandstone, or anything else you need to walk on. The boa is easy to work with, but I did find it got kind of clogged a few times after walking through sand, but it came unclogged on its own.
Great Hiking Shoe
Gender:

Male

Familiarity:

I've used it several times
A really comfortable and durable everyday shoe from walking to class to hiking 14ers. The Boa is a great solution to lacing systems. My dad is looking at a pair because he has lower back problems and they're super easy to get nice and snug.
With only one working arm-boa is the only shoe that makes me independent!
Love them, Sorry to see NF going away from them
PRO: I have owned 8-9 pair of the BOA NF shoes. Hate tying shoe strings. Yes I have had two the the 9 pair fail after several years of use and NF has warrantied them by giving me a full refund. These shoes are great for traveling through airports (easy on and off). The darker colors blend great with casual jean dress for traveling. I just ordered (2) pair of the Hedgehog GTX Boa III as NF currently is not making this shoe.
CON: They are NOT for extreme rock or trail use as the rear BOA knob does get hit and will pop loose. However for normal hiking, crossing water trails and etc they are great.
BOA System failed during 1st use!
I took these shoes canyoneering for their maiden voyage. When the shoes initially got wet, I wanted to tighten the laces - the BOA dial on the back didn't have enough grip so I couldn't get them anywhere near tight enough. There needs to be some bars to hold on to... Then, the BOA system got gunked up with sand and wouldn't tighten or release anymore. Needless to say very disappointing. When I got home I ripped the cables out and dismantled the BOA system. I purchased the Solomon shoelace system ($7) and drilled holes in the plastic eyelets to allow the thicker kevlar Solomon laces to go through. Now the shoes work okay. I would have liked the sole to be stiffer and my ankle bones were worn raw from the plastic channels where the cables go to the back of the shoe. In conclusion, the BOA system has a long way to go to be adequate.
This is the second pair of Hedgehogs BOA that i own. They are very well built, lightweight and comfortable shoes. I have had no problems with the BOA system. I hope it will come in other styles and colors in the future!
This is the second pair of Hedgehogs BOA that i own. They are very well built, lightweight and comfortable shoes. I have had no problems with the BOA system. I hope it will come in other styles and colors in the future!
I found love... well my feed have
6.5 out of 5 STARS


Ok out of the box the right foot was a tad tight. I did not let it deter me however and after maybe 2 weeks of around town use both of them felt, for lack of a better word PERFECT. I got just under 2 years out of my first pair, and the ONLY reason they got put to rest was due to spilling battery acid on the toes of both shoes at work. Had it not been for this I am sure they would still be on my feet now as I type this.

When the time came to replace them I traveled to every outdoors store in my area searching for a new pair... I was given the same response store after store they was a slow mover solely due to the price. I would up with the same pair of shoes but without the BOA lacing, after wearing the BOAs for so long it was a huge letdown. My main complaint is that without the BOA the lace guides are too bulky and whenever I kneel down with one foot on its side the guide pokes into the side of my foot creating a lot of pain.

I am placing another order now for a replacement pair, and will surely be buying a second pair to make sure I have them on hand for when that pair goes
I love these shoes,I have had 4 different pair.Thee only con I see is the style choices.When I started buying them there were several style and colors now not so many.
I really like the way these shoes look and function with the Boa lacing system. The width of the shoes is pretty narrow, so be aware of that. I just wear the shoes for a few hours at a time so my toes don't get squeezed too long. (The things we do to look amazing!)
i have had 3 pairs of this shoe in different colors over the last few years and another pair of boa mid top hiking boot, never have i had an issue with the boa system and the vibram sole is still at 80% when my left small toe finally forces the gortex to burst through the outer material. i have hiked, worked 4 years of 12 hour shifts at the hospital, and worn them out and about. i love this shoe and love the boa. dealing with vomit, pee, poop and blood, and the dreaded bloody peepoop vomit, that is part of working in the ER, it is so nice to be able to just rinse them off and have no laces that soak in the filth. 5 stars all the way, i hope they keep making these for years. but just in case i bought 3 pair to keep in my closet for the years to come.
NO, no, no! I tried 3 different pair of these (Backcountry was very helpful) and within a week the Boa system jammed. Love the concept but it's not perfected yet.