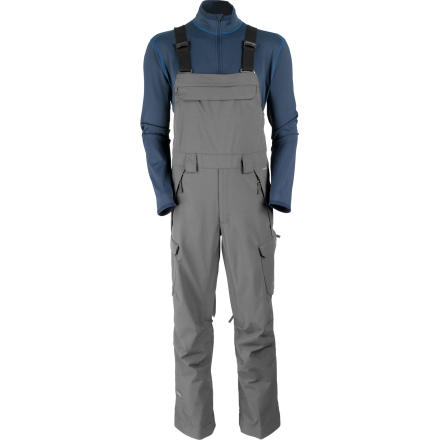 Community Images
Would these still be appropriate for...
Would these still be appropriate for snowboarding? I do not need the super baggy pants around my knees look and just wish to know if they will have enough room for snowboarding movement (all mtn style) and my butt will stay dry from repeated sitting on it when clipping into the board.
Cheers
Hi Chad these bibs have TNF's free fit which is generous but not baggy, in turn they are very snowboarding friendly, with the Hyvent waterproof breathable your keister should be plenty dry while rallying these.
Yes they will be good for snowboarding....
does it run small? i read in another website...
does it run small? i read in another website a review that says so,i'm caught between large n xlarge,ugh,which one should i get? thanks!
What is your size and weight?

The guy below is 6'2 210lbs and runs a large....Maybe that will help you gauge the size....
I am still search for a XXl - XXXL really...
I am still search for a XXl - XXXL really hard-wearing ski or snowboard pant or bib. So far the North face foundation or lobster bib look the goods but i cant find them / order them in my size.

Any suggestions on other brands / models?
You could check the Arc'teryx Stinger bib or Alpha SV- they use the most durable fabrics out there.
How are the cuffs, zipper or just elastic?...
How are the cuffs, zipper or just elastic?
does it easily cover a telemark boot?
Elastic, will cover a telemark boot really well.
The cuffs will fit over your tele boots fine....
I don't ski a lot so I didn't want to spend a lot of money, but with the hopes of fresh powder on my trip to Jackson Hole and Grand Targhee, I wanted to be sure to stay dry. And that I did! We had 14 inches of powder and I took plenty of spills but these bibs kept me warm and dry. I'm not convinced that the inner thigh vents work all that great, but I was overdressed and overheated, so I can't be sure. Plentiful and secure storage pockets. All zip except the right thigh pocket.
Excellent fit, great storage pockets. I had to have my wife rearrange the shoulder strap plastic adjustment buckle, because it was pressing against my clavical when I wear my Avalung pack when ski patrolling,
These bibs were made for walking
I wanted a windproof and waterproof (snow-proof) bib for walking in the winter without spending a fortune. I shopped for a long time and had my eye on these until a good sale and I popped for them. I like them a lot. I followed the sizing chart and they fit nicely. The straps are adjustable. I am a bit thick in the torso so they are snug high in the waist yet comfortable. The knees articulate and the bib does not feel heavy. The built-in gaiters are for ski boots so they don't really function with my low cut walking boots. I use separate gaiters when necessary. They are comfortable in all conditions. We have terrific winds where I live so occasionally I have to combine them with legging type cold wear, primarily because the wind can whistle a tiny bit up the cuffs. The pocketing is outstanding. Cargo pockets on each thigh (top zip on left side). Front hip pockets (both zip), and a huge breast pocket (top zip).
I now know what it feels like to not have snow in my underwear. These are awesome and give that all so cool redneck flair at the bar afterwards. Quite a conversation starter while enjoying apres ski.
What exactly is the "side entry zip"? ...
What exactly is the "side entry zip"? does this mean it unzips all the way down the leg, or is it just a partial zip?
Just a partial zip down the torso...
nice fit, comfortable pant
I went in to the outlet to try these on, and the large fit perfect.
I'm 6'2" 200 lbs, and found them to be extremely comfy.
The only thing I'm worried about, there are no reinforcements on the inside of the leg, and I'm worried about my boots ripping through the legs.

if you have a jacket without a powder skirt, I highly recommend them, because they cover up way past your chest and they'll keep you toasty while you hit the deep.
also, do these look steezy when the bib...
also, do these look steezy when the bib is worn down, and are they baddy and loose when the bib is down or are the tight?
I have last years and i actually put on a belt and fold the top into my pants and I can wear with a T shirt in the spring
Do these have belt loops?
Do these have belt loops?
Best Answer
Yes, there are (5) belt loops.