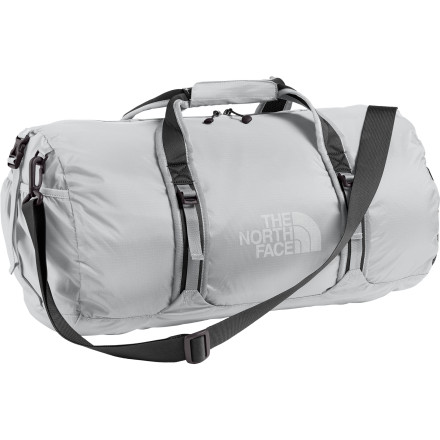 Videos
Grab hold of The North Face Flyweight Duffel Bag and load it up with climbing gear. The light weight of this bag makes it ideal for loading up on climbing gear and food when you fly into a glacier for an extended mountaineering trip.
Compressible design allows the flyweight to pack into an interior pocket
Exterior end pockets to stash maps, tickets, and other important articles
Adjustable, removable shoulder strap can be packed into the bag so the airline baggage people don't tear it off
Coated ripstop nylon sheds light moisture
Great secondary travel bag
Familiarity:

I've put it through the wringer
I purchased this item in purpose of using it for travel so I can bring home gifts and other purchases when I'm outside the country. It packs down amazingly small so you don't have to sacrifice space in your main luggage bag. The durability isn't the best since the nylon is pretty thin but if you're using it for a carry on it's not a concern. I also use it for the gym and for boating and it works great. Having a detachable shoulder strap is a nice feature as well. Overall a great duffel for the price!
Here are the bag measurements. S: 16.5" x 9.5" x 9.5" (42 cm x 24 cm x 24 cm); M: 20" x 11" x 11" (51 cm x 28 cm x 28 cm); L: 22" x 12.5" x 12.5" (56 cm x 32 cm x 32 cm)
The North Face Flyweight Duffel Bag 32L
I have NO idea about "cu in" in size. How...
I have NO idea about "cu in" in size. How much is it in "liters"?
1 Liter = 61.0237 cubic inches

Note: you can google such conversions

That being said, IUs should be provided in specs!
Unanswered Question
can it be locked?
I ordered the small thinking that it would be a reasonable size, but I had to return it...it was just TOO small. I don't think I could have fit a pair of sneakers or anything in there. The concept is awesome, just wish the bag was a little bigger.

The material seemed nice, but I never got a chance to test it because I returned it.

No matter what you've been told in the past, size matters...bigger is better.
What kind of zipper does it have, toothed...
What kind of zipper does it have, toothed or coil?
A very fine tooth zipper with closing rubberized material for added water resistance.
Reviewing a bag like this is really hard. We all use duffle bags for all different uses so keep that in mind when reading this review, its only a part of the story for this bag.

I picked up the MEDIUM sized LCD GREEN version and when I received it from Backcountry I had no idea how small it really got! the whole bag stuffed in its internal pouch and was not much bigger in length and width than my hand ( I can palm a basketball ) so I was really impressed by that. Now I primarily use this for just hauling around 2 pair of climbing shoes, climbing harness, big bouldering chalk bag, a water bottle and extra change of clothes and with all of that in there it still has room.

The shoulder strap can come off which is nice and the handles have a velcro strap around them making it easier to carry and when you have a full size crash pad on your back it made hauling everything else around really nice. Another key feature I i really like is the amount of cinch straps on it, one on either end and two on either side and with these you can really lock everything down and know that things are not gonna go flying around inside the bag.

I could also see this bag being really good as a CARRY ON at the airport since with all the cinch straps you could really crank on it to get the size down just in case it did not want to fit in that little size regulator they make you put it in when getting your boarding pass.

My only concern is I know North face says they are using RIP STOP Nylon but I would say its more like a SNAG stop, the Nylon wont just randomly catch on things but I feel its too thin to be really considered RIP STOP, but thats me personally.