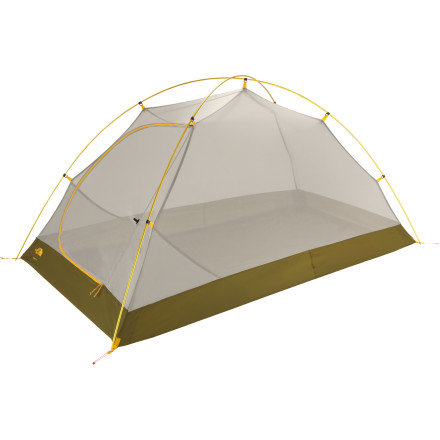 Detail Images

Community Images
You may not want to recall the last time you and your mate went backpacking. Perhaps it's because your trying to log an extra mile left you both struggling with your complex tent in the dark and getting in an argument that scared the normally fearless carnivores within earshot. The North Face Flint 2 Tent offers the simplicity and low weight you need to enjoy a trip in the great outdoors ... and possibly even mend a tattered relationship.
Fly and floor fabric features a PU coating and taped seams to protect you and your gear from wet weather
Bathtub floor design keeps seams off the ground to help eliminate seepage
Single door and vestibule saves weight
DAC Pressfit poles provide structure and stability without weighing down your pack
Poles made with DAC's Green Anodizing process, which eliminates the chemical polishing stage, reduces the need for hazardous chemicals, and recycles water throughout the rinsing process
Color-coded poles and clip attachments help you pitch the tent fast so you can get under cover quickly
Steel stakes are ultra durable
Interior gear loft clips mean you can add a loft and create extra storage space (compatible square gear loft not included)
Fast-pitch compatible; just carry the poles, fly, and footprint to save weight (footprint sold separately)
Great tent
Familiarity:

I've put it through the wringer
I've had this tent for about 5 years and love it , I've lived Yosemite the last 3 years , backpacked with it and car camped alot , camped in snow , rain . still in great shape . wish it came with a foot print it was hard to find one for it but did get one .
I use this tent for backpacking and car camping. What I like is that it is free standing, is very fast to set up with the clips-only, is water tight and extremely strong. I once got pounded in a storm and only one pole segment was slightly bent. I managed to break one by carrying it the wrong way but I managed to fit in a fiberglass segment, problem fixed. When I got it however it turned out they put the main zipper's runner in the wrong way, which caused real problems. Once I found what the problem was I took it off the zipper, flipped it and it worked much better. Later on I flipped two runners because one was worn out and the zipper started separating again. I am 6'3 and it fits me. I used it with a partner twice, tight but doable though no room for baggage inside. I used it a lot and it still stands strong.
Great tent for the price.
Familiarity:

I've put it through the wringer
I am an avid outdoor person and have used this tent often. It has held up well to rain, hail, wind storms and snow and is still going strong. For the price you can't beat it. I have other tents that cost much more, but didn't hold up to weather as well as this one.
Good Tent
Familiarity:

I gave it as a gift but have feedback to share
This tent is roomey enough. It fits two snugly. It could be more compact for backpacking but it is still quite a small bundle. It doesn't come with footprint so you'll have to get that seperatly. Overall a pretty nice tent or average outings.
how packable is this for a weekend trip?...
how packable is this for a weekend trip? specs say that it can get down to 7 by 22, but is that whole 22 taken up by rain fly/body or is it just the tent poles?
the poles measure 19" long when folded up, so that's how long the whole thing is
there's no foot print correct?
there's no foot print correct?
Best Answer
Ed,



A footprint is made for this tent but that is sold separately. Item # TNF6063 I've looked at our inventory and unfortunately it looks like we don't have any on order.



Jared D.

Gearhead

800.409.4502 ext 4055


i also found the footprint for the Flint 2 impossible to find. i just ordered the footprint for the Rock 22, dimensions are similar...we'll see how well it goes with it.
Adam,



I too am looking for a footprint for this tent. How did the one for the Rock 22 work out? Thanks in advance.
Elias,

The footprint for the rock 22 works great. It's not an exact fit, but pretty close.
Great Tent
Familiarity:

I've put it through the wringer
I bought this tent for camping and backpacking. I haven't used it on a backpacking trip yet, but it is solid for sticking up quickly and camping in. I haven't taken the best care of it, leaving it up for days at a time when it's not in use, and it has withstood multiple downpours without a single drop of water inside. It has leaked minimally when the back of the rain fly is raised a bit too high (my mistake there), but even then, the puddles were small and confined to the corners. I've mostly used it alone with a twin sized air mattress that fits close to perfectly. I've used it a couple of times with a buddy (without the air mattress), and though it's a little tight, it's really just right for us (we both have smaller frames and are around 6 feet). Awesome price. Tough tent. I love it.
Great tent for 1
Familiarity:

I've used it once or twice and have initial impressions
I've only used it a few times, but I'm happy with it so far. It hasn't been tested with any rain yet, so I can't comment on that. The tent is a perfect fit for myself and my gear with enough extra space to move around in . (I'm 5'8 and I think that any one closer to , or over 6' is going to be cramped due to the length of the tent . You could possibly fit 2 people, but probably not 2 men.
Fast Setup, Wet Feet.
Familiarity:

I've used it once or twice and have initial impressions
I bought this tent to be an all around use/backpacking/jeep/crash place. It does set up very fast and is great for one person/ or two if you don't mind a little snuggling/ you can fit a single blow up mattress inside of it and still sit up in the morning to put your shoes on. All of the other comments here are accurate, I just wanted to add one flaw that I have experienced with this tent and a few other backpacking tents. This past weekend I setup the tent and laid out my pad and sleeping bag early because I wasn't sure what condition I would be in as the night progressed. A few hours later it started pouring, absolutely dumping rain. I ran to the tent, unzipped the rain cover and dove in. If you look at the shape of this tent, the top of the door is about 12-16 inches into the footprint of the tent. With the door open on the fly all of the water running off the top went right in the tent and soaked the end of my sleeping bag in about 5 seconds. Through the rest of the night absolutely no water got into the tent, unless I had to open the fly. Its not a deal breaker of an issue and if its pouring rain I understand that you will probably already be wet when you get in, but I am not sure why the fly couldn't have been made a foot longer so water would not get in the tent when you open it......
Solid Tent - Get It On Sale
Familiarity:

I've used it several times
Sturdy construction. Rainfly did an excellent job of keeping condensation out of the tent. The zipper on the rainfly is a little awkward when trying to open & close it with one hand, though. Quick setup, even as the sun finished setting. It packs down pretty small; I ended up ditching the bag it comes in (used it as a stuff sack for food), separated it from the poles and was able to fit the tent and the fly into a 7L bag. It compressed down to about two-thirds it's original size. A touch on the heavy side but overall I am quite happy with this tent so far. Certainly happy to answer any questions.
what size footprint should i purchase for...
what size footprint should i purchase for this kind of tent?

do you thinnk its material is durable to last six months?


Best Answer
I recommend 87" x 44", if you want to make a custom footprint from a different material. Otherwise, I would just buy the Flint 2 footprint. You wouldn't want it any larger, because if it is sticking out the sides, then there is a chance rain water will run down the exposed edges and pool up between your tent and footprint. Always use a footprint. Never rely on just the durability of the tent floor. It is much easier and cheaper to replace the footprint if damaged, vs replacing your tent floor.
Originally bought this tent to replace a p.o.s. alpine design and could not honestly be more pleased. First trip with this tent was the searing heat of utah's canyonlands during the summer. Stayed perfectly cool all night and day. One of the features I really appreciated during this trip was the ability to set up only the fly for a cool waterproof shelter. Then I took it camping in Golden, Colorado during the middle of a hail storm that was gusting 60 mph with golf ball sized hail. Not a drop of moisture inside as well as a completely intact shelter in the morning. I sleep like a baby knowing that my Flint 2 has my back. Very roomy for a one person. Often fits me and all my gear inside the tent and my girlfriend and I sleep comfortably together inside. Set up is a breeze and doesnt even take five minutes with very little practice. Only complaint that I have at all is that it didn't come with a gear loft. I rarely give anything a "perfect score" but in this case North Face earned it.
Good quality basic tent
Gender:

Male

Familiarity:

I've used it several times
I purchased this from REI for about 80 dollars shipped (during a sale in May, 2012) and its proven to be a decent tent. I would say for the price i paid, its actually phenomenal.



Downside is its heavy and kinda large for a solo backcountry style expedition but if you actually have two people with you and might be expecting moderate amounts of rain/snow this should be just right.



For solo expeditions i would recommend something way smaller and lighter...this tent would be overkill.



In addition, its a tight fit for two people. There is no question that gear will remain outside and you'll be in close quarters the whole night. Otherwise, its an extremely tough, sturdy tent...




Great tent for multitude of trips
Gender:

Female

Familiarity:

I've used it once or twice and have initial impressions
I bought this tent to use for all my geology trips over the next few years while I am getting my bachelors degree. These trips will consist of multiple trips to Oklahoma/Arkansas during the fall and spring as well as a 10 day backpacking trip through the Colorado plateau (including the Grand Canyon) during early summer.

I have taken it on one overnight trip so far and it was great. It was mid-October and I went ahead put my rain flap on just in case there was any dew because of a close proximity to a lake. Others in my groups had issues with their tents and the rain flaps not keeping the condensation out but I stayed completely dry!

Others have mentioned that the stakes are cheap, however, I found that they worked just fine. But I only put one stake in the ground and I wish I had gone ahead and staked each side because if there is any wind you will feel it. But I didn't blow away and the wind (and movement of the tent) didn't wake me up. I slept quite well actually.

The instructions are a tad difficult to understand so make sure you set it up before leaving because it would be really frustrating to figure out if you were in the dark or exhausted from the day.



Responses to previous comments:

A 2 person tent generally means it will hold you and your stuff- thats it and this tent is no different than any other one on the market in that respect.

There is an interior mesh pocket on the ceiling.

The footprint isn't necessary, however, if I'm buying a tent for $135 I'd rather protect my investment by buying a $35 footprint than potentially buying another, now $180, tent because I messed up the floor.
Great tent, just not my style
Gender:

Male

Familiarity:

I've used it several times
Things I LOVE about this tent:

-All the mesh makes for a cool summer camping experience

-It's light and the bag has some extra room so you it's easy to pack and unpack.

- I've been caught out in a few severe thunderstorms with 50-60 mph gusts and it stayed completely dry inside (and in the vestibule) and remained structurally intact.

-The price is good



Things I don't like:

- The placement of the only door is on the end of the tent, rather than the side, which makes it somewhat awkward to get in and out.

- You'd really have to like the other person if you were sharing this tent, meaning there's really only room for one person to sleep comfortably. I'm only 5' 8" (on a good day) and my head and feet touch both ends of the tent.



Long story short, it's a good tent for the price and for one person to take on a weekend camping trip/hike. I haven't backpacked with it, and won't as I'm going to return this tent and look for something a little bigger. Probably TNF's "Rock" series, which features two doors on either side of the tent. A little more expensive, but worth it for my taste.
Bought my Flint 2 on clearance for $75 and love it. I've used it on two backpacking trips over 8000ft. It was easy to put up in the dark, and it's very light. I bought the footprint and it fits like a jem. The only things I didn't like were that there were not enough guylines for the number of loops, and there were no interior pockets (claimed above). Minor issue as far as I am concerned. I love it.
Floor and Height Dimensions
Edit: Update for what this was it is too big for my needs, I have transitioned into UL backpacking. For its purpose this is a good tent though. But I have moved on.



i backpack with this thing all over utah, its never leaked and the floor material is very thick and waterproof, same with the fly. The mesh goes all around which is awesome for summer camping (ditch the fly).



Another thing that is awesome is that tent doesnt require any stakes, its freestanding and you can get by using 1 stake to guy out the fly. Another thing is that the fly doesnt touch the even if you dont stake out the fly tightly, which eliminates condensation. Also, all these factors make this tent quick to set up and tear down and pack up.



this is prettymuch the best tent you can get for the weight in this price range.