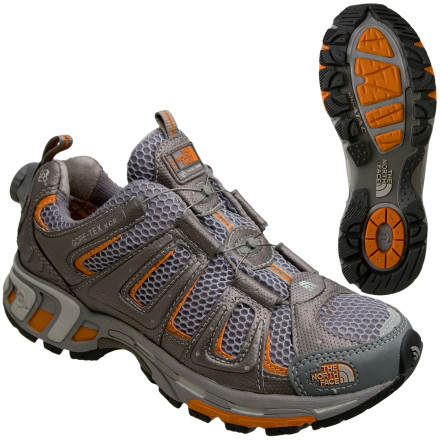 Detail Images
Sizing Off, Bulky and Unfeminine
I would have returned these shoes just for the way they made my size 10 feet look like logs, but instead, I returned them because they fit like a size 9 or 9 1/2. Toe to heel length is short of a true 10.
Unanswered Question
Do these shoes have more of a narrow cut...
Do these shoes have more of a narrow cut than the Salomon XT Wings? I wear an 11 and the XT Wings are too wide for me...I end up using that same lacing system that these North Face Endurus have and the laces almost touch. Help?
My cat is indifferent, but my feet like them.
Hey, you kept bugging me to review the shoes, so here you go.
I guess I should have read the other reviews, because I had to send the first pair back for a half size up, which cost me an extra $13 for shipping. These fit my feet fine except the sides are too high and bite my lateral malleoli (ankle bone, as I recall from med school). The lacing system is cool, but my cat doesn't come running to take a walk with me yet when he hears it click.
So, in summary, my feet are dancing and enjoying the shoes with the exception of my lateral malleoli.
Hopefully, I've spelled everything correctly, but I'm sure you know what I mean. These shoes significantly improved my ability to walk/exercise. Before TNF Boa Endurus, I couldn't go 1/2 mile without cramping either in the arch or plantar area. Now, I easily go 4 miles speedily! We walk paved trail, hike hills, cross country and my feet stay dry, step securely, and grip firmly. The tracking is terrific; I have never had a problem with the boa lacing system. I tried it because I find adjusting laces a pain and now I can't imagine any other system. The boa wiring stays tight and is easily adjustable if necessary: one handed!!! even; and, as an added bonus, when Elmo hears the little click sound signifying I'm tightening my shoes, he comes running and we go walking!! One thing, I do recommend you order one half size larger than whatever you normally wear.
I LOVE these shoes. I am disabled and...
I LOVE these shoes. I am disabled and once I put them on, I'm comfy for the day and my service dog does not have to stop and help me tie my shoes. They keep up with my fast walking all day on my job, and they give me secure traction. My only problem is the rubber on the outside of the wheel which turns the "BOA" laces (which are fantastic for hard to fit feet). The rubber keeps ripping - - - I would buy 10 pairs today if I knew that were not going to happen; Any way that I can get an answeR? Zappo's was kind enough to replace the first pair - which was only a month or so old. Help?
e-mail futuredoc60@hotmail.com
thx
Hello-The problem that you are talking about was common on the first gerenation of North Face Boa equiped footwear. It has been addressed on the 2nd and 3rd generations of North Face/Boa footwear, and you should not have this problem with any of the North Face Boa product that is currently being sold-
This is my 5th pair of North Face Trail Running shoes. I have yet to find a better pair of running shoes, but I did have one issue with this last pair. I bought was the 103 model, in which I ordered a size 8. I have recently moved to Korea, as I am in the military, and so I thought how great that North Face sends overseas! So I searched online and decided to upgraded to the XCR model with the cool laces and ordered the same size that I always have worn in North Face shoes - 8. When I got the shoes they were a little tight; I thought they only needed to be broken in. 3 weeks and about 15 miles later I realize that I simply need a larger size. I don't know why the sizes don't correlate across the board of North Face shoes, but beware of buying these without trying them on - they size you think you are may not be the shoe that fits. I am disappointed to have to order another pair of shoes in a half size bigger.
I got these shoes for christmas and have nothing but great things to say about them. I always had a problem with too much flex in the sole of running shoes, and a tendency to roll my ankles. These shoes solved both of these problems. A little stiff in the sole for street running, but with the way they fit, I'm not pounding as hard, which has been much easier on the knees and ankles. Highly recommended.
The tying mechanism broke immediately.
I purchased the shoe for my girlfriend.......we really like he Gore-Tex and the trail style, but just don't know how the Boa lacing system is going to hold. i guess we'll find out here in the future, but the other than that assumption we really enjoy the style that North Face has came out with.
Enduras XCR Boa Trail Running Shoe
I have had so many compliments on these shoes- The lace system is amazing! Comfortable.
North Face Boa Running Shoe
The boa system is a great concept, however, I have problems loosening the button on the back of one shoe...kind of makes it hard to get out of it! I also think for a running shoe it could use a little more cushioning as my feet get a bit sore sometimes. Otherwise, I love the shoe!