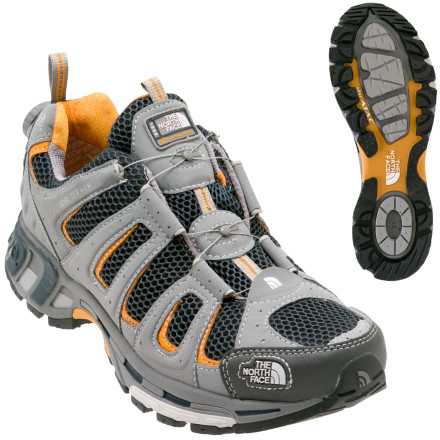 Detail Images
Got a lot of good use out of this,but the rubber on the boa wheels came off after a while and then the loops supporting the cables started to rip loose. Pity, because the rest of the shoe performs really well.
Needs work! Fit is great... Quality is not!
I have been wearing these shoes for a month now. I love how tight the boa gets and how it applies the pressure uniformly on my foot and not just at the top like laces do. I thought that since the shoes are North Face the quality would be great and the shoes would last a while... but NO luck, they have already broker after 32 days of usage! The part that holds the cable at the toe end of the shoe has already ripped and the shoe no longer fits correctly...
These are the second pair I have owned. The first pair never, ever gave me any problems. I purchased them for the boa system and also being water proof. Both of these features are very important to me. One of my dogs also enjoyed these and ate one for lunch. I received the second pair and with in three days the the sole where it is glued to the very front of the shoe started pealing back. More imortantly the boa system is extremely difficult to loosen.
Waterproof, however the boa dial on the back of the shoe broke 3 times and had to get replacements every time from backcountry. Thankfully they broke off at the beginning or end of runs, never in the middle, otherwise i would have been out of luck as there is no other way to secure the shoe to your foot when the boa system breaks. Pretty heavy as well- not sure what broke the dial on the back as i never got a chance (nor did i trust them eventually) to take them off road.
Adjustment is easy; easy to put on and take off.
Great shoe, great lace concept, but not ready for prime time. Lasted 6 months before the boa cleat failed. Northface service was awesome and refunded full boat. Hope they make improvements - I'd buy the upgrade.
Unanswered Question
I am wanting to buy these for a female...
I am wanting to buy these for a female friend, She is a UK size 7 would a male US size 8 fit her?
I LIVE IN CHILE SOUTHAMERICA. IN THE SUMMER...
I LIVE IN CHILE SOUTHAMERICA. IN THE SUMMER I BOTH A PARE OF M ENDURANCE XCR BOA SYSTEM, BUT NOW THE BOA SYSTEM OF MY RIGTH SHOE BROKE,.HOW CAN I FIX IT.
If you get on the Boa website they show replacement cable/laces for not only the running shoes but also the boots and golf shoes they also are on.
do these run big, small, or normal compaired...
do these run big, small, or normal compaired to adidas or asics
I normally wear a 13 in New Balance, Adidas or Nike I had to step up to a 14 in this shoe.
The North Face Endurus XCR Boa Trail Running Shoe - Men's
I must say they are of very good quality. Keep my feet warm, dry, and comfortable. Thats exactly what I was looking for. I cant say enough about the costumer service, I'm very pleased. Thank you.
Shoes are great for adverse weather- will keep your feet dry and warm in moderate conditions. Great for everyday. I was skeptical as to how they would perform as a running shoe, they are great. Shoe runs a little small in the width- if you have a wide foot or wear thick socks, consider moving up 1/2 size.
The North Face BOA BLISTER Shoes
I always run with Asics. Never been a problem. I needed a trail shoe. I have to say these are clearly the worse shoe I have ever worn. I tried wearing them in an Ultra and nearly DNF's to all the complications I had with these shoes. Yes, I did break them in before my run too. Run away from them NOW! I will admit I do own the arnuva boa and they are a completely different shoe. Much more comfortable too.
Please Sir, May I Have Another?
Over all the shoe is not that bad. I kind of liked the boa system except one shoe wouldn't relase all the way. My biggest problem was the shoes seem to have little or no arch support. After being on my feet for several hours at work my feet were killing me. I put an old pair of TNF's on with a much more pronounced arch support and felt fine the rest of the day. These shoes might work fine for someone with a low arch but I'd stay away from them if you like/need a lot of arch support. I will be returning these and looking for a different shoe.
The Boa lace design is great and the shoes are well built. They run about one half size too small. I cannot wear mine.

Regards,
Sorefoot
The idea behind these kick are great. They have great traction and the laces are flippin sweet.
Be careful with these Boa laces
Having had a previously positive with TNF Ultras I needed a new pair of shoes for a 62.5 mile endurance event and made the mistake of switching to the Endurus XCR Boa. On the second of 2 relatively short training runs the Boa laces broke and I had to return the shoes. I then reverted to a pair of Ultra XCR 103s which were excellent both in training and over the 62.5 miles. In summary I would save the premium and go for (the slightly cheaper) TNF Ultra 103 XCR over the TNF Endurus XCR Boa.
The sole is firm and not as cushy as a regular running shoe. It feels solid and comfortable. There is ample tread, and the BOA system is even easier than it looks. Highly recommended.
They run about 1/2 to 1 size smaller than listed. I am an exact 12 and I had to return them for a 13.

Have not tried them yet but they look good.
These shoes are great! If you put your shoes on while you are flying out the door then you will love them!
I bought these shoes thinking that I could have them on for the whole day and my feet would be in utter bliss. That's not the case with these shoes. If you want to do a several hour trail run/hike these are perfect. They are a very stable platform that are very stiff. They aren't the most comfortable shoe out there. Don't worry about getting wet feet with these shoes because they are monsoon proof. If you like a literally bomb-proof shoe these are it.