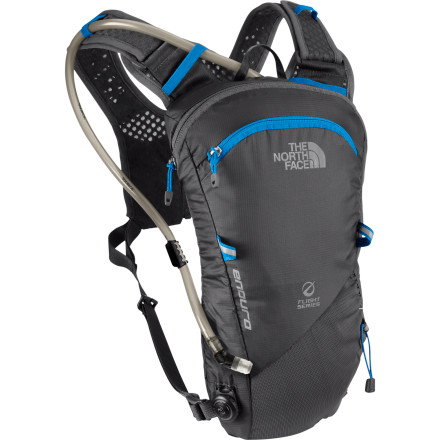 The sleek and speedy Enduro Hydration Pack from The North Face fits like it's a part of your body. Shaped more like a harness than a plain-old backpack, the body-hugging design means the Enduro won't bounce around while you're on the move. Strap on this pack for long day hikes and trail runs when you want to cover lots of ground.
Adjustable man-specific harness distributes weight evenly over your torso without rubbing your shoulders the wrong way
Enduro Boa anti-sloshing tech uses a feather-light steel cable and rotary adjuster to squeeze your hydration bladder
Reflective tow loops make it easier to see you when you're on the road after dark
Exterior pockets hold gloves, arm warmers, cell phone, and other essentials
What do you think about this product?
Have questions about this product?
I thought this pack looked awesome and i needed it to go long on the trails. My biggest concern about this pack is that there is no waist belt and it would be bouncing around like crazy on descents. Not a problem. Barely even any movement as you are cruising down hill. Another great feature is the ability to tighten the fabric around the bladder as your running to reduce the sloshing of a half empty bladder. The North Face did a great job again.
Great pack, nice and light and gets the job done well of keeping you hydrated.
Who makes the bladder? I have an older...
Who makes the bladder? I have an older North Face hydration pack that came with a Nalgene bladder...are the new ones still Nalgene or have they switch suppliers?
The new supplier is an israely company name: "Source"...As a man ho live in Israel and know the company I can say that "Nalgene" is better