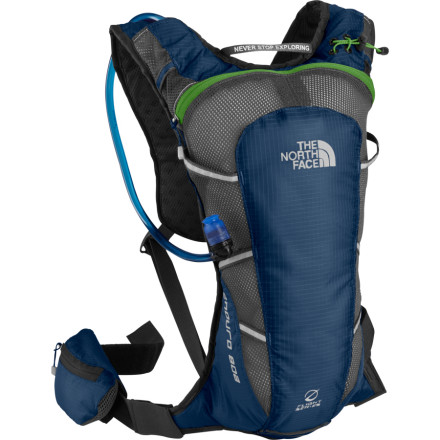 Community Images
The North Face Enduro Boa Hydration Pack is what every thirsty runner is looking for. This pack distributes weight across the sternum, which reduces shoulder abrasion. Soft mesh construction wicks away sweat and allows your body to breathe, keeping your body cooler and more comfortable. And a cutting-edge Boa® system compresses the 1.5 liter reservoir with the twist of a knob, eliminating the annoying sloshing of water while you're cruising up the trail.
Does the mouthpiece have a magnet that...
Does the mouthpiece have a magnet that connects it to the chest strap?
Tried this pack this morning on a 10 mile run and was impressed who well it is designed and performed. I am about 5,8 and 200lbs and found the straps and length fine for my body size. Bite valve is great and flow rate was nothing to complain about. Magnetic fastening to the straps also works fine. Reservoir could have been a little bit bigger,but 1,5 liters does keep you going for a while. Strap details and boa system does the trick and at such a light weight that it is barely noticeable. Money well spent,I think.
Unanswered Question
Is this pack big enough to swap out the...
Is this pack big enough to swap out the 50 oz bladder for a 100 oz bladder?
Short torso? This pack is for you...
This pack was *nearly* perfect.

GOOD

- The cross-sternum design is genius. I've got a 40" or so chest, which isn't Mr Universe but I always have a problem with arm straps digging into my chest. No problems at all with this bad boy.

- Lightweight with room - I ran for 4hrs this weekend, 17M around the Chicago course supporting my wife. Had the bladder full (2.5L), carried a wind/rain shell, wallet, cell, couple of gels, Clif Bar, and a spare pair of shorts.

- Carries well. Paces down to 6:30/mile with the weight listed above, and I didn't even notice.

- Great details. Strap loops to keep them from dangling, small whistle, removable hip pockets on the hip belt, and a Boa System to fine-tune the suspension, strong magnet to secure the bite valve, and the valve itself is virtually leak-proof with a the twist-down design, breathable back pad.

BAD

- Way too short in the torso. Virtually impossible to secure the belt at hip level without compromising the load. Considering cutting off the belt, and re-sewing on some drop-down extensions to make it work.

- It could still lose and ounce or two here or there by getting rid of some extra material.
This pack is a great design in general, but comes up short if you are on the taller side. I'm 6'1" and the issue I ran into is that I can't adjust the straps and pack such that the waist belt is actually at my waist - it's more across my stomach. That means that I can't tighten up the waist belt to have it provide any stability or assistance, and it's just not comfortable to run with as it crosses my stomach. They need to have a way to get the straps and/or waist belt into a position that the pack can sit nicely on your chest/shoulders/back such that the waist belt then actually goes around your waist if you're 6 feet tall or taller, etc. My wife (5'5") is now using this pack and it works great for her.

I really like the design otherwise: the sternum/chest strap mechanism is great, the shoulder strap system has nice touches like how the ends of the straps are on loops that attach to the other portion of the strap so that they aren't just flapping in the wind, the magnetic bit valve holder is awesome, etc. The bladder is easy to get into the pack, and stays really nice and still with the BOA system. Having the extra space in the pack to put a jacket or gloves, etc. is great, but it doesn't come at the cost of a lot of extra material or weight. So, if this fit me, it'd be a great pack, but as is, I just can't use it.
This hydration pack is almost perfect. It has good space and hydration bladder. The velcro straps keeps them from slipping more open as happens to me with other packs. However, I have a fairly wide chest, 44" jacket, and the velcro chest strap has to be set on it's widest setting and still barely fits. It has come open when running. This is not even a concern with other hydration packs. Just 1" wider adjustment would have been great.