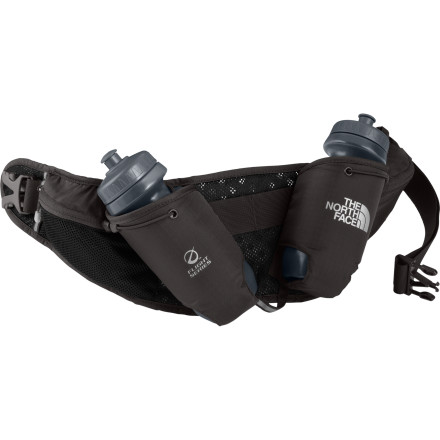 Thanks to The North Face Enduro Belt 2 and its 40 ounces of water strapped to your waist, you don't have to dig too deep to get through the last mile of your run through the woods. The Enduro's bungee bottle holsters permit quick, much-needed squirts of water and its breathable foam and smooth mesh belt keep you cool and dry for miles.
Two 20-ounce bottles (included) secure to the belt for those rough, fast downhill runs—Bottles are BPA-free to make sure your water stays tasty and clean
An offset buckle doesn't rub on the wrong spots
At 11 ounces (without water), your body easily forgets the belt is on your waist
Two pockets on the belt hold a camera, snacks, or poncho while you stride over the trail
Reflective details shine in headlights to keep you visible during nighttime jogs
pros: seems to be well constructed, comfortable.


cons: i wish that the buckle was centered, it feels weird having it off center, wish that the pockets were a little bigger.

i have used it only for shorter distances (up to 1 hour runs) but i would recommend it.
I purchased this item for hiking at Grand Canyon. It's nearly perfect, other than the fact, one of the bottle came leaking. I fixed by buying a new water bottle there. I basically hiked 20 miles with both bottles to keep me well hydrated.

It is well-made and comfortable. If you carry a backpack at the same time, beware, the clip might scratch against your pack.
I bought this a couple weeks ago for my first 50 mile race. Somehow I have not used or ran with it even once before the race. Just tried it on when I got it. On the race, althghout I was a little concerned about how it would work, I ran with it very comfortably all the way through the finish line. I thought initially the belt would hurt me later on, but it did not. This thing worked very good. Anyway, I carried only one bottle at the time, just because wanted to make it lighter as possible.
I bought this belt because I had a bad experience with a hydration vest (chaffing and movement).

This belt is great. It holds 2 20oz bottles and has two nice size food pouches.

The two draw backs I found in running a 50k with this belt is that the belt kept loosing up (so I pinned the belt together to stop that - not a biggie) and the bottles are non thermal (I replaced them with camelback thermal bottles and it works great)

I am running a 50 mile this weekend and if I have any more updates and will revise this post

Happy running!
Comfortable. Easy to adjust. You'll barely know it's there.

I wear it a bit higher on my waist to ensure it doesn't bounce around too much and it sits nice and secure. The extra pockets are just big enough for my phone, keys or any other small necessities on the trail.