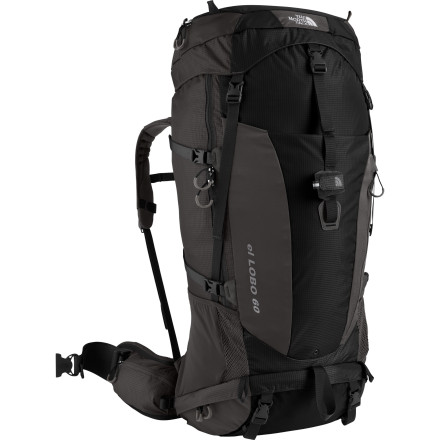 Detail Images
Don't let one of your long weekends go by without spending some quality time on the trail. The extendable, torso-adjustable El Lobo 60 Backpack from The North Face holds enough gear so that you can spend all of your free days off the grid. Despite the steep trail, your hike into the wilderness doesn't feel like work. That's because you matched this pack's included harness adjustment system to your body, which allows you to comfortably lug up to sixty pounds of food, water, and gear to a campsite way out in the middle of your favorite patch of wild America.
The lightweight X Radial 2.0 frame and foam back panel provide unmatched support and excellent breathability thanks to a perforated frame sheet and a mesh overlay
Opti Fit technology allows you to measure your torso and then set the pack to fit your body's dimensions
Ergonomic shoulder harness and dual-pivot waist belt spread out the pack's weight (up to 60lbs) while you climb and stride over rocky trails
The pack extends to provide over 600cu inches (10L) of additional space for long distance trails or expeditions
Removable top lid can be carried as a lumbar pack for short spur hikes off the main trail
Lightweight and tough ripstop fabrics and water-resistant zippers prevent passing showers from soaking your dry clothes
Access through the top lid, side zipper, and through the pack's bottom sleeping bag compartment ensures you don't have to unpack and repack every time you need a snack or change of socks
Several compression straps, one ice-axe or trekking pole strap, and exterior pockets give you countless options for carrying your gear
Unanswered Question
What is the height of the frame, for both...
What is the height of the frame, for both size M and size L, measured from the base of the pack at the center of the lumbar pad to the top of the frame (just the actual frame)? Having a torso size between the two I need to know the head and neck clearance in order to decide comfortably. Thank you kindly.
As far as I can tell this pack is extremly...
As far as I can tell this pack is extremly over-priced, I guess that comes with the TNF name.
Is this a question? I'll say yes... but ther r people that will say no
So Far So Good ... Stay Tuned
This back pack just showed up at my front door. On first inspection, I'm happy with the apparent quality. Zippers look good. Pockets are bigger than anticipated and there is one more pocket than I thought which is nice surprise. Hip belt and suspension in general look like quality. I have a bunch of backpacks including a Gregory Palisades 80 and the North Face El Lobo looks to be the measure of the Gregory. I got this one for a little 3 day trip this weekend. I'll let you know more after living with this thing out on the trail for a few days.

Update; Loaded 40 pounds into my El Lobo and took it up on the AT for a few days. Back packs fit or they don't and this one just didn't fit me well. I wanted to love this pack. I was impressed with the quality and the layout. The pockets are well thought out and well placed. The hip belt has two small pockets, one of which is water proof and the other mesh. Nice touch. I was able to fit my sleeping bag, pad, first aid kit and some other odds and ends in the sleeping bag compartment at the bottom of the pack. Pack compresses down nicely, straps are good. Stuff it pocket was perfect for my rain gear. In short this is a great pack but after two days in the steeps I had some bruises on my hips. This thing will fit somebody perfect ... just not me
Is it waterproof? If no has it got...
Is it waterproof? If no has it got raincover?
Best Answer
No the pack is not waterproof and does not come with a rain cover. Very Very few packs are waterproof. In a light rain for a while the pack will be just fine. Long term in a heavy rain storm you will need a rain over. It is always good to keep the rain over on when it is raining because when the pack starts to absorb moisture it will get heavier and stay that way for a while. Pack covers shed water fast and will keep your pack light.
Solid, but attention to detail counts
I have one of the earlier versions of this pack but as near as I can tell TNF has kept most things the same. The suspension is solid and it comfortably carries 50+ lbs. The hip-belt is sturdy and feels good all day. TNF has added dual hip-belt pockets, which we all love.
Overall I am glad to have this pack and find myself taking it out for all kinds of trips quite often. However, some of the attention to detail is lacking. I've had about half the zipper pulls pull apart because the string was melded into the plastic instead of running through it. As well, the zipper on the lid of the pack has slowly destroyed itself and no longer closes. I've replaced zipper pulls and will have a new zipper sewn in, but annoying when the little things don't work.
I just bought this pack and it is awesome,...
I just bought this pack and it is awesome, BUT there is a HORRIBLE squeak that seem to be coming from the aluminium tubes and plastic backing... is this normal? is there a fix? I would hate to return. I had an external pack that was rock solid, this is my first internal pack, I hope this is not normal for internals.
I have has squeaks from many different packs but nothing that was really prolonged. The squeaking could be a result of weight on a part of the frame, maybe by moving your gear to different spots would fix it. If not I have heard that putting chap-stick on the part that is squeaking would stop it.
I picked this pack up through a different channel but thought I would put my 2 cents in since there are few reviews out there for this pack.

I took this on a 3 day hike up Grandfather Mountain in North Carolina and have very few complaints. The suspension is fantastic, I had back surgery 1.5 years ago and 50 lbs didn't cause me any issues at all. Also the pads on the hip straps were very comfie. Based on past injuries I put a LOT of care into my back and this pack was absolutely perfect for me on that front.

The pack was easy to balance and getting to gear was easy with all the access points.

One of the few things I would change would be to add another set of straps for poles/axes/etc, and maybe a few more loops to attach gear. With that said I made it work just fine without those things

The only other change is that the hydration pouch was a little small, I had to really cram in a 2L camel back bladder, don't expect to get a 3L bladder in this.

I had no issues getting a TNF Aluetian sack in the bottom pouch, it was tight but not an issue.

Over all a great pack, but I do wish I had picked up the 70 instead of the 60. Not a big deal though.
Espacioso comodo por dentro y por fuera, es una excelente adquisición para ir de Hiking
Espacioso comodo por dentro y por fuera, es una excelente adquisición para ir de Hiking