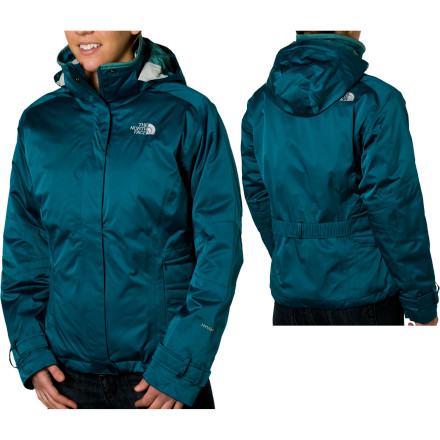 Detail Images
Down is awesome. Wet down, however, is not so awesome. That's why The North Face covered the Down Triclimate Jacket's removable down liner with waterproof HyVent 2L fabric.
550-Fill down removable liner for on-the-hill weather changes and downtown wear
Waterproof HyVent 2L fabric and taped critical seams help block snowflakes
Underarm zipper vents dump excess heat
Removable hood reduces bulk on dry days
Share your thoughts
What do you think of the
The North Face
Down Triclimate Jacket - Women's
? Share a...
perfect jacket. i had this for 2 years, and i never worried what a winter cold could bring.
Unanswered Question
I JUST BOUGHT THIS JACKET AND I LOVE IT...
I JUST BOUGHT THIS JACKET AND I LOVE IT BUT THE HOOD SEEMS REALLY SMALL, DOES ANYONE ELSE THINK SO? I'M JUST WONDERING IF IT IS DEFECTIVE OR SOMETHING BECAUSE IT BARELY TOUCHES MY FOREHEAD AND I DON'T HAVE A BIG HEAD? :)
This coat is beautiful and a great fit. I ordered small and I am 5' 5 about 120. This is an exceptional buy. Great quality and will be super warm for colorado winters.
I "traded" in a 2 year old North Face 3-in-1 that was now too big on me (with the AMAZING backcountry.com return policy) for this coat and I just love it! It is more fitted and very cute. The inside coat is VERY pink and a nice light weight down which will be nice when the air is crisp. I think the two jackets together should be plenty warm for the trek from the house to the car in January - although it is August in Wisconsin right now and I haven't had a chance to wear the coat yet. I love the styling and colors of it and can't wait for the cooler temps to roll in so I can wear it!
I'm thinking of purchasing this jacket for...
I'm thinking of purchasing this jacket for my daughter. My question is just HOW cold is it good for? We live in Alaska and I'm looking for something that will keep her warm down to at least 10 degrees.
On its own, this is unlikely to be warm enough at temps that low. It'd be great with a fleece under it, but if you want a stand-alone jacket you're going to have to go with a full-size puffy, something with a loft closer to 650 or higher.
I live in AK too. I'm ordering this coat for the fall/rainy seasons. I have a North Face down 750 fill. Wore it constantly on the North Slope, inside & out. Depending on where you live in AK this coat may work for you, if you are in the Interior probably not. Also, if she isn't planning on using it for out side sports-just day to day, car to building-it should be alright.
What color is the down liner that goes...
What color is the down liner that goes with the Fissure Green jacket?
Hi Stacy the down liner jacket inside is fissure green as well. Hope that helps.
Love this coat; it's warm, versitile and looks great! It's rare to find a warm winter coat that doesn't look like a potato sack on a woman's body. This coat nips in slightly at the waist and allows for a hint of figure to be seen! I say, buy it!!
Just received it today. A little disappointed that can't cinch at waist and there are not enough pockets. Outer layer has one inside pocket but it's too small. A fake belt in the back looks nice but does not add to use. I'm 5'1 and length of jacket was good but sleeves were too long, even when there is velcro on sleeves for adjustment.
I spent hours researching the perfect jacket and reading all reviews, finally decided TNF was the way to go. Originally bought the Triclimate Boundary fleece and fell in love with it right out of the bag BUT it was too small and Backcountry no longer carried Medium. So I continued my search and decided on this down jacket in medium, I'm 5'4" @ 123 lbs. It fits perfectly, arm length is perfect, overall length is perfect and it looks really good on me. I can layer up under it too. I've used it as 3 jackets and it has kept me very warm and dry in the Colorado wind, snow and rain. The jacket is very light and packs extremely well. The liner is warm by itself and zips in and out very easily. Two ways this jacket could be better: At least 2 more pockets, one for liner chest and one for shell arm; and pit vents, which they advertise, but indeed are NOT there. Nevertheless, I still love it and would definitely recommend it.
I absolutely LOVE this jacket. It keeps you warm while still being feminine. The stitching detail to both the outer liner and inner down jacket are wonderful! It runs true to size. I usually wear a small and got a small. I can still wear a sweater, etc. under it without it looking bulky!!! It's awesome, you won't be disappointed!
I really wanted to like this jacket...
But it just wasn't my style. I think it's really nicely made and perfect for casual wear -- if you've got the liner and the shell together. Even alone, I think the shell is pretty nice. It does have a little bit of a sheen which was fine by me and it is a little short (I'm 5'4, 105 and the XS hit just above my butt). But my real problem was with the liner. It's super warm paired with the shell but alone, it's a little bit lacking. Plus the nice sheen on the shell did not translate to the liner -- I got the black one and the liner looks like a shiny trash bag. Plus it's also about a 1.5 inches shorter than the shell so when I wore it alone, I looked absolutely ridiculous. Lastly, it is down, so I expected it to be a bit poofy, but what I found was that the arms on the liner (when I'm wearing it alone) look disproportionately poofier than the rest of it. The nice thing though is that my TNF Denali fits into it so I could keep the jacket...but I probably won't.
Overall this is a nice jacket. Here's a breakdown of why:

- fits well, which is not always easy for me as I am petite
- this coat doesnt weigh you down like other winter
coats
- good for an active person/winter sports
- it looks nice

On the other hand, this coat does not deserve 5 stars because:

- it only has two pockets and they are small (they can
fit your hands and nothing more)
- it will not keep you warm in extreme cold
(i.e. chicago temperatures). you will need a sweater
and multiple layers
I ordered this in a large in the black color, because usually TNF items in medium are a bit too small for me (I'm 5'9" and 160lbs), but this was way too big around the chest & waist, but still too short waisted (I do have a long torso, though). Also, the fabric on both the outer and inner coats was weirdly shiny, which I didn't like at all. So, I ended up returning it and ended up with the TNF apex paradigm instead.
Great item, I actually do use it as 3 coats! Together it has been my winter coat for Chicago. The outer jacket has been great for windy & rainy spring days. I just took the down liner on a trip with me, as it compressed really well to fit in my luggage, and weighs practically nothing!

Unfortunately, I didn't get to take it skiing this year. NOTE: It does NOT have underarm zipper vents, and the pockets aren't very big
I love the orchid purple color! In fact I paid more to get that color because I could've gotten the jacket for less elsewhere but they didn't have that color. I like the fact that you can zip in other NF jackets (e.g. khumbu). But I will probably end up only wearing the outer jacket as the jacket is a bit puffy when worn with the down liner--kind of marshmallowy. Also, the bottom part of the jacket tends to be a bit small. It'll be great for the rain--not even a drop will get through and the hood is removable.
Nice Jacket! Too few pockets
It's overall a very nice 3-in-1, meets most of my expectations, light-weighted, nice bright color, well-made. It seems as it can be zipped with fleece jacket, but I haven't tried that yet.

Several cons:
The jacket was not as warm as I expected. I live in NJ and it has been very cold this year. The down liner is very very thin. Good thing is it does not make the jacket bulky, but it's not warm enough for extreme cold weather.

It's much shorter than I expected too. I thought it would cover my butt, but no.

It has shockingly few pockets for a north face. The 2 front pockets of shell are very small.

There are no underarm vents. Not sure if this is because of the down liner, I guess you need underarm vents on both shell and liner.

The velco closure is annoying. It gets my swearter easily.
What is the length of the jacket?
What is the length of the jacket?
I'm a bit over 5'5 and ordered small. It's just above the butt.
I am pretty small but like to wear sweaters...
I am pretty small but like to wear sweaters under my jacket when I ski should I get a medium? I also worry about jackets being short, does this run short, I am concerned about snow getting up into the body.
I'm small too. I'm 5'4" and 102 lbs. I got the XS, and I fit a thermal and a polar fleece sweater under. I don't think I can get three layers under this jacket in an XS though. It does run a bit short. I fell while skiing and snow got in my back. It's pretty warm though. I was in Mammoth last weekend, and although the temp was in the 40's, I actually felt really hot wearing this jacket. When I went higher up the mountain and it was chilly, all I did was zip it up and instant warmth!
Love this jacket. Looks great. Very warm together with the down liner. The ability to wear the shell or liner separately is a major benefit. I have worn it skiing and am always able to adjust to the conditions by changing it out. Zipping the liner out is a cinch too. The best surprise is that the liner not too bulky but still crazy warm! I will be using this all winter.
I love the jacket. I like the fact that I can take it apart and use either one. This winter I have used the inner down part with my ski pants to go out in this NY wheather (I am one who is always cold and nothing keeps me warm). I use a separate hat to keep my head warm. The hood that comes with the jacket is attached to the outter jacket. I have not been able to test out the outter jacket if it is good for the rain. I noticed that i when I attach both jackets together the part where the zipper is has somewhat of a draft in the center. However when I zip the down first and zip the outter jacket the draft in the center is less noticable. There is no armpit zippers.