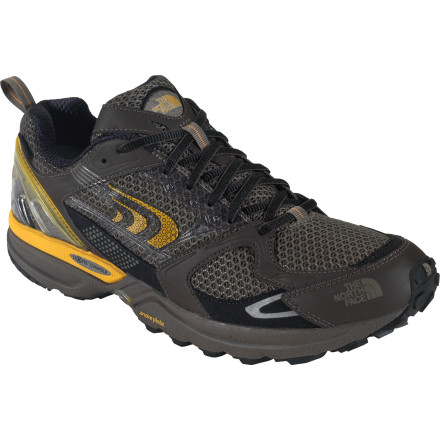 Community Images
The North Face engineered the Men's Double-Track GTX XCR Trail Running Shoe with its Terrain Harness design to support medium-arched over-pronators as they traverse rough, uneven terrain. It also included a Gore-Tex XCR insert for those who get after it in any kind of conditions, no matter how wet or muddy.
Gore-Tex XCR waterproof breathable membrane keeps your foot dry during soggy outings
X-Dome Cradle Support heel cushion system stabilizes the foot the instant it touches the ground, allowing you to confidently roll forward through the stride
Breathable mesh panels help foot sweat evaporate so your toes stay dry
External molded heel counter offers further stability
Dual-density Northotic footbed offers superior support and cushioning
High-rebound forefoot EVA adds spring to your step
TPU Snake Plate protects your forefoot from rough ground without adding excessive weight or stiffness
Tenacious Grip sticky rubber outsole handles rough, slippery surfaces
I think they are step ahead of competitors,everything was exceptional from shipping to customer service/return/exchange ,website is very informative.
Great flexible waterproof shoes
This is my second pair of these shoes. For years I was using the Salomon line (original Vortex, GCS XCR, XA-Comp 1 2 and 3).



However, as time went on, the Salomons evolved in a direction which I didn't like: their shoes were getting stiffer - both the contour/ toe area, and same thing for the sole. The latter was also very slippery on wet rocks.



These North Face shoes have all the good things of the Salomon (optimized for trail running), plus:

- They are more flexible

- They have a better grip

- They are very comfortable and have good arch support, so I do not need to add an arch support sole inside like I had to for the Salomons.



If you're looking for an efficient shock-amortizing, arch-supporting, waterproof trail running shoes, then this is definitely a shoe worth trying.
Excellent service quick resolution/excha
Customer service is excellent my shoe ran small and they quickly resolved the issue with an exchange and even reserved the size I wanted
Over the course of 1yr I've probably logged roughly 1,000 miles on these or 4 miles per day (average) hiking (not running). They have stood up extremely well and have lasted a lot longer than competitor shoes. I am very hard on my footwear. What lead to their demise, after 1yr of use, is I snagged the top of the toe box on a branch and it sliced the mesh open. Now there's a hefty hole. The GTX XCR is excellent. I'm in MA and they've been through a wet & muddy spring, hot summer, rainy hikes, dewy meadows and a snowy winter and I have no complaints regarding breath-ability and water proofing. Traction & stability is excellent on all types of terrain. 1,000 miles of use and the soles are finally worn down, yet surprisingly grippy. Toe box has wiggle room, the heel is mediocre for my narrow heel (I have to tighten them up just right or else I get minimal slippage, no blisters, but enough for the heel liner to wear down at the point of friction). Now the downside: the shoe laces are an absolute pain to deal with. CONSTANTLY coming untied. It's not a very cushioned shoe. I get knee pain if the shoe isn't cushioned enough and ever so often my knees act up with these shoes.
It takes a little while to break in, but after that it is a very confortable shoe. Both on and off trail.
Comfortable but not long-lasting
Comfort while walking/trail. Front of foot rubber wrap over toe peeling away from shoe within 5mo of trail beating.
Very good running shoe. No problem with sharp rocks, tree roots , slippy places. Fits normal width foot and wider. Weight is OK,... not light as a single track NF shoe, but much robust.
How effective are these for 8 mile+ hikes...
How effective are these for 8 mile+ hikes (walking, not running)?
I don't know about these specifically, but I have a pair of trail running shoes that I use for hiking. They are great because they are light and cool. The downside is that the ankle protection isn't as good, but I still use them. Hope this helps.
My first experience with North Face footwear & I'm a convert! These are great shoes for someone with wide feet like me. The traction, stability & cushioning is excellent. I wouldn't go bounding down really technical terrain in these but for moderate trail running (& getting to the trail & back) these are one of the best shoes I've run in. I now have 3 pair (2 regular & 1 GTX)

They do have a wide forefoot though & a lot of stability in the shoe, so if you are an efficient/neutral runner or have a narrower foot, maybe look to Salomon or La Sportiva.
I've ran in these twice so far and I really love the ride--much better than Salomon XA Pro 3d Ultras. The fit is perfect for my foot--I wear a 9.5 and they are true to size. They are more cushioned than the Asics GT-2140s I replaced them with. They are definitely cushioned enough for the street or the trail. The only reason I haven't given them a 5 is I'd like to see how well they hold up. As of now, I like the styling of these and functionality. Hopefully they'll hold up as well as they perform out of the box.
The North Face Double-Track Video