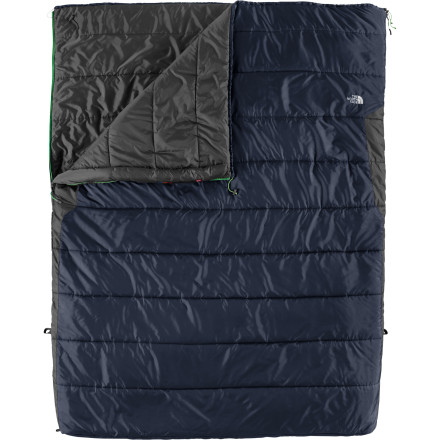 Make space for your portable heater (the kind with two legs) and bring The North Face Dolomite Double 3S Bx Sleeping Bag on your next camping trip. There's plenty of room for the both of you in this commodious double bag, and the Heastseeker insulation easily traps the heat generated by two bodies.
Heatseeker insulation is soft, durable, and highly compressible
Ergonomic foot box gives your feet room to flex naturally, encouraging circulation to keep you warmer
Small internal pocket stashes a watch or other vital items
Stuff sack included
Small internal pocket stashes vital items
Roll-stop stuff sack included
Unzips to lie completely flat for mild weather
Brilliant
Familiarity:

I've put it through the wringer
First off, I'm 6'7" and went the long length. I disappear completely.



We purchased this as our first foray into the double bag, and haven't looked back. Its weather rating holds up admirably - perhaps a little too well in more tepid climates - and it's been incredibly easy to care for.



Perhaps the best feature is that, despite the amount of fabric to move around when you're inside, it's not loud. Nothing worse than sleeping in a Doritos bag.
And streeeeeeetch
Familiarity:

I've put it through the wringer
I use this bag every time I camp, unless it's a multi-mile backpacking excursion. Nothing like being able to stretch out in any direction or roll over. This bag zipped up covers my Queen size bed, not hanging over the sides, just covers it ( I do have the long version, 6'-0" tall, glad I got it). Go ahead, get it, sleep in comfort, invite a special, (or potentially special) friend and get some great sleep.



Personally, I put off a ton of heat so the times I have used it by myself when the night drops down to 35ish degrees I still had an arm out ....



To make this a home run, grab a double sleeping pad as well!
Great car camping couples bag
Gender:

Male

Familiarity:

I've used it several times
Pros: roomy, inexpensive, seems durable, dual zippers,

Cons: bulky, no mummy-style hood, not good for below 30F



I bought this bag for the lady and myself for a car camping road trip during the winter holidays. This bag saw action at 3 different National Parks and weather down to 30F. The bag performed very well for our needs, but I definitely wouldn't suggest using this bag in sub-freezing weather. Even at 30F, paired with thick air pads, and a comforter inside a 2 man tent, made for chilly nights. Thankfully this bag is pretty wide so we were able to throw both the dogs inside, which helped keep us nice and warm.



Overall, I would highly recommend this bag for couples that want a little bit of luxury at the expense of weight and bulk during car camping adventures. For the price this is much cheaper than 2 equivalent bags.



Note: I'm 6'4" so I got the long version and it was perfect for my height.
good not great. Adequate
Familiarity:

I've used it once or twice and have initial impressions
Pro: cheap, very roomy, side zips, seems durable

Cons: Drafty, big, Hervey.



I know its meant more for car camping and not backpacking but a draft collar would be nice. I finally convinced the miss to come test it out and it was soo drafty with 2 people in it because you cant really snug it around your necks. and because there was air flow it robs you of heat. still a good deal for the money, i just now know that it has its limitations to even warmer temps than i was planning...




Goto bag for car camping
Familiarity:

I've used it several times
This bag is great for car camping. Plenty to room for two and great design with easy access on both sides of the bag. Really comfortable down to about 30 degrees or so. Not sure if it would make it all the way down to 20 degrees without some help, but I can't really confirm because I've never used it below the mid thirties.



Weight of the bag is reasonable at 6 pounds, but might not be compressable enough to take backpacking, unless you've got a fairly large backpack.



All in all, a superb product that's affordable and does what it was designed to do very well.
My wife wanted a bag that she didn't feel claustrophobic in. We have a couple of young boys, (3&6) so I figured this would take care of a few issues at once. It worked great. I'm questioning that whole claustrophobic thing because she was just a bit too contented having those boys sleep with her. I may have been manipulated (you think?) but the way they all looked in that bag sleeping was worth it. The zipper works good and it was comfortable for them. The temp that night was around 40 and there were no complaints. Its actually not bad on the weight side either. At six pounds it was worth it. Would definitely need a bit of help in much colder nights, I'm thinking it would be fine until 35 or lower. Not a bad deal for two folks who have shared genetic material together as one could carry the tent and the other the sleeping bag. It would even help eliminate any arguments knowing that ya'll were going to have to share the same bag. I recommend it for what it says it is except the 20 degree thing, therefore it gets four stars.
What double sleeping bag is the best for...
What double sleeping bag is the best for car camping in of Wisconsin, Indiana, Mischigen from May to late October? I would be very grateful as if someone helped me with this problem because I do not know what I have to buy a Double Bag.

Thanks
Hey Klamotsky,



I grew up in the Grand Rapids area and did a ton of camping from horseback along the White River and every once in a while up in Copper Harbor. There is no reason why this bag wouldn't work for those spring to fall months. Personally I don't like these open top bags, you just don't retain as much heat with these when you compare it to a mummy bag like the Big Agnes Dream Island but its probably going to feel a little more claustrophobic.
Is this essentially two sleeping bags in...
Is this essentially two sleeping bags in one? Can I unzip them to use them individually if I need to?
Nope, this is one big bag. If you want a modular option, I suggest getting two sleeping bags that can zip together, you can probably get them cheaper than this too.
Could you zip two double bags together and...
Could you zip two double bags together and make one king size bag?
Unfortunately, with this bag, no. With the North face bags, it has to be a right hand zip and a left hand zip, same size, in order for them to zip together. This only comes in the RH zip so it will not work. You can zip the RH and LF of The North Face Dolomite 2S Sleeping Bag, 40 Degree.
Hey Jesse. I realize this is quite an old post, but I just thought I'd throw it out there: you could try turning one sleeping bag inside out, which would switch the side of the zipper. It's what I do.
Does this come with both a stuff sack and...
Does this come with both a stuff sack and a storage sack?
Unfortunately, it doesn't come with either. Comes in a box.
Really? It says it comes with a stuff sack?!
Brandon, are you sure it doesnt come with a stuff sack? The product description includes this statement, "Roll-stop stuff sack included." If not, I might have to amend my order...


mine came with a stuff sack
Awesome with a grain of salt. Cold Canadian Salt.
I love our new cozy double sleeping bag. My boyfriend and I love camping, but two sleeping bags? That's lame. So we e-shopped really hard and found this one. We just went up to Canada and hit up early-spring campsites (it's Early April) and I am really glad we got this.

PROS: It's very good quality (it's northface after all) and compared to other ones in it's price range I was really happy with it's make, stitching and utility. For it's size, it's much lighter than comparable bags (6 pounds) and it's not that sticky/fuzzy/too-much friction-can't-move material on the inside like some sleeping bags are (which I hate!). It's smooth nylon fabric throughout, double zippers on both sides with contrasting green bungee cords and a pouch for carrying. There is AMPLE room for two people. The two of us aren't very big but we got the long version anyways. We could probably fit another person in there and there'd still be room to move around. We could completely surround and zip ourselves into the sleeping bag, which, when cold, is awesome.

CONS: It was cold in Canada. Maybe a little too cold for reasonable camping, but we wanted to rough it. Though it says 20 degrees fahrenheit, I don't think you could use this in actual 20 deg weather and not freeze a bit. It was around 28-35 deg lows during our trip and I was wearing sweatpants and a long sleeve (albeit thin-ish) shirt inside the sleeping bag and I was a little too cold for comfort. Maybe if you wore a jacket and were in the bag it'd be okay, but who wants to sleep in their coat? I think this is a max 30 deg. sleeping bag. Also, for the life of us, we can't find the "inside pocket for storing valuables". I don't think it exists. But it's not really a big deal.
Does this bag unzip completely into two...
Does this bag unzip completely into two (top and bottom) pieces? I need them to go in two drybags attached to my motorcycle panniers and it is too big to stuff into one.
No, even fully unzipped it is still hinged together.