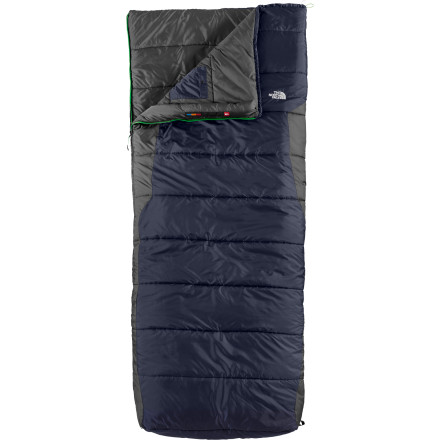 Not everyone likes the feel of a mummy bag; some folks find that the tapered design feels restrictive. The North Face gets it. The Dolomite 3S Bx Sleeping Bag packs all the features of its high-end mummy siblings with the freedom that a rectangular bag affords.
Ripstop nylon construction stops tears from turning into big problems
Heatseeker insulation is soft, durable, and highly compressible
Full-length draft tube and overlapping shingle construction eliminate cold spots
Zippered pocket keeps valuables safe and handy
Nylon stuff sack included
Great For Camping
Familiarity:

I've used it several times
I have used this bag a few times for weekend trips. Never been anywhere that it goes below 30 at night but I found that sleeping with a sweatshirt on I became to warm, which I thought was a bonus since I typically run very cold.
Great bag for short trips
Familiarity:

I've used it once or twice and have initial impressions
Just used this for the first time this past weekend. Sleeping with pants and a hoodie on I was very comfortable on a 39 degree night along the Appalachian Trail. The extra leg room was perfect for staying unrestricted. I am 6' exactly and went with the regular sized bag and am completely satisfied. This bag is surprisingly lightweight, but does bulk up a bit and makes fitting other necessary items a challenge. This was suitable for a 14 mile hike and 2 night stay, but anything more I would wish I had a compressible down bag to save on space in my pack.
Aleutian Mummy 20 or this bag? Mostly...
Aleutian Mummy 20 or this bag? Mostly backpacking and camping, but it gets chilly up north here. Never had a mummy bag before, not sure how I'd feel about the feet being closed in. Any advice?
They seem pretty similar, but generally mummy bags trap your body heat better and keep you warmer overall. I hate sleeping with my feet constricted so most of the time I leave my mummy bag unzipped and use it as a blanket. For those cold nights though, having your feet restricted will feel more like a blessing than an inconvenience, as you will sleep warmer and better.
Super Light, Comfortable.
Familiarity:

I've used it once or twice and have initial impressions
Bought this for backpacking because of it's weight and my feet have claustrophobia and this is one of the few rectangular bag's available. Just got my first chance to use it when staying in a hotel, I was with my mom and brother and the hotel had two beds and no roll away's. So sleeping pad and this baby and I was fine.Got pretty warm even in an air conditioned room so for me (I run hot, and tend to unzip even thin bags)this should be good into fall. and it's only 4 lbs. Looking forward to using this for many year's to come!
Unanswered Question
Can a Regular and a Long zip together?
Can a Regular and a Long zip together?
How small can you stuff it down into a...
How small can you stuff it down into a backpacking pack?
Best Answer
According to the specs it will stuff down to 8 x 7.2 x 22.7 in, which is just short of 2 feet long and 8 inches wide. If you used a compression sack you might be able to stuff it down a little smaller, however in my experience with synthetic bags it's going to be a fight for not much smaller packing size. Hope this helps.
The bag only comes with a right zip, how...
The bag only comes with a right zip, how are you supposed to zit it together with another one if you cannot buy opposing zippers?
Best Answer
Most rectangular bags are the same top and bottom, so all you really need to do is flip one over and it becomes a left zip.
Thank you Pat, that was very helpful!



What I was looking to do is zip two bags together to form one large bag for my wife and myself. Will buying two of the same bag allow me to do this by flipping one over?



That was the reason I was asking because you can only buy it in a right zip but not a left one and it states that it can zip together with a left zip to form one bag.
I don't know if you'll be able to zip together because on the Northface website it says that it unzips flat. Which means that the zipper is going to be start on the opposite side of the toe making "marrying" the two bags impossible.



http://www.thenorthface.com/catalog/sc-gear/equipment-sleeping-bags-filter-category-20-f-55-f/dolomite-3s-bx.html
You can zip this together with the 40 degree domomite that comes with a right zipper. This makes for a great combination, as the bag on the bottom makes little difference to your sleeping temperature (all the insulation is compressed by body weight). By combining the 20 degree and 40 degree bags, you can simply place on top the bag which is most appropriate to the climate.



I can stuff both this 20 degree bag and the 40 degree down bag into a single ALPS XL stuff sack. The two bags then compress down to about 14" x 11"
I am currently living in Australia and camping is a big deal out here! This sleeping bag was my first major camping purchase. Although the weather was not yet cold enough to zipper up, I still has a good nights rest while camping out bush. This sleeping bag is super soft, maybe a little bit big for me, but I enjoy the extra room as apposed to the more restrictive "mummy bags." I was also able to roll it up and fit it back in its pouch with minimal effort. Overall very happy with my choice.
I don't know.
Gender:

Male

Familiarity:

I've used it once or twice and have initial impressions
I haven't got to realy test it yet. I went camping but it was realy warm( 40s every night);so to speak of it cold weather ability I can't.I ws I could have found a bag tat was 80" long nd 34" wide though.This is plenty long but a little tight in th sholders.With my experance with Northface baggs buy one that is rated at least 10/o colder than you expect to see.All and all I would say it is a good bagg and will serve me well.
Regular size of the North Face Dolomite 3S Bx Sleeping Bag is 2" longer than a 6 foot man
I bought the Regular size hoping that it would be long enough for my 6' 0" Dad - it was and then some (2 inches longer). Thank goodness and he loves it - color, foot room, turning from one shoulder to the other, easy zipping and small enough to fit in his motorcycle case for sturgis! It rolls up to be about 6" wide and 15" long. He said it kept him warm during the first go round in 30 degree night but not sweating. Early father's day gift - papa is happy!
Can two of these be zipped together to...
Can two of these be zipped together to make one large bag?
Best Answer
Yes just be sure to get the same lengths but with opposite zippers.
It's only offered in a right-zip though!
should be... zipper on the same side not opposites