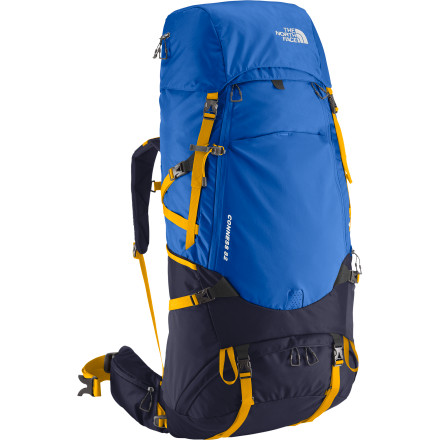 The term 'home away from home' is never more true than when you're talking about your multi-day pack. The North Face Conness 82 is your fridge, your closet, your bedroom, and your house when you're in the backcountry for days. Just like your home, it's best to keep it organized so you don't waste half your time looking for stuff. That's where the Conness pockets and panel access come in to play. Unlike your house, your pack has to be comfortable to carry. That's why the Conness uses The North Face's Opti-fit X Technology and fully adjustable hip belt and harness to give you the perfect fit for the most comfort possible.
The North Face Opti-Fit X for a perfect fit and lots of ventilation
Next-Gen X-Radial frame is strong, light, and stable
Size-adjustable men-specific hip belt and harness
Comes in 2 torso sizes–XS/S and M/L
Top load with additional panel zip makes it easy to access, organize, and balance your gear
Removable lid converts to lumbar pack for quick, easy exploration
Tough 70D geo ripstop and polyurethane-coated nylon for weather resistance
Multiple pockets for easy organization and quick access
Dedicated sleeping bag compartment keeps your bedroom away from the rest of your gear
Multiple external pockets for quick access to essentials
Reflective elements to make you more visible in the evening
Share your thoughts
What do you think of the
The North Face
Conness 82 Backpack - 5004cu in
? Share a...
is there documentation for this pack? ...
is there documentation for this pack? Where is the sleeping bag supposed to go?
Best Answer
Hey Stafford,

I normally make sure my sleeping bag goes in the bottom compartment for easy access.
Unanswered Question
I'm looking for a large 75+ liter pack to...
I'm looking for a large 75+ liter pack to handle larger, heavy loads than I normally take. I think its between this and the Gregory Baltoro 75 . I have, use and love my North Face Crestone 60, it fits me almost perfectly, but its capacity can be to small. I like a pack that sits close to my back (not into the major air flow types). I'm pretty much stream line and can have trouble getting a waist belt to sit well on my hips (or lack of hips). Any suggestions/opinions between these two?
This Backpack is amazing.
Familiarity:

I've used it several times
I've used the NF Conness 82 for several backpacking trips of variable lengths. There really aren't too many backpacks that have the durability and sheer bells and whistles that The North Face put on this thing!

First off, the main compartment is very spacious, and it essentially one really large reservoir for everything. I usually stuff my tent, stove, food, clothing, and thermal pad in it. There is ample room beyond this and it's essentially for FOOD or CLOTHES (whatever you need to extend the stay from 3 days to 8+ potentially). One thing I should mention is that, because of the spacious room, it's easy to over pack for shorter trips so be careful!

Next, this pack has a designated bottom compartment for a sleeping bag. It could also hold a pad, depending on how well you compresses it. The cinch straps (which are all over this thing) really keep this compartment condensed too. Not much else about that really.

To top it off, the top "hood" compartment is also really spacious and I generally use it for an emergency layer, or a rain jacket, plus essentials like a water filter, emergency kit, and wallet, phone, etc. I would really like to know if anyone uses this top compartment separately for a lumbar pack (I personally think that it's horribly designed for that purpose). The real advantage is that you can toss this top compartment, your sleeping bag, and clothes bag into your tent and not have to worry about missing anything.

Finally, the bag as a really nice elastic compartment on the back perfect for a water bladder. It also has a mesh compartment on the right lumbar strap and a solid pocket on the left. I've used this for quick access items like a camera or snacks.

The suspension system is so easy to customize that it's ridiculously comfortable. There is a ton of air flow behind you which is really nice on long hikes.

I was really thrown off by the price of this item, but I don't regret it one bit!

Last note, BUY A PACK COVER (just in case!)
How well would my NF mountain 35 tent fit...
How well would my NF mountain 35 tent fit to this bag?

Best Answer
Well, the short answer is that the stuffed size for that tent is: 61 cm x 18 cm, which is 24 inches by 7 inches.

The longer answer is that this is a huge pack and that's a pretty serious tent, so it looks like you're doing something pretty serious out there. If it was me, I'd want to compare these items together, in person, so I'd avail myself of BCs return policy if needed. $7 in return shipping is a cheap insurance policy to ensure you have exactly what you need.


Incidentally, that tent weighs 10 pounds and sleeps three... so I would imagine you'd want to split the carry with a couple other folks on your trip...
Exceptional Pack
Familiarity:

I've used it several times
Sizing was not an issue, the waist band does run pretty large. I have a short torso with a 34 inch waist. Even though I weigh 200 lbs at 6 feet I was able to work it out. I've tested this pack twice already and am not disappointed. The sleeping bag area is extra large & accessibility is awesome. The construction of this pack is very well. I had high expectations having been in the military, the Conness is a truly sturdy and tough built product!
The S/M 16"-19" and L/XL 18"-21"...Torso lengths provided by TNF.