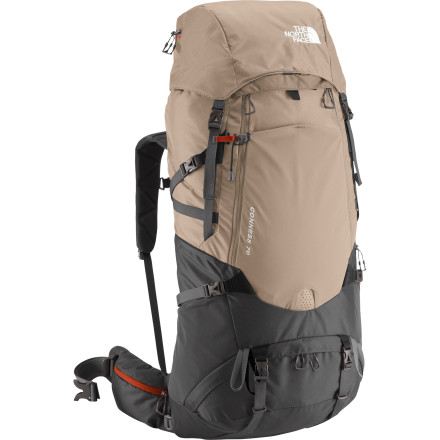 Community Images
Description
A stellar weekend pack that provides superb ventilation without sacrificing load control.
The North Face Conness 70 Backpack provides the ideal balance between ventilation, comfort, and load control. Thanks to its adjustable Opti-Fit X system that keeps the load close to your body for stability and the intrinsic airflow channels that keep your back from becoming an unbearably sweaty mess, you can comfortably tackle steep, technical trails.
Opti-Fit X suspension system features intrinsic airflow channels throughout the back panel that provide superb ventilation without sacrificing load control or comfort
Opti-Fit adjustment system uses a hook-and-loop system to adjust the height of the shoulder straps for a just-right, comfortable fit
Articulated X Radial frame uses lightweight yet strong and durable aluminum stays that support load without hindering your freedom of movement
70-liter backpack offers plenty of room for your gear during a weekend to weeklong backpacking excursion
Top-loading access with an additional front panel zip opening for quick and easy access to your gear
Dedicated sleeping bag compartment with separate entry for convenience
Removable lid converts to a lumbar pack for short hikes away from camp
210 Dura-Geo ripstop nylon and 630D ballistics nylon, both with PU coatings, supply durability and provide abrasion resistance
Internal hydration reservoir sleeve and port system help keep you hydrated (reservoir not included)
Zippered lid pocket stashes your first aid kit, headlamp, and snacks while a front pouch pocket holds your rain jacket or sandwich
Two side pockets house your water bottles while two hip belt pockets store your map or camera
What is the shipping size(LxWxH) and weight of this pack when delivered by Backcountry.com?
Hey.



The LxWxH of this bag is 33.9"x13.4"x10.2" and the weight of the pack is 5lbs 12ozs for the S/M or 5lbs 13ozs for the L/XL



Shoot me an email anytime you have questions!



Jared D.

Expert Gearhead

801.736.4336

jdowns@backcountry.com
The dimensions for this pack are 15 x 9.5 x 27.5 in.
This pack along with The North Face Alteo 50 backpack were a wedding gift for someone backpacking through europe on their honeymoon. The couple are beginner backpackers but said nothing but great things. Comfortable and reliable and was able to fit everything they needed.


I own an Eureka Apex 2xt tent for two...
I own an Eureka Apex 2xt tent for two persons and i'm planning to purchase a Conness 70. Can anyone tell me how would you pack that tent model into the conness 70? I was thinking about strapping it into the external lower part of the pack, however, I have read that it would damage my center of gravity, so it would be better if i pack it on the inside (but I think that it would take too much space from the pack) or on the higher part ( but i do not know if it's possible to do that with this pack). Can anyone, please, help me?
Best Answer
Chamhiker, I would only pack this tent internally if you were carrying a fast-pitch or fly-less setup. Otherwise it will just be too bulky. The best method really is to strap it to the lower exterior of the pack where TNF has provided straps for that very purpose. Yes it will throw off center-of-gravity slightly, but it should be negligible if you are strapping it snugly to the body of the pack. You can counteract most of the imbalance by strategically moving heavier items inside the bag toward the middle of your back.
Why would you pack it on the outside? You have 70L to work with. Put the poles vertically along an edge but against the back panel. Stuff the body/fly in the main. Easy. Done.
Is the conness material water resistant,...
Is the conness material water resistant, or would I have to purchase a separate rain cover? Also, what is the top line North Face backpack, and where does this backpack fit into the pack? (Multi-day backpacking trips)



Thanks!
Best Answer
Most backpacks have a water resistant PU coating on them as does the Conness however in sustained rainfall water would eventually leak through. If you plan on heading to areas with lots of precipitation then you probably should consider investing in a rain cover. The amount you pay initially would be offset immediately when all your gear stays dry. Just a warning though, even with a rain cover many times rain will run down between the pack and your back, getting the back panel wet. This is one of TNF's most equipped packs however they do have Matthes Crest which is similar. Hope this helps.
The material itself isn't water resistant, but polyurethane coating is. "Water resistance" isn't the same as "water proof", so yes, to keep water from eventually soaking through the fabric and the zippers, you'll want a separate rain cover.



Top-line is a really subjective term that depends on what you're using it for. For what you're looking for, the Conness line is currently the best TNF has, although the Terra 65 has been a big part of their lineup for years. Hope this helps.
Thank you both for the insightful answers.


One idea is to put "evening essentials" such as a spare set of cloths and your sleeping bag in a smaller dry bag inside the pack. OR makes some really good dry bags that work well for this purpose. Rain aside, in many back country areas, stream crossings are a regular part of any trip. A stumble in a stream could mean wet stuff, with or without a rain cover or rain resistant fabric. Just about any problem during the day can be ignored if you can climb into a dry sleeping bag and dry clothes at the end of the day.


I use this pack with the NF rain cover (red) size Large and it works great. In the event of relentless rain, there is the opportunity for water to get behind and soak the back panel but I dont know any other way around that unless you use a poncho to cover yourself and the pack. As far as "Top of the line" it is a great 3 season overnight pack but I find it too large for day hikes. Also, I find the pack to lack technical features for winter hiking and camping but its doable. I prefer to use my NF Prophet 52 for winter day hiking/overnight trips. I definitely recommend this pack , ive even considered getting the 50L and 80L versions.