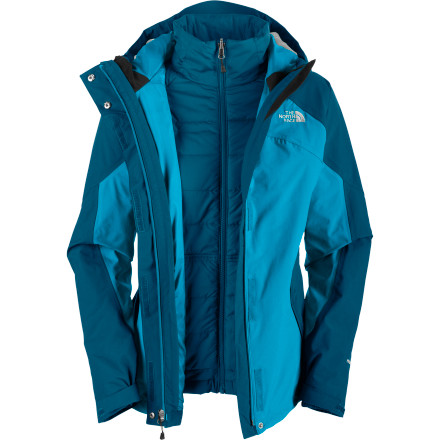 Detail Images
Whether you're scoping huge lines or just trying to find an decent place to grab an after-ski meal, The Women's Closer Triclimate Jacket from The North Face gives keeps you ready for those ever-changing conditions.
The North Face designed this 3-in-1 jacket to be worn multiple ways—the shell alone, the liner alone, and both the shell and liner together
HyVent 2L waterproof breathable membrane keeps out water so you stay dry in case you go down in the snow or get dripped on by the lift
Heatseeker insulation holds in the heat to keep you toasty when the mercury drops
does it come with a hoodie? thanks!
does it come with a hoodie? thanks!
Yes. The shell has a hood.
Will this jacket keep you warm at the ski...
Will this jacket keep you warm at the ski slopes in February?
With the right layering it should do well. the nice thing about this jacket is its versatility in having two components. It can be used with the shell by itself, the liner by itself or the shell and liner together, giving three options. With a good base you should be set for a while. Best of luck!
This jacket is for my daughter.She put on after the bear took off, she was very fond of this jacket.
A nice clothes.But than expected small.
Jacket is very well,but the package is too weak,Can u use box to transport
Jacket is very well,but the package is too weak,Can u use box to transport
Love the speedy delivery. Ordered Thurs., it shipped on Friday and I got it today (Mon.)!!! They do run a bit small. If you wear a med., order a large. I'm 145# and 5'7 and I ordered the large. The trim is NOT pure white, more off-white, but fine with me. Didn't really want white on the sleeve area anyway! Very happy!!!
I got this jacket in lightning fast time..only two days from the day I ordered it! I love the color (acoustic blue) and fit and the inside jacket is a bonus..will definetly be wearing this on it's own. Haven't tested the warmth factor, but have heard that this thiner North Face material stands up to the cold without the bulk. It was a hell of a good deal!
Would this jacket with some layering keep...
Would this jacket with some layering keep me warm in -30 degree temperaturres?
Best Answer
Jillian, for those kind of temperatures I would be looking at down parkas.
I agree with Mike, check out The North Face Arctic, Brooklyn or Greenland Parka for those kind of temps. Hope that helps.
Everything about this jacket is awesome there is nothing more to be said
Even having a nice feminine shape it didn't seem as heavy as I expected, actually seems very light, not snow/very cold outdoor use. The sizing did seem ok to me.
More of a "town" jacket than outdoors
Although the jacket had a nice feminine shape it didn't seem "heavy" enough for heavy backcountry or serious outdoor use. The sizing did seem to run small. I like to layer and have some favorite layering items. After having removed the down inner "sweater" and layered with a polar fleece I had it didn't give me the freedom of movement in the shoulder areas. I also like lots of pockets which this was lacking. It would make a great "around town" jacket.
Smaller than your average Jacket Boo Boo
I ordered a medium for my wife who is Asian. Not sure about female sizes in US but she's a UK 8 or 10. The jacket that arrived would just about fit a 12 yr old girl. My advice is going one or even two sizes up. I've just re-ordered an XL. Lets hope the refund process goes smoothly from Afghanistan.
Love the shell, love the liner, and love to wear them together. If you are looking for a heavy ski jacket, than you may want something heavier...but this jacket is great for layering. I bought a medium because all the reviews said it runs small, but I had to send it back and get the small. It feels true to size to me.
The cut is really flattering on both the shell and the liner. I get lots of compliments. I definitely recommend.
The jacket may run a bit small and have
The jacket may run a bit small and have a more 'fitted' build, but it still fit me well for my size. i ordered a small. for 5'2 and 120 lbs it still leaves room for a thin sweatshirt underneath the liner.
This is a very nice looking jacket, however be warned it is not as warm as it seems. i would still wear it for outdoor sports to not overheat, and adding a sweatshirt can add extra warmth when needed.

I am excited to test the shell in the rain; no review on its waterproofness as of yet.
So I bought this jacket for winter and skiing. I couldn't wait to put it on when I got it... I was very disappointed. First of all the jacket sizing is off and if you purchase this coat you want to get it a size larger than normal (honestly). Second, the coat is very thin and will not keep you warm on the slopes or while enduring outdoor winter activities. The good side of the jacket is that it's a sharp looking coat, if you don't mind being cold.
I am very unhappy with both the service and the product. I ordered the Moonlight Ivory and instead of being white, it was a dirty dishwater color. I had talked with a representative and I told him that I wanted pants to match the jacket and they had to be the exact color. John assured me that the Moonlight Ivory and the white of the North Face Sally pants were the same white. Wrong, not even close. So I am sending them both back and will not shop with you again.
Unanswered Question
What color is the liner for the Moonlight...
What color is the liner for the Moonlight Ivory jacket? In one picture it looks grey and in the other it looks white.
How would you compare this to the Patagonia...
How would you compare this to the Patagonia Tri Climate jacket. I notice the liner for the Patagoina is only a vest where this is a full jacket.

I bought the Patagonia but I am noticing this might be better for the bitter cold winters that Ohio gets. Thank you
I took my wife to as store and we looked at the patagonia and northface we noticed the patagoina liner was a little thinner and the hard shell was less stiff. But I have had a north face triclimate since around 2005 and like the stiffness it think it helps with hard falls on the slopes.
Great jacket but runs small
Ordered this in black, medium. Fits more like a small, with tight armholes. I'm a solid medium (size 8), so this was disappointing. Decided to give it another shot and ordered a large...