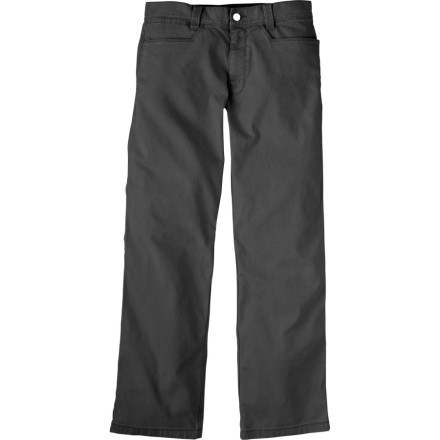 Shimmy through a crack in the rock to find a cave to camp inside when you wear The North Face Cliff Rock Crag Pant. The triple-stitched cotton pants are super durable and stretchy for your rocky adventures, while maintaining the look of a man that just left the office. A gusseted crotch increases your range of motion while climbing or caving, and the UPF 50-rated fabric lets you stay on a sun soaked wall all afternoon without sunburned thighs. The back zip security pocket holds your wallet as you climb up, over, and even under mountains.
stylish but not very comfortable
not the best fit for me. Little baggy, i own a lot better North Face shorts and pants than these.
So good, they're surprising.
I usually wear another popular brand (MH Runout), but they discontinued them, and I need more pants for cooler weather so I thought I'd give these a try. The look is really upscale for climbing pants and can be worn in almost any situation as a result. They are also very, comfortable. I put them on and they not only fit well, but they actually "feel" good. I'd buy more today, but they're out of stock of my size. I could not recommend these pants any more highly - perhaps the best I've ever purchased. Really nice stuff.
These pants have worn like an old time favorite from the first day. It is hard to find a canvas type pant that is durable and does not take months to break in. The pants I ordered this year fit the same as my older ones. They also keep their size over time and wear. I also like their low profile pockets in the rear creating less opportunity for snags and wear. I hope they keep making this pant for a long time. I have tried many other types in all price ranges.
Hello, I wear a 38x32. I just want to...
Hello,

I wear a 38x32. I just want to know if these pants run a little snug or will I be comfortable in them as a 38 waist?

Thanks
I wear 36x32 and mine are super comfortable. I would suspect that yours in 38 would be also.
Nice rugged pants, I love the deep pockets with high tops so none of my stuff falls out.
The leg room in these are amazing. I own a few pair of climbing pants from Mountain Hardwear and they don't even compare. The material is super durable and the gusseting in the crotch is perfect when it comes to getting a high foot while climbing.
Not to mention the two front pockets are super deep and the back pocket zips, which is a great feature.
5/5
I own TNF shorts.I'm 5'10 with a 32' waist, so I thought waist size would be the
same, but the 32 was sooo big,even with a belt I would have folds at the waist
line on both sides.No problem, I returned the item for the smaller size 30" waist.
Which fitted well in the waist, but extremely tight in the groin area. Very
uncomfortable, so I returned the pants again. The problem is, other TNF pant styles do fit better, to where I double checked the labels on the inside of
the pants both times to make they were not tagged wrong.
Based on the pair I bought and my build (5'11, 170, athletic, 32/32 reg), I would hang these with my casual pants a few pairs away from a go to hiker/climber. They're an athletic set of jeans with quality stitching, deep front pockets (i'm forearm deep with a fist son). They are 1% elastane with a flat front - bigger range of motion and durability are available elsewhere. I have flat front jeans and slacks, and like those pants, these grab a bit on the top of the leg behind the knee. Give me some knee articulation, hold the price, and I'll give you a fifth star. When I kick, I like my roundhouses to be head shots.
These pants really give you some nice legroom, especially if you have strong (big) upper legs. The stretch in the material used is superb and it looks like they will last for long time to come. Nice one North face!!
These pants are awesome. I'll never wear jeans again.
I bought these to have something to climb in during the texas winter. They are full length, and really stretchy which means they won't limit your high steps.

I'd recommend these to a friend.
the power of jeans but stretch to provide full mobility. super durable and comfortable. I have thick legs and they are not too tight.
I will never wear another pant...
Best pants ever. I wear them hiking/camping and around the house and to work... so pretty much all the time. Gusseted crotch makes climbing over obstacles and roundhouse kicks a thing of ease. Super comfortable!
Great for Rock Climbing and Pub Crawling!!!
Just climbed the Rostrum yesterday in these and I love them. Great fit, and that one percent of elastane give them just enough stretch for highstepping. I think these are the perfect mix of durable without being overly bulky, and they are super comfortable! Definitely a great offwidth cimbing pant if you are into that kind of thing.