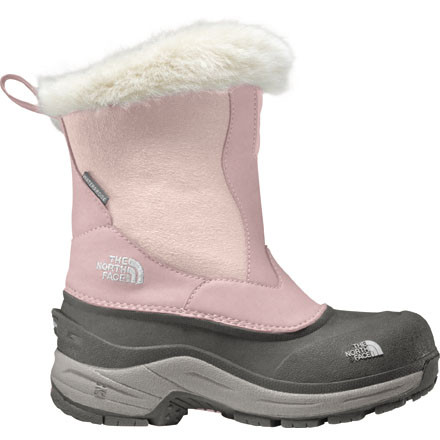 The North Face Girls' Greenland Zip Boots defend your young one's feet from the cold and wet snow so she can enjoy venturing outdoors throughout the winter. The North Face decked these boots out with winter-savvy features to provide comfort even in plummeting temperatures.
Waterproof HydroSeal membrane and a latex seam sealed construction keep feet dry through the wettest conditions
Thick synthetic Heatshield insulation warms little feet
Faux fur collar adds arctic-friendly style detail
Front zipper makes it easy to pull the boots on
Winter Grip traction provides sure footing on wet and icy walks
My daughter is a size 6 UK, can you tell...
My daughter is a size 6 UK, can you tell me if you have her size in the brown in US size please. Thankyou
contact customer service at 1-800-409-4502 or open a chat now window. the people that answer questions on these threads rarely have access to inventory information, and customer service reps rarely answer questions in this venue.
Unanswered Question
do you have any of this boot in size 12.5...
do you have any of this boot in size 12.5 youth?
I am extremely pleased with nearly every aspect of this product. The appearance is fascinating and every little gal has to be proud looking down on these beauties. The professional, pleasant service from the good folks at Backcountry is the icing on the cake. Highly recommended.
I get these every year for my daughter. She really likes them and they reallly seem to last. I also like that the TNF style doesn't vary very much so the younger sisters can wear them later.
These boots seem to run small. My daughter wears a size 4 shoe, so I ordered a size 5 boot. Still need to return to try a size 6. I hope those work b/c they are cute!
Not easy to put on by a little girl
Looks like a very well made boot. Unfortunately my 5 yo had such a hard time getting inside her boot (the zipper doesn't go all the way down) that we returned it. We need easy in/ out boot.
Love them and saved money!!
I wear a size 6 to 6 1/2 in women's shoes and so i ordered the largest size and they fit perfect. They even fit my mom who wears a size 7! Barley need socks since these things are so toasty! They are coming in to good use in the Nebraska winter! But be prepared to hit adults at a weird place on the leg when they are brand new but they break in! Plus you can save so much by buying kids shoes!!
Finally A Boot My Daughter Will Wear! Great Quality like all other North Face Stuff - super fast shipping thanks to Backcountry.com. My 9 year old daughter usually hates ALL boots - says these feel like a warm sneaker....she stayed dry and didn't complain about wearing them! Plus, they look great and aren't ALL PINK - her request.
My fashion-conscious 13-year-old daughter loves them, and her friend wants some just like them. They fit well on the foot and therefore don't have the same 'clunkiness' that bigger boots might. We live in Minnesota, so I'm sure they will get plenty wear time. Since they are shorter in height, I would suggest making sure your snow pants have elasticised cuffs on the inside to go over the top of these boots to make sure snow doesn't get inside.
These boots stand up to a cold Minnesota winter, dry quickly and are sturdy enough to pass along to a second child. We're on our fourth pair from Backcountry and LOVE them!
Great quality, warm, prompt service. I picked the wrong size, so I returned it.
I bought these boots for my girlfriend as I was trying to get her to enjoy the snow a little more... After I got these on her feet I was never told how cold it was again. They are fashionable, so they can be worn with many outfits, but most of all they are durable and can withstand day after day of snowmobiling and hiking in the snow and elements.
Write your question here... my daughter...
Write your question here... my daughter wears a size 11 US size (she is 6 years old). Does this boot come in that size?
Very nice style, and they fit my daughter perfectly. Rugged, and fashionable. I don't worry about her feet getting cold in these.
Hi, if i buy the shoes and then i found...
Hi, if i buy the shoes and then i found out they doesn't fit me. can i return and replacement them?
Best Answer
Unconditional 100% GuaranteeWe guarantee complete satisfaction and an unlimited lifetime warranty. If at any time - now, next month, in 30 years - you're not 100% satisfied, send your gear back for a full refund. No questions asked.
gorgeous style, excellent fit - would purchase again!