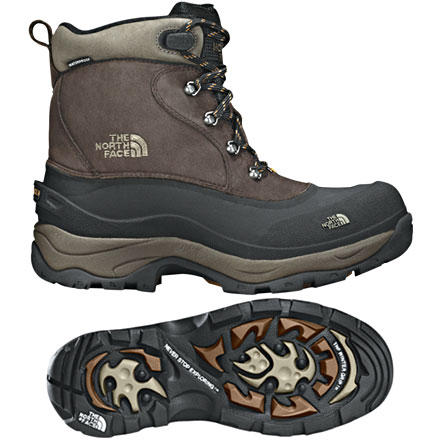 Share your thoughts
What do you think of the
The North Face
Chilkats Winter Boot - Men's
? Share a...
I bought boots, Chilkats Winter Boot - Men's
After a few months (about 8 good hikes). I left the boots to dry out in the utility room, on occasion the cat sleeps there. I got a terrible cat scent smell and banished the cat from the house. The smell remained as long as I left the boots there. Nike had a similar problem with materials that gave the same scent.
Has anyone else had the same problem. (our cat is a neutered female) and I am buying new boots???
Ireland is having one of the wettest summers for decades but my feet stayed dry after 14 hours in the hills in the west of Ireland, great boots.
Thank you
Great for repeated use and abuse.
The Chilkat was a toasty winter boot for dealing with this cold Park City winter. I work outside and found that I was using it everyday for tracking through a variety of different snow conditions. Through it all my feet stayed dry and the boots showed no abuse.
Got my boots just in time for the "big snow" here in D.C. Overall a very comfortable shoe. Definitely keeps your feet warm and dry. Treads are great for snow and ice. Upper portion could probably be designed a little better for fit. Has an occasional tendency to rub up against lower shins. Probably need a little breaking in. Overall a solid handsome snow boot.
The boots I purchased arrived ahead of time and in perfect condition. As far as the boots are concerned, they are comfortable and warm. I would recommend them to a friend, both the company and the boots.
I really like my new North Face boots. They are surprisingly lightweight, very comfortable, and keep your feet warm and dry. One posting that I read before is absolutely true though, the boots have to be broken in. It takes a couple of days of walking around in them for them not to rub around the ankles. All in all, an excellent value for the money.
I bought these as a gift and got really good feed back. He first put on three pairs of socks when he went out into the cold in the mountains to work. After seeing that the boot was making his feet to warm he stopped and pulled off the extra pairs. He found the boot to be built for one thing and that was the cold. It was his first pair of winter boots that stood up to the extreme cold weather he goes through everyday. He loves the boot still cant believe how warm and dry his feet are after working in deep snow all day long. If you are looking for a good pair to keep you warm and dry this is the pair for anyone who is not sure what to buy. Its worth every penny and some.
My husband loves these boots that I ordered for him. They are light and not bulky which is a big plus to find in men's boots.
These boots are awesome. Very comfortable for long winter hikes and great for snowshoeing. They are also very warm.
I wear a size 9.5US, thats what I ordered... I HAD to send them back for a 10. The 10 fits... just. That said, the boots are really well made. Looks good. Bear in Mind that the rubber bottom will not stretch out and may cause some discomfort - especially when new. I would still recommend these though.
The North Face - Chilkats Boots
I purchased these boots because the winters in CNY can be very cold and there is nothing worse then having cold feet whether your hiking or just walking the dog through the village. These boots are honestly the most comfortable and warmest boots I have ever worn, worth every cent. A+. I will be sure to continue to get me gear here.
The North Face hiking boots
wore them along the colorado continental divide and through the backcountry of independence pass .. my feet NEVER GOT COLD!! very good boots
The boots couldn't have helped out more in the wet slushy weather my city of Chicago has to offer. Couldn't be warmer. Thanks again
Very Comfortable. Very Warm. And sharp looking. Great Buy I strongly recommend.
Superb boots, very comfortable and totally waterproof. Excellent value too.
Simple, well put together boots. Great for shoveling the drive or going for a winter walk.
Incredible boots, comfortable & warm enough.
I live in Park City, Utah and weather here can be so extreme and you need a good gear to feel dry and warm. This boots are great under most difficult weather conditions.
I recommend them 100%.
the best boots in the world. had one pair for over 5 years and couldn't resist a new pair and am in love once again.
These are some great boots, but if you want them consider yourself in a very cold weather, they are the best if you live in a very cold weather. Great buy. You'll enjoy them as I do.
These are great boots, very comfortable and easy to walk in. Super warm too. It's worth spending the money, you will have these boots forever.