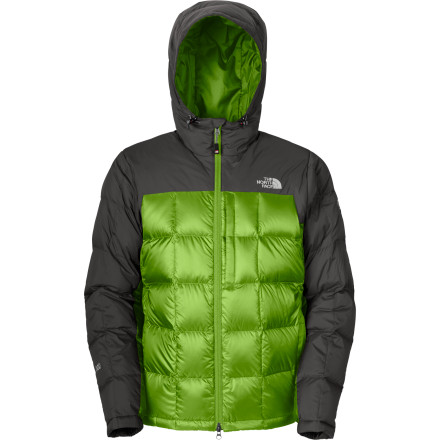 Detail Images

Community Images
Colorado has roughly 53 peaks above 14,000 feet. So far, you've climbed about half of them. And for each of those attempts, you've brought The North Face's Catalyst Down Jacket along for the ride. Made of ultra-light materials and with Summit Series design, the Catalyst is just as much of a peak-bagger as you are.
800-Fill down offers superior loft, excellent rebound from compression, and the highest warmth-to-weight ratio of any insulating material The North Face uses
The outer shell is made from Pertex Syncro, which is a lightweight, tear-resistant, and highly-breathable fabric
DWR finish helps repel precipitation without negatively impacting the fabric's breathability—so moisture and sweat can evaporate without getting trapped in the insulation
Highly compressible goose down packs into it's own hand pocket
Alpine fit accommodates under layers, harnesses, and backpacks
Summit Series Design means it's made to be used for athletic pursuits in harsh environments
Boundary Peak Winter Blizzard Ascent
It was below zero at the beginning of the hike with windchill and the Catalyst performed excellently, couldn't be happier with it. It's so light that I don't mind taking it on other hikes with there is a slight chance that I will need it. I would recommend this to anyone looking for a light/warm jacket that can stuff into its own pocket.
took this baby to Peru for a 12 day trip that included the summit of Misti Volcano at 19,000ft. this was a great little jacket to have kept me warm as part of a layering system when temps got down to the single digits.
Very nice, but there are lighter options
I like this jacket. A lot. It fits great (6' 205 lbs 44" chest 34" waist - size large). But it is not as light as I hoped. I was looking for a Montbell style light 800 fill down jacket. I own the north face Optimus primolft jacket in the same size and it is only 2 ounces heavier (22 ounces for optimus, 20 for catalyst) so the choice is clear that I don't really need this jacket. It is a shame as it feels nice to the touch, blocks wind very well and it quite water resistant (walked the dog in 30 minutes of wet snow storm, around 30 degrees with just a poly t shirt and felt just fine). All in all I would recommend this jacket to anyone, but I already have a very capable alternative from the same manufacture so this is going back. Thanks to backcountry for the awesome return policy. I hope this helps someone make the right choice on jackets in the future!
Does this jacket have pit zips?
Does this jacket have pit zips?
No, this style does not have pit zips, but it is still a great all around puffy and when weather gets rowdy I am stoked on the hood. Hope that helps.
Write your question here... Is there a...
Write your question here... Is there a inner drawstring.if so where?
Hey Kent,

Yes, it has a hem cinch cord.
This jacket is good for 35 degrees and above weather. Cooler weather required lower fill power jacket. It's light weight and ease to use in tight places. Zipper is not that good. I stuggle everytime I try to zip up the jacket.
packs down and great warmth
compress this into its pocket, stuff in your pack, trek into the backcountry, pull out at lunch, shake, put on, stay warm, repack and ski fresh tracks...this is great for this exact purpose. Incredibly warm, light, squashable and the warmth is just what you need after a 3 hour morning trek ...recommend highly. Its also pretty good for every day use - it bounces back from being stuff down, great compression rebound...the 800 fill is plenty warm enough.
Nice jacket but I worry abou the feather puking out
I bought this directly from the TNF store in Seattle and this jacket is very warm. I wear only a t-shirt inside. I'm 5'9 and weigh 179lbs and I bought a medium. The medium is a nice fit for my body but it doesnt give me much space for layering if I want to wear a hoody inside. I got the medium because the large was a little big and looked a little baggy and the arms were a little longer. I have short arms so the arm length is perfect and the jacket has a slim cut fit so it goes on very well. I bought this because I dislike layering and I was looking for a nice jacket that is warm and slim. This jacket meets the criteria and it looks very sharp with nice jeans and shoes. I love the summit logo on the arm.

1 con: Feathers puke out. TNF store staff told me it's normal but I should return it if too much feather puke out.
i bought this as a gift for my husband. He loves it. It's warm and light and the color is distinctive. This was my first purchase from Backcountry, actually had never heard of them until searching for this jacket, and I couldn't be more pleased with the service.
It's ok, but dont expect too much when it comes to warmth. The hood lacks adjustement and there is not much down in the jacket(more of a sweater). This is perfect as a midlayer. Can keep you warm down to around -10 degrees celcius.
I love this jacket! It's warm, light-weight, not too bulky, and good-looking. As always, great service from backcountry.com!
I bought this after reading the reviews about it being very warm. Well I'm surprised what people call very warm. THIS IS A LIGHT JACKET. As such it's nice, hood fits well if your NOT wearing a helmet. Collar fits under chin and not over mouth. It's good at around the freezing mark. I will keep it as a cool weather rock climbing belay jacket. still would be nice to fit a helmet.

If your looking for an ice climbing belay jacket for the north east coast temps look at the Marmot Greenland Baffled Down Jacket.
800 fill down is nice. what's the fill...
800 fill down is nice. what's the fill weight for this jacket? I'm comparing this to the Patagonia Fitzroy. Both 800 fill down. Fitzroy I believe is 6.3 oz of fill. How about the TNF Catalyst? Which jacket would be warmer?
The Fitz Roy will be MUCH warmer, for it has much more down and has a baffled construction (no cold spots). The Hooded Down Sweater is a more appropriate comparison.
Extremely pleased with the appearance, construction, comfort and weight of this item. This is a hi-tech article of clothing that gets the job done and never with a feeling of bulk or clutter. When the jacket is removed it dries very quickly and stows-away virtually anywhere. Many thanks to the good-folks at Backcountry for the quick and professional service. Snug as a bug in New York.
Day 1 & Took it down to a windy -30 windchill
Day 1 and I took it to some extreme temps. The outside temp was -10 but with the wind brought it down to -30. I was wearing a simple underarmor cold gear/Patagonia R1/This coat. I was standing in the middle of a frozen lake to get my desired video shot. The wind didn't really affect my warmth, it was just really hard to keep the tripod up. I was comfortable standing there for 15 minutes until my exposed skin (face) started to feel a bit numb.

Great coat!! I look forward to finishing out the winter in this + a nano puff for the colder than -10.
I wore this jacket over my mid layers and shell near the summitt of Mt Washington at 25 below zero. I was completely warm and comfortable and able to negotiate my moves easily. A perfect puffy overall!
I go to school in Buffalo, NY and i'm...
I go to school in Buffalo, NY and i'm looking for a winter jacket that I use independently without having to layer. I'm looking at down jackets but am trying to avoid the puffy look that generally comes with downs but I don't want to sacrifice any warmth. Which jacket would you recommend for me?
Kweku, this is not the really puffy look like some of the down jackets. This should do what you are asking of it.

A couple other brands to look at are Marmot Venus and the Patagonia Down Sweater. Both are lightweight yet warm.