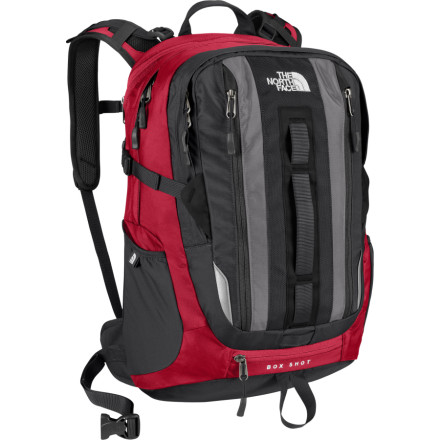 Your laptop is so fancy, it doesn't like coming into contact with common books and binders—give your baby its own padded digs with The North Face Box Shot Backpack. And since (despite what it would have you believe) your computer can't function without its lowly power cord, The North Face included a special bottom compartment to ensure that you don't leave this essential equipment behind. Carry it all in comfort in this sleek, extra-capacity pack.
Backsaver technology features an angled bottom panel to carry your load closer to your body for reduced back strain
Secondary organizer compartment and dual front vertical pockets keep your electronics and other essentials in their places
Breathable, padded air-mesh back panel increases carrying comfort
Side stretch pockets carry your water bottles or other beverages, and a mesh pocket on the strap keeps your cell phone in easy reach
Waist-belt keeps pack from bouncing around when you're active and tucks away when you don't need it
Sternum strap includes safety whistle, just in case
Bottom compression straps hold a sleeping bag, pad, or jacket
Dont believe the other reviews. This bag is awesome. I bought it at full price, the sale price is great.
Not the most bang for buck!
Its a great backpack if you dont plan on carrying alot of stuff! The goods is that it has alot of section and pockets, good to organize things. But the Con is that the padding is weak, when you carry alot of stuff Laptop books and other misc stuff. the shoulder strap doesnt offer the support and cushion you need! Good thing backcountry has no hassle return, since i would be pretty piss on spending this much money for a backpack i dont like at all!
Unanswered Question
I was wondering if there was a spot to put...
I was wondering if there was a spot to put an ipad other than the laptop compartment. I carry both a laptop and an ipad
One of the best bags I ever had!

My job takes me in all kinds of environments, all over the world. I need to get most out of my gear to have all my equipment at hand. Including my laptop. I used to carry it on a shoulder bag but when I though of trying a backpack it changed all!

This bag is amazing! I packet up sometimes up to 25lb and its still comfortable carrying it around. Its got all the pockets you need! Hell, 3 of my colleagues bought the same bag after seeing mine!

Had it for almost a year now, took it from Africa to Europe, India and China and still looks like new.

Amazing. Good job on this one TNF. Thanks!!!
Purchased this bag to replace my TNF Surge. I recently bought a 15.6" laptop and was hoping that it would fit but it was pretty tight. Had to force the laptop to get inside the bag a couple of times. I was also disappointed with the lack of padding. But i was real happy with Backcountry's return policy. Thanks BC.
Not as described. I could not fit my 17" lap top.
Not enough padding to protect the lap top.
I definitely expected better from the TNF.
It may work for a 15" though, still lacks appropiate padding.
I don't recommend this backpack for a lap top.