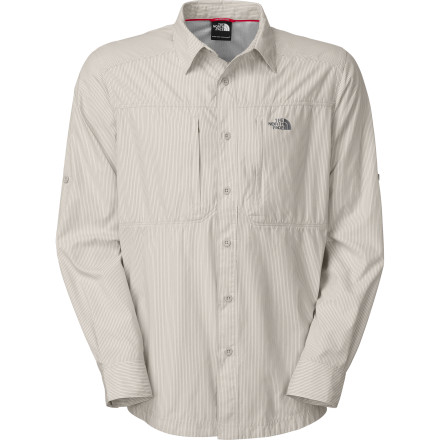 The North Face Men's Boulder Gorge Shirt offers comfort and class when you need a long-sleeve button-up that can handle both your wild and classy sides. Because you're the kind of guy who loves a shirt that will help you stay covered and comfortable on a weekend backpack trip and also look good after two days of airports, planes, and trains.
VaporWick moisture transfer and evaporation technology combined with back vents help you keep dry, cool, and comfortable
Supplex is a durable yet lightweight and packable multi-use fabric ideal for outdoor, travel, and casual use
Recycled rubber buttons won't crack or break off when you rub against hard rock
UPF-50 sun protection helps you fend off fatigue and dehydration due to exposure
If you're going out into the backcountry, then meeting friends for dinner--this is the shirt you should take. It could be high-noon on summer scorcher or a brisk autumn night, but you'll stay in the zone since this shirt has its own climate control. The sizing chart was just right, and the material is a winner.


Bought this for my dad....
Bought this for my day, for his birthday. I had ordered another thing for myself as well. Once i pulled this out, i had to try it on, and i loved it. I almost didn't want to give it to my father, but i did....such a comfy shirt. Extremely light weight and feels very durable.looks great . would be great for hiking or any outdoor activity or even tuck it in and it looks like a casual button down shirt.....great product. i ordered the last solid blue and the other colors are ugly, so hopefully they restock with some more good colors because i will be ordering another one,and so will my father.
Agree with some other reviews that this shirt is cut smaller than equivalents...however, the fabric and features are terrific. It breathes brilliantly, moves really well when laiden with a pack for hikes, dries in no time and packs up to virtually nothing...will be adding more of these
I am very satisfied with this. It is fashionable and more importantly, it is very comfortable. I just wish they had it in khaki or fossil color so it would be cooler under the sun.
Great shirt. Love the features, styling, UPF, etc - fits perfectly. Thinking about getting another one.
I finally received the shirt I wanted for this summer.
This beautiful windmill bleu that I could not find in any North Face Store.
I received it, cut the tags, put them in the garbage.
Hung the shirt in my closet.
A week later, I wanted to wear it...
Surprise, surprise... The XL (all my other NorthFace or MountainGear are XL) this shirt is hardly an L; I'll give it to my wife!
I am so disappointed! did I can not exchange it anymore.