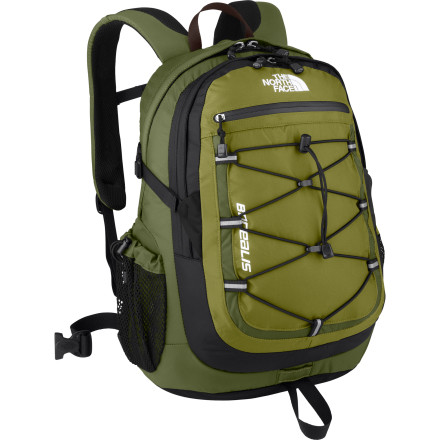 Description
The Borealis takes on the mountain trails or the urban jungle.
School day, work day, or play day? The North Face Borealis Backpack can handle them all. The Borealis' angled bottom panel keeps weight close to your back, and the stowable waist belt increases support for long days on foot. Stash a light jacket in the exterior bungee cord, and put your water in the side bottle pockets. The padded internal pocket holds your laptop or water bladder, and the front organizer pockets store your pens, cell phone, and other small items.
Share your thoughts
What do you think of the
The North Face
Borealis Backpack - 1830cu in
? Share a...
I just bought this for college and even though I haven't used it for college yet I have used it for a trip to my family's cabin and I have tested how many of my necessary school supplies it will hold.- My Dell Inspiron 1564 laptop, I don't think this backpack will fit a 17" widescreen laptop even though the tag said it would- I only have 3 textbooks for this fall semester and it comfortably fit them all- It could also fit at the same time a few 1 subject notebooks, maybe even 4 though I didn't try.-I'm not a huge fan of the organizational pocket in the front because there is no depth to it. Putting something in one of the pocket makes it impossible to fit another "thick" item in another pocket in front.-the Front pocket is roomy and can hold a textbook or reading book, etc.-In the largest pocket the backpack is tall enough that there is plenty of space above the textbooks to fit a jacket or something.- a jacket can be secured in the bungee on the front but it is a little awkward especially if it is a thick hoodie.-the two side bottle holders fit my nalgene 1 liter bottles, the bottle holders can be tightened.- there is another zip pocket in the very front which is large height and width wise but may not hold much depending on how much is filling the rest of the backpack.I just hope it will last me 4 years!! I got this backpack on sale for 40% off at a sporting goods store in my town, It was a great deal and I couldn't pass it up!!! only 50.99
Great asset to packing compactly
Today, I returned from ten days of active travel in Alaska. My new North Face Borealis Backpack served my needs beautifully. Considering how changeable the weather is in Alaska, I carried a couple extra "layers" of clothing in my backpack. There was no need for a purse on this adventure. The pockets easily kept my credit cards, pens, airline tickets, reservation information, etc. in "apple pie order". While others in my travel party struggled with their suitcases and extra "bags", I was envied because of how easily I traveled. This backpack will go with me on all my future trips! I highly recommend the North Face Borealis!
Does anyone know the actual dimensions of...
Does anyone know the actual dimensions of this bag?
Dimensions: 19 x 14 x 7 inches
I've had a Borealis for about 5 years now and it's still going strong. I've used it since high school and all the way up through college and I've never noticed any shortcomings in this bag. It also works great for dayhikes and as a carry-on for travel.

The side pockets can carry bottles up to the size of a standard 1-liter Nalgene, which in my experience is more than adequate. The external bungie cord is great for attaching an extra jacket to the pack when space on the inside is at a premium.

I've hiked through pouring rain with this pack only to get to class and find that my books and laptop are only slightly damp (I wrap the laptop in a grocery bag on rainy days anyway).

BOTTOM LINE:
Great pack that will last you for YEARS.
Best Backpack I've Ever Owned!
As a college student in a very snowy city, I have a lot of stuff to lug around that needs to stay dry. The Borealis is the only backpack I've ever owned that holds everything I need and keeps snow, rain and the cold out. On an average day I fit my 15 inch computer (with protective plastic case AND neoprene sleeve), computer charger, sigg, 2 notebooks, 2 books, a pencil case, agenda and my lunch in my bag with plenty of room left over.

I have a very small frame (I'm about 5'3") and the padding and straps fit me very well. I've also noticed that the Borealis makes my computer feel lighter - so that's a nice bonus!

The red color that I bought is gorgeous, and I get compliments on it all the time. It hasn't faded at all, even though it's been dropped in snow and coated with rain. Not even the bottom of the backpack is dirty - yay!

The only thing I'm not a fan of is the amount of straps that hang down. There was about 6 straps coming off the backpack, but I cut off the hip straps (I'm never going to use them) and took off the straps that go right over your chest.

As a very picky backpack shopper, I highly recommend this backpack. It's worth every penny!
Great backpack. Lots of room. Highly recommended.
Unanswered Question
How do I tuck away the hip belt? I can't...
How do I tuck away the hip belt? I can't seem to figure it out...
Unanswered Question
Is the dalberg yellow color hard to keep...
Is the dalberg yellow color hard to keep clean? I like the color, but the white part looks like it would get dirty easily.
Can I use this pack to carry skis while...
Can I use this pack to carry skis while hiking? I know it is not ideal, but I already have the pack, and I don't want to have to buy another one for a ski trip to Chile.
No, I have tried and could not find a good way to make it work...sorry.
In the pictures of the Borealis backpack,...
In the pictures of the Borealis backpack, it has a loop strap thing at the bottom of the front side. What exactly is this for and is it removable?
No I don't think so. There is a "hole" in the front however where you can make the loop go upwards instead of downwards so it's less noticeable.
The last pack I'll ever have to buy!!
I bought it primarily as a book bag for school. It fits my 15" HP notebook and keeps it secure along with books. Organization pocket is handy for my calculator, pens, keys and whatever else I seem to stash in it. It holds a lot of things while maintaining a slim look. I also use it as a daypack, It has a hydration hanger and opening. I don't think they mention that in the features. I took the bladder out of my Camelback and presto! I've gone thru a bunch of packs, but like I said this is the last pack I'll ever had to buy. I do have my eye on the Heckler though, but that's just 'cause I like the camo scheme.
What are the dimensions? I'm look ing for...
What are the dimensions? I'm look ing for a carry-on bag (22" X 14" X 9"). Also, what torso length is this best suited for?
Size 19 in. x 13 in. x 8 in. The Torso length is pretty much one size. It will fit a variety of sizes.
hi how much to ship to Australia?
does the...
hi how much to ship to Australia?
does the shipping price vary on similar items?
Thanks steve
You can put anything you wish to purchase into your cart, then go to your cart and there is a feature where you can type in your postal/ZIP code and it will tell you the cost of shipping.
I am looking for a pack that can carry...
I am looking for a pack that can carry trail shoes, shirts etc without getting everything else wet and stanky. anyone have suggestions? Thanks
You can strap gear (shoes or shirts) that is nasty to the outside elastic, I have done it many times and only the outside of the pack gets dirty, not some pocket/pouch inside the pack that will be a pain to clean later, just brush off the outside of this pack instead.
Can't go wrong here - Solid Pack
I bought my Borealis primarily for graduate school, books that is. I bought a separate laptop bag and used it once or twice and then tried the laptop compartment in the Borealis. Well the laptop bag was a total waste of money, this pack is awesome for carrying your laptop. I have a 14in widescreen HP notebook and it fits great secure and snug. The padding on the pack is awesome and the waist belt tucks away unless your're carrying some heavy loads. I have used it for day hikes and its just as awesome for hiking as it is toting around textbooks and my laptop at the same time. Durable too, I have used it literally 5/7 days a week for nearly 2 years and it looks pretty mcuh new. Additionally, the organizer compartent is great for whatever you need to put in, its nicely organized. Overall amazing pack, I promise you will not be dissapointed.
I have too many packs now but am looking...
I have too many packs now but am looking for the "perfect" pack. Oh dear. I want to carry it on snow shoes, hiking, and as a day pack. I would like to carry a camera as I write for a paper, too. I do not need a computer sleeve or hydration but do need two good pockets for water bottles. It would be nice if I could keep the contents dry. Any suggestions?
It you are looking for a pack that can do all that, I would suggest a smaller multi-day pack as opposed to a pack like the Borealis. The snowshow carrying feature is very limiting, especially if you want to put the snowshoes in the pack itself, but you could always put the snowshoes in a carrier bag and then strap that to the pack. Maybe check out something like the North Face Terra 40, the North Face Solaris 35, Gregory Z 35, or the Osprey Talon 44.
if its serous camera equipment i would look at LowePro or Crumpler both make really tough packs
great pack for travelling
Its a great backpack cause all stuff i want to pack fit in it. Its got alot of sraps so u can make it tight. I just love it.
Is king Fisher blue like a navy blue? I...
Is king Fisher blue like a navy blue? I am looking for a back pack to use as a diaper bag for my two kids. I think this one would be great with the two compartments & two drink holders. Any other bag you would recomend?
More like a royal or brighter shade of blue than navy- ink blue is more of a navy blue. Also check out item # TNF1604, it's slightly bigger rand $20 cheaper (camo color only) and Item # DAK0795.
Great all-around pack that has a lot of convenient features. The bungee cord on the outside is strong enough to hold a shirt or a jacket while the padded back with waist-belt allows a load to remain comfortable. It is made of the normal, durable North Face nylon and has waterproof zippers. There is a laptop compartment but be aware that it is not tremendously padded.
is there any way i can get the older version...
is there any way i can get the older version of the backpacks...cuz i dont like the new ones...
You might be able to find them for cheaper on random websites trying to get rid of the older version, but for the most part, they're phased out pretty quickly. This newer version has been out for a while, as well.