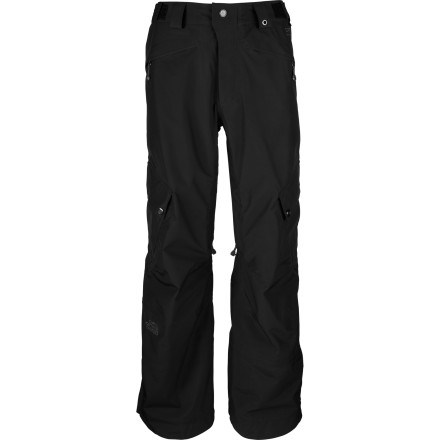 With its waterproof breathable Gore-Tex Performance Shell fabric protecting you from winter storms and baggy fit providing extra leg room, The North Face Bizzo Pant is ready to take on every part of the mountain.
Waterproof breathable Gore-Tex Performance Shell 3L is über durable, blocks out the most ruthless winter weather and allows your excess heat and sweat to escape
Fully taped seams mean water won't roll down the fabric and sneak in through the crevices
Park fit silhouette is The North Face's baggiest fit—includes extra room through the hips, thighs, knees, and cuff for relaxed cruising or spicy acrobatics
Pant-a-lock zip-in compatibility allows you to attach your pant to The North Face jackets with the same capability—The North Face recommends pairing the Bizzo Pant with The North Face Bizzo Jacket
Chimney Venting system and inseam vents help shed excess heat when you're hiking up to the ridge for extra turns
Reinforced ankles resist scuffs, scraps, and sharp edges
Recco reflector may help ski patrol in the event of an in-bounds slide
What do you think about this product?
Have questions about this product?
These seem like fine pants as they are made of 3L GoreTex, but I couldn't hang with the baggy fit. The cuffs will totally drag on the ground. Also, the styling screams 'freestyle park skier,' what with the huge fit, diagonal pockets and such. I wanted something bombproof and waterproof for my backcountry missions, but I think I need to keep looking.
The pants would be alright if they didn't have a$$ pockets. One of them was half ripped off after 4 days of riding (yes, I'm a beginner, but I wasn't on my a$$ that much) . Having paid $333 for these I would expect not to have a wet a$$.

All the other features were great, just poor pocket design for their intended use..... promptly returned.
How come The North Face website says these...
How come The North Face website says these pants are 3L Gore-Tex Performance Shell and you guys say it's 3L Gore-Tex Pro Shell? Same thing goes for the Bizzo jacket? I've had this problem before, saying it's Pro Shell and it ended up being Performance Shell, but liked the stuff so much I kept it anyways. I'm inclined to believe The North Face site seeing how it's their clothing and they manufactured it...
I have seen these pants on a couple other websites and they list the fabric as "Gore-Tex Performance Shell". I think you are correct and the spec for this product is incorrect.
TNF used a lot of 3L performance shell this year because it has a little more give and stretch than the pro shell. I can see how backcountry got mixed up - generally only the pro shell is 3L.
Corrected, sorry about that. They are Performance Shell 3L.