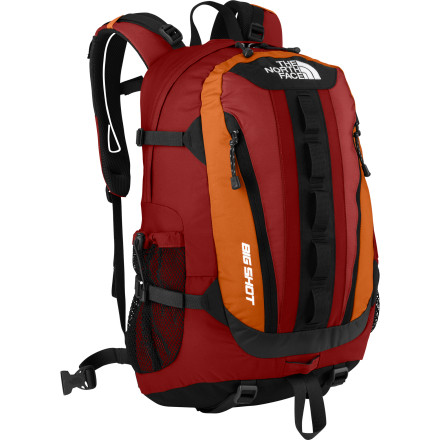 Description
Go from tests to trails with The North Face Big Shot Backpack.
Two vertical stash pockets with waterproof zippers on the front of The North Face Big Shot Backpack help keep your to-do lists, class schedule, or car keys and trail maps within easy reach. The stowable waist-belt and well-padded shoulder straps help you comfortably carry heavy school books, while the padded laptop sleeve accommodates your 17-inch computer. Stash two water bottles in the side mesh pockets and stay hydrated all day.
Share your thoughts
What do you think of the
The North Face
Big Shot Backpack - 2015cu in
? Share a...
You CAN use it for hiking...
Familiarity:

I've put it through the wringer
This is a ~30L backpack with a hint of hiking heritage built into it, but its real home is in the back seat of a car or beneath your feet under a desk. I've had mine for about four years now, so there's no question of long term durability or whether it will lose its usefulness over time. However, there are a few issues with the build quality. Some of the stitching unravels after a few months of use, and the snap buckles weaken and crack within the first year (if you keep your bag fully loaded like I do). The mesh on the back wears through on the area near the waistline, as others have mentioned, and eventually the foam backing starts to wear as well. I've added a pic of the wear to this review. It's pretty minor, but you can feel it when you're wearing a light t-shirt. Some people seem to imply that they'd use this for hiking, but I'd really recommend you keep this bag as a separate commuter or work bag. The (plentiful and conveniently spaced) pockets are obviously meant for school or work, not stowing survival gear. As a daypack for tackling the modern wilderness of class or the office, though, it's a good bag. The pack itself isn't water proof, just resistant, but in some decent downpours I've opened it up to find minimal water penetration. If you'r really worried about it, just buy a $20 waterproof backpack poncho and store it in one of the pockets for rainy day use.

It's a shame that it's starting to wear out now, but it's already outlasted most of the Swiss Army backpacks or Fossil messenger bags that I've used for commuting in the past. If you want strangers on the bus to think that you look like a hiking enthusiast, and you want a bag with moderate durability at a reasonable price, this is a great bag for you.
The back pack is very conformable in the your back. Made from good quality materials and will resist some water. The thing I didn't like is the organizer panel. Very difficult to organize things in the backpack. I has two side component that can fit small things. When I use it for hiking I have no trouble with it. But when I use it as my office backpack I rather use my Targus. It more accessible to store office equipment. (laptop, books, ipods, camera, iphone, paper.)
Ive had this bag for over a year now and have a few things to report. The mesh that sits against your back covering the exolite holds heat and sweat in like crazy. On short 4-6 hour day hikes in the summer your back will be soaked. The mesh material is also not durable at all, mine is coming apart along the waist line. The chest and waist strap are mediocre at best. The bag is definitely not waterproof and only water resistant if your not going far. The pros of this bag are that it is great for carrying your schoolbooks and laptop. I use it constantly for traveling on 3-4 nighters to visit friends or family or whatever. Lots of room and very versatile. Perfect for some but definitely not all.
Is this backpack 100% waterproof? I will...
Is this backpack 100% waterproof? I will be wearing this in the rain and need to protect my laptop.
Sorry for the late response. Its fall now and the rain has been hitting hard. The laptop should be close against your back and it probably wo't get wet, but my books got soaked twice these past few weeks.
Best Answer
definitely not, I always carry a plastic bag to cover whatever i have on the inside of the pack in case of rain.
Is green a color in a big shot for a...
Is green a color in a big shot for a male?
What does that compression on the bottom do?
What does those compression on the back straps do?
1. The green seems pretty gender-neutral to me, if anything on the masculine side, so you'd be good.
2. The bottom compression straps could be used for a sleeping bag or pad, or even a small tent. This is what sold me over the Hot Shot, actually.
3. The extra straps on the back straps are there to get a better fit. Useful when you have a heavier load toward the bottom, they'll pull the bag closer to your upper back, making the load feel less bulky and more manageable.

Hope this helps!
I think the old one 2007 big shot was better it had a mesh bach not exolite 2007 was much more comfortable. The Old big probably took more work thats probably took more work. Also the made it smaller. This one is 2050 cu in and the old one was 2100 cubic inches. I didn't like this bag at all. I like the old one better
The Big Shot rocks, and definitely looks cool. Its ONLY DOWNFALL is that the organizer panel is in the main compartment, and, like others have said, nearly inaccessible if you are carrying a full load of gear, laptop, etc. Many (most) of the other, larger, north face daypacks have the organizer panel in a separate compartment and this is a MUCH better design. My Big Shot is several years old and in great condition (almost no wear), but I am going to get a Hot Shot next time for this fact.
what is the daisy chain for?
what is the daisy chain for?
Best Answer
Whatever you want, like clipping your water bottle or climbing shoes on the outside.
The pack sounds perfect for the 2 day hikes...
The pack sounds perfect for the 2 day hikes I'll be going on in the Adirondacks. In the description it says the zippers are waterproof... what about the pack itself? Very important to know...
The pack itself is nylon, and is not waterproof, but either are the zippers to be perfectly honest. "Waterproof" zippers are very water resistant, but not 100% water-tight. These types of zippers and pockets will help keep gear like your cell phone or wallet from getting soaked in a sudden rain shower. That said, I'd recommend a pack cover for a truly waterproof solution.
Does it have a pocket to fit a Iphone with...
Does it have a pocket to fit a Iphone with an audio "hole" built in?
Best Answer
Actually there are several pockets on the inside that would hold an mp3 player and there is a hole on the top that is used to route the hose for a hydration bladder through that comes out right behind your neck. i believe as long as your headphone cord is long enough you could run the cord through that opening and listen with no problems, you would just have to open the pack to turn it on and off.
I was looking for a pack that could double as a school bag and a camping/hiking bag. This was it! It's perfect for trekking around campus with text books and a laptop, as well as holding my summer camping stuff.

PS- The green color ROCKS.
My 14 yr old is very pleased with the backpack he rec'd for xmas. The laptop safety is key. The color is great!!
does this book bag have a whistle because...
does this book bag have a whistle because me and my friends go crazy in the hall wayz with the whistle. i need to know
That sounds really irritating. No, it doesn't.Actually, it does have a whistle on one of the buckles on the shoulder strap.
I've had mine for a few months now and it has become my go-to bag for all my day-to-day stuff, essentially replacing 3 of my older bags. It is very durable and things are very easy to get to. The two outside stash pockets are great for my camera gear, and the various zippered compartments and little pockets inside the bag are extremely usefull (phone, ipod, pen pockets, Moleskine, CD's)

For work I use it to carry my laptop, Wacom tablet, cables, several notebooks and pads, phone, ipod, DSLR, 2x lenses, spare battery, and tons of little odd's and end's in the various little pockets inside. For day hiking I can carry all the food and survival gear I need for a 2 day trip, camera, and a small summer/spring sleeping bag. The laptop sleeve will accommodate a water bladder (i.e. Camelbak) and has a slot at the top of the pack where the hose can come out and the loops on the strap can hold the mouthpiece in place. And when I go out of town it easily caries about 1/2 of the stuff I carry for work, plus 2-3 days worth of clothes and shave kit.
so, do the belt straps hide away in a...
so, do the belt straps hide away in a compartment or what?
There is hollow compartment at the base of the back padding where the belt strap on both sides can be tucked into.
is this backpack waterproof?
is this backpack waterproof?
I wouldn't say it's waterPROOF, but definately waterRESISTANT. Nothing that a watertight sealing spray couldn't fix.