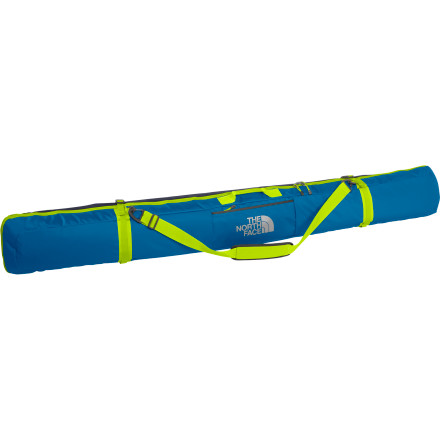 Detail Images
Buying your skis their own plane tickets has become rather expensive, and rather complicated. Slide your planks into The North Face Base Camp Ski Sleeve and treat them to more ski-suited lux while you travel.
Rugged interior liner for protection
Huge exterior stash pocket is also accessible from the interior
Multiple exterior grab loops and adjustable, detachable shoulder strap for easy carrying
80 Liters
I'm glad to see TNF lengthened this bag. The older model that comes in the topo style squeezes a 192cm and I have my doubts about a 193cm.
Durable build, great color, great fit for my Black Diamond Fritschi Diamir Freeride Pro Binding -108mm mounted on my 176cm Black Diamond Stigma Ski's. Couldn't be happier. This is my first case for a pair of ski's and I will look to NF for my next purchase.

*** I had to come back and edit this; I am not sure how I missed this before my first review, but the product description describes this as padded. It definitely is not. The top is the high durability PVC type material that you find on the Base Camp Duffel and the bottom is a lighter weight nylon ripstop type material. Still a quality product and I won't drop my 5 star rating for what may be a mistake on Backcountry.com's part in the description. But I do wish it was padded.
Can you get two pairs of skis in this?
Can you get two pairs of skis in this?
I don't think so, it's intended for just one pair.
Best Answer
I really doubt it. I have AT bindings on my skis, which takes up more room, but I doubt that regardless of the binding you could get two pairs in this bag. Even if you did, they would probably mess each other up during travel.


Bag Dimensions:

76 x 6 x 6 inches.