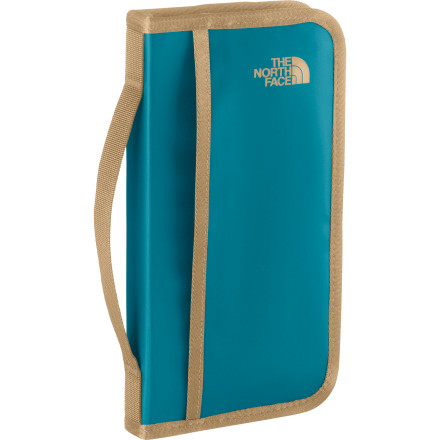 Organization is absolutely crucial to successful travel and The North Face Base Camp Seat Companion is the key. Slip your boarding pass in the external pocket and keep the passport, itinerary, and even cash in the internal organizer pockets. The North Face even included a removable metal bottle opener for those foreign libations.
Meh...
Familiarity:

I've used it once or twice and have initial impressions
I'm kinda surprised by all of the glowing reviews. It's handy to organize all of your stuff and all, but the build quality just isn't there with this item. The zipper snags, and leaves a big gap at the top even when fully zipped. Maybe mine is just from a bad batch? It feels overly made-in-china relative to its price.
Awesome organizer, helps prevent those 'where did my passport go' freakouts. Bright green, hard to lose. Keeps all your stuff together, which is a huge stress reliever.
travel just got a lot easier
This baby is perfect for any trips- store it in your glove box or carry-on, awesome size for plane tickets, passport, with slots for credit cards, and some zippers for receipts and stuff to keep your traveling needs organized. Makes all your essentials in one spot and easy to find. Plus, it's got a clip-in bottle opener/flathead screwdriver. Awesome.
Quality zipper, clean look, and functional!
Made from the same bomb-proof laminate as the rest of the base camp line - this offering has a place for your passport, boarding passes, SIM/MiniHD cards, cash, cards, and cell phone. Fits nicely into the mesh pouch inside my backpack and protects its contents from water and grime. This thing is great. It looks good - keeps me organized - and will last forever.
There are many organizers / sleeves out there, but this one does it in style with bombproof fabric and cool looks.
So I don't have one yet but I saw one of my fellow team mates with it and I'm pretty jealous. It's perfect for holding all your important travel documents to help you stay organized. Especially when traveling down to South America and they have you fill out all those annoying papers. I lost one of mine and I bet if I had this I wouldn't of and the customs guy probably would not of hated me! Get one! I know I am.
Bomber Passport and Ticket carrier!!!
I've been using one of these for carrying my passport, tickets and other documents for quite some time, and as far as I can tell, this thing will last forever!!!! Made from the same indestructible material as the base camp duffle.... I have the red one which makes it hard to lose....because who wants to lose their passport!!!