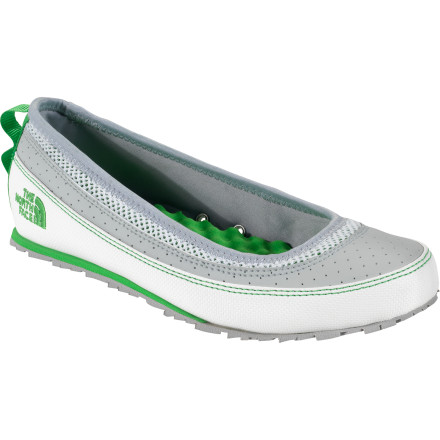 Slip into The North Face Women's Base Camp Ballet Shoe and get ready to give the performance of a lifetime. The gathered crowd at your make-shift stage in the mountains may not be comprised of the typical ballet connoisseur, but it's never too late to learn to appreciate a virtuoso performance. You'll certainly appreciate how this comfy flat dances over any surface from a rocky campground to city streets.
Perforated PU-coated synthetic leather and breathable mesh lets air circulate
Cushy textured footbed provides exceptional comfort
EVA midsole cushions your foot from jagged rocks and uneven ground
Partially-recycled rubber outsole helps you get a grip on slippery surfaces.
Regarding the size of base camp ballet...
Regarding the size of base camp ballet shoe, do you wear with socks?

my size is 7.5, what size do I need? 7 or 8 ?


Best Answer
You may wear thin socks with these if you wish, yes! You won't need anything too thick. In regards to sizing, I wear a 7.5 myself, and in all shoes I will size down to a 7. If you want a little extra wiggle room, then I would recommend an 8 in this model.
These shoes are amazing! I got the black ones.I originally wanted something super light for backpacking when the boots come off. I used them on a backpacking trip and they work very well for that purpose. The traction is great on dirt & rock( within reason). You probably don't want to hike around in them because they are thinner than regular boots( which also makes them lighter), but they are comfortable enough to walk around or hang out in. I've even worn them to work because they are so cute! They don't slip on my heel at all, either.

While in camp,I accidentally dumped some water on them when my foot was still in them and they dried pretty quickly. However, I completely drenched them at home to clean them off and it took over 8 hours to dry...so keep that in mind.
I love them!! They are sooooo comfy, those insoles are dreamy! Lightweight, easy to carry around in my gym bag...