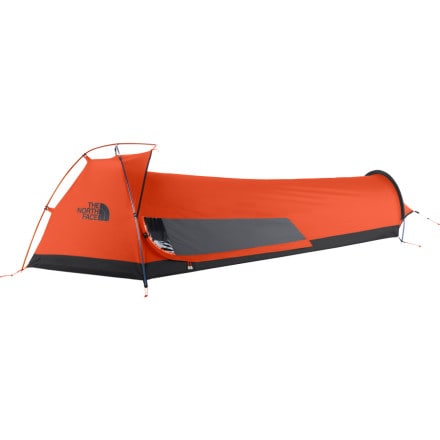 Description
A light, waterproof abode for one.
When inclement weather threatens to hydrate your solo backpacking trip, hop in The North Face Backpacking Bivy. This three-season bivy sack features a poled construction and fully waterproof shell fabric to give you a little more breathing room than traditional bivies. The fully taped bathtub floor keeps leaks from sneaking in during the night, and the high and low vents promote airflow. A side weather window lets you check outside without letting the storm in, and the color-coded poles make for a quick setup when the sky lets loose.
Share your thoughts
What do you think of the
The North Face
Backpacking Bivy 3-Season
? Share a...
Posted on
Can you fit two slim people (each 160 lbs)...
Can you fit two slim people (each 160 lbs) into this bivy? I don't assume it would be comfortable but I'm looking only for a shelter if we get surprised by a rain storm.
Responded on
Yes you can, but it will b NO FUN! for it is 60cm wide!!!
Posted on
Love this thing!
Finally had the chance to take this bivy out for a good field test and it performed very well. Had to deal with light showers and the bivy stayed nice and dry, (note: the water does beed up on the out side so be carefull when opening the door so water doesn't drip into the inside, this happened to me in the morning and got a few drops down the shirt. Good wakeup call i guess, no big deal)
The vents seem to work well with a slight breeze. Had a little condensation but nothing that a little air out wouldn't fix. Not enough to cause a problem.
I can't find anything wrong with this tent. It's light, Stylish, and roomy for what it is. I would buy it all over again. Sweeeeeeeet!
Just bought this bivy about a month ago and have not yet had the opportunity to field test it but have set it up a number of times to get a better feel for it. First off I would not say that this is Freestanding, you are going to want at least two stakes for this bivy to work right. Setup is a breeze, one pole at the feet and the other two up by your head, takes about 2 minutes to setup.
From the inside this bivy seems very comfortable, with plenty of space at the head of the tent. There are two vents, one at your head that can be zipped closed (could be a little bigger) and one down by your feet that can't be closed. The door opens up enough that you don't have any problems getting in or out. The zipper pulls have glow in the dark tips so you can find them in the dark.
Room to move around a little but not much extra to stow any gear. Took the hose to it one day and had no leaks or water in the inside. The sides of the Bivy/Tent do sag a bit in the middle and rests on your sleeping bag, could cause some condinsation. Completely staking it out may help this issue a little.
Packs up nice and small, about the size of my forearm from elbow to fingers.
I will right another review after a proper field test and this Bivy/Tent might get a 5 star rating.