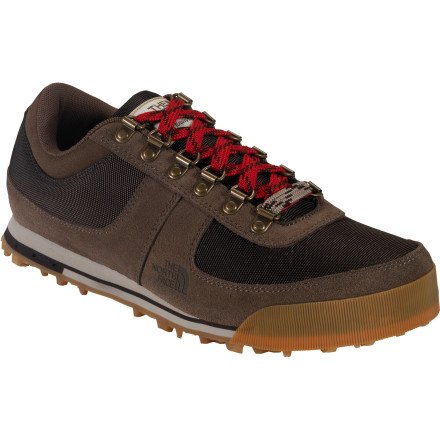 Sprint for the train while wearing your The North Face Men's Back-To-Berkeley Se Shoes. Hopefully those laces are tied tight. A grippy rubber outsole provides all the traction you need to scream up those slippery escalator stairs, and tough suede and polyester uppers protect your toes from heavy bags. Casual styling gives these shoes a look that's laid-back enough for a bar in Amsterdam, but classy enough to potentially sneak you into an upgraded, first-class seat back home.
What do you think about this product?
Have questions about this product?
Great looking shoe...lacks technical specifics
This is a great looking shoe and is super comfortable. Purchased it for the retro look to kick around for work and light hikes. Living in Juneau, AK it rains alot I thought this would be a good shoe for everyday wear in this rainy climate. The suede is not waterproof only slightly resistant as well as the mesh over the toe box. The sole is a contragrip style and does not give good traction on ice and snow..you would be better off on ice skates. Look else where if you need a lightweight technical light hike shoe. I have owned these for about 12 months and they have held together well for general office wear, a few light hikes and one gnarly mountain bike session!
Look good, but run a hair small.
Love the way the shoes look, but unfortunately it is a hair too small. I wear a 12 and need a 12.5 (which is not available at this time), but when I test fitted the shoes I was excited at the style and comfort of them, other than being slightly too small of course. I would recommend these shoes, but remember that my experience is only the 5 minutes I spent trying to convince myself that that would be ok if they were too small. I am reordering a larger pair (13), which may be too big, so I will update then.