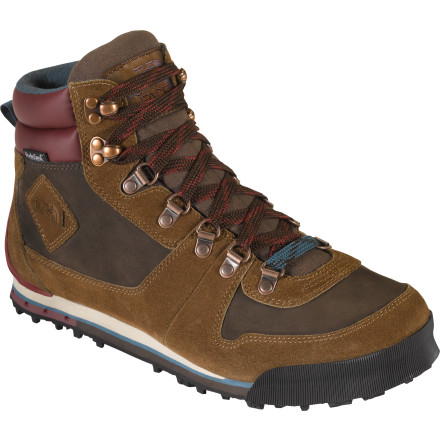 The North Face Men's Back-To-Berkeley 68 Boot might look like the boot your parents wore to peace rallies back when mountains where uphill both ways, but this tough winter footwear rocks modern tech and materials. Waterproof suede and nubuck on the outside and packed with Primaloft insulation on the inside, the 68 Boot fends off gnarly weather around town or at the mountain. Temperature-sensitive lugs dig into slippery surfaces so you get the most traction possible, rather than sliding around the parking lot until you eat it into a trillion dollar SUV.
When will these boots be back in stock?
Hi there,

We currently do not have any more of this model ordered to come in, sorry about that!
Grippy and spiffy!
Familiarity:

I've put it through the wringer

Fit:

Runs small
Chose these over the Back to Berkeley Co-labs mainly for the insulation. They are super warm! Although I never had them in anything colder than 30 degrees, I chose these for a backpacking trip to Iceland. definitely go up a full size if you plan to hike in these, I wear an 11 and purchased and 11.5 expecting some room and I had a little less than I wanted. With the Back to Berkeley Co-labs the 11.5 fit perfect but they lack the insulation. Even though they are swede the waterproof membrane really works well. There were times where the swede had absorbed water and looked wet but I could still stand in water and not have it enter the boot, but this is to an extent because I had water come where the laces are and that wasn't so waterproof. The grip on these things is rad! We explored around a ton of waterfalls and the slick lava rock was quite grippy with these guys on. One of the guys on the trip went in because he had some old flat soled boots on and slipped in haha. I read some reviews about the lacing system and I wast super stoked on it either. The top hooks for the laces don't work so well if you just lace them normal but once I looped them in reverse and wound the laces each time after to kind of lock them in place they never came out.. If you have any questions about how I lace my boots just ask and I will post a vid or some detailed pics. All in all I was very happy with these boots.. Especially on the Vatnajökull Glacier! :)
So far, very good...
Familiarity:

I've used it once or twice and have initial impressions

Fit:

True to size
I bought these boots only four weeks ago and have yet to put them to any real test, but my first impression is very favorable. They look great (seriously cool), and they fit true to my 10 medium size. The two times I've used them, they handled the rain with zero infiltration and the mud with excellent traction. My only complaint at this point is that they're hard on my shins, but that's likely because I'm not accustomed to high tops. I'm hoping they'll learn to give a little after a break-in period.



All that said, I bought these boots for autumn in Yellowstone, but it's still spring and I'm still in Florida. We'll see how I like them come October in Wyoming. If I remember, I'll update this review then.
Awesome
Familiarity:

I've used it once or twice and have initial impressions

Fit:

True to size
Best winter hiking boot I think. Backcountry really helped me get the right boot for what I wanted.
The North Face Back-To-Berkeley 68 Boot
Great causal boot for the city & beyond
Familiarity:

I've put it through the wringer
I live in Chicago and needed a causal boot to use on my way to work. It has been a pretty tough winter so far and these boots exceeded my exceptions. They keep my feet warm and dry in snow and the elevated train platforms. I would recommend bringing a pair of shoes to change into once you get to office, because you will work up a sweat!
Great boot once you find the right size.
Familiarity:

I've used it several times

Fit:

Runs small
These boots are incredibly comfortable and functional, but they do run a little bit small. I bought my regular shoe size (8.5) and it was way too tight. I exchanged it for a 9 and life was good. I definitely recommend sizing up at least a half size.
Rad, Warm, Casual Boots!
Familiarity:

I've put it through the wringer

Fit:

True to size
These boots are great! I work in a warehouse, and these are rocking my world! pair them up with some nice wool socks, and you should be set for hours! I wish they made them with out the hooks, I tie my shoes like a 3 year old and I'm always having to re tie them! But a double knot always keeps them tight!
very good
Familiarity:

I've put it through the wringer

Fit:

True to size
very good winter boots, confortable and warm
WARM!
Familiarity:

I've used it several times

Fit:

True to size
I got these for the style, I love this thrift store look. The tech inside these is far from a thrift store treasure though. These things keep me sooo warm I almost feel like I can ONLY wear them in winter... wow. On a fit note, I wear a size 8 so I got a size 8. These things fit like a glove. I wear them with my everyday socks though so if you're planning on throwing on a thick winter sock then make sure you plan accordingly by going up a half size.
awesome boot
Familiarity:

I've put it through the wringer

Fit:

Runs small
Great boot, but I did buy them in the spring and expected a little more breathability given the sneakerish style, but these boats are toasty. I've done a few 10 mile hikes in them and the soles are starting to wear, but I expected that. Still hold up great. My daily shoes for the last 6 months and still running strong. Definitely order a size up. Grip better than pretty much every other boot I've owned. Ice can still be a problem, but I've yet to find anything that has good ice traction without cleats/crampons/etc. Buy them. Ordering a second pair very soon.
Toasty parking lot stompers
Familiarity:

I've put it through the wringer
I like the boots, they're not rugged enough to be used hiking or off the beaten path, which is what I was kinda hoping for. A lot of people will tell you to order big because these run small (which is true) I wear a 10-10.5 and I bought some 11.5's... probably would have been better with 11 or even 10.5 just order up a half size, not a full.

These things are toooooasty. No problems with water or cold getting in them and I've worn them all through a Michigan winter and the rainiest spring in decades. That said, these breathe about as much as a rock on the ocean floor. Expect to sweat, also air out these boots frequently because they'll funk fast.
after a tour in afghanistan these boots proved to be tough and comfortable, held up ok. a little wear at the toes and the heel started to come up but nothing that slowed me down. love these boots and the stuff i put them through has impressed me so, great boot!
Warm and Stylish
Gender:

Male

Familiarity:

I've put it through the wringer
I am often trenching through mountain resort parking lots and wear these every time. They're nice and warm and keep the snow out with the higher boot style. It's not too firm on the ankles like I was worried about, feels like a regular sneaker. I don't have any plans of hiking in these boots come springtime because of the insulate liner. They will likely start to smell after a week of wearing them, just grab some Lysol and spray these suckers. Good boot, go buy them! Oh yea, they run a little small from what I read up online before buying, so I bought half a size bigger and they fit great!
Funky Feet
Gender:

Male

Familiarity:

I've put it through the wringer
Funky as in awesome retro style, but also funky as in zero breathability. Mine smell horrible. Sometimes I'll take them off and my socks will have pit stains in between my toes! On the good side they are very waterproof and warm! North Face style and quality. I would recommend these to anyone for trudging around in the fall and winter, but for warmer weather look elsewhere.
The North Face Back-To-Berkeley 68 Boot
Gender:

Male

Familiarity:

I've put it through the wringer
this is a great boot! i love the grip, the comfort, and warmth of the Berkeley 68... i've had mine for about 3 months now and and i have put them through plenty on this tour in Afghanistan. mountainous rock, water, mud, sand, and all for hours an hours on end. well made and stylish too with the many colors it comes in. a little too warm for in the vehicle and summer use, and the front toe guard of rubber has started to peel up on some corners but no serious issues and performance has been great.... overall this is an amazing winter mountain boot that will get you anywhere.
I bought these in January 2012 to be my daily drivers in the winter. I live an hour south of Cleveland, OH just outside the snow belt, so winter is cold, long and typically pretty wet. These boots are extremely comfortable (after a short break-in period), very dry and toasty warm.

I have not hiked in them, but I have walked to work on packed snow and ice and the traction is great. Also, I sized up (got a 13 when I typically wear a 12) and I have a little wiggle room, but the fit well.

I have one complaint, the stitching on the inside where the heel cup meets the leather ankle support is already coming undone in one boot, so I went four stars rather than five. However, if I had the money, I would buy a second pair in another color without hesitation. I love these boots.
Great classic styling, comfortable out of the box, waterproof in snow and rain (haven't tested them in serious wet conditions yet), just enough insulation. Great so far.
Very comfortable shoe, especially for walking/hiking. Walked around Geneva for two days and had no issues with the shoe or my feet. Very warm as well. Great traction on packed snow and ice.
Solid winter boot. I purchased the Viszla Brown/Molten Red for my father. It runs true to size & when I picked them up I noticed It is light in weight. These boots also come with brown laces if you think the red might be too much.