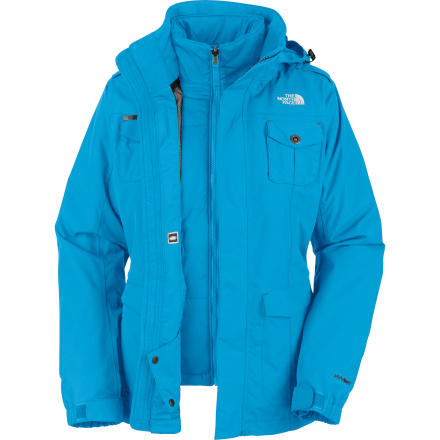 Love this jacket! Definitely happy I ordered it one size bigger. Very comfy and practical for Alaska- Extreme Cold, Winter Activities.
Very happy with purchase!
First of all, the shipping was fantastic! Received the jacket in about 2 days from when I placed the order with regular ground shipping. Imagine my surprise that I received it so quickly. I really love the jacket. The fit was perfect on me, it is a bit more of a fitted jacket, but I had no issue with that. I chose a size bigger than I usually wear because of the tight fit which turned out to be fine. Very warm and great to wear when it rains as well. Only thing I didn't like was the hood, it covers most of my face when I put it on and can be annoying.
I really wanted to love this jacket, the blue color is gorgeous. However, the fit is awful. It was tight on shoulders even in sizing up and the has really snug armholes. Not comfortable for moving around at all. I sent it back...waste of time and shipping cost.
I was not happy with this jacket. It runs very small. Have another North Face that runs true to size. Look for another jacket.
Wouldn't get anything else!
This North Face Avenge Triclimate was just what I was looking for! I'm an 5'6 athletic built woman I bought the Med Black Jacket for my ski trip to Denver and it was perfect. It kept me nice and warm on the slopes, while allowing me the movement I was looking for. The attention to detail is amazing, I love the snow skirt because because I hate getting snow in my pants and it is way more stylish then just a normal plain black jacket. Also if your like me and like to be even warmer for those really cold below -0 nights I had plenty of room to even add a Goosefilled vest under it all to add some extra warmth when chilling downtown. So overall if you are looking for a great fitted jacket that has some awesome detail, don't look any further. This was def. worth the buy!
I just got my jacket 3 days ago and I echo the other comments. I am a size 8 and I ordered a large and it fits great. So, make sure to go up one size because the style is a closer fit. I was surprised that the inner shell doesn't zip to the outer liner. So, you have 2 zippers to do if you wear both together. Not a big deal cuz I seem to only zip the outer liner. Last, I was surprised that the black inner shell was a "faded black" (kinda brown looking) instead of a dark black. Not sure if it should be this way or not, so I am going to contact customer service to find out. But overall I LOVE the jacket.
I do like the jacket but wish I would have ordered a size larger. I'm an 8 and ordered a medium which doesn't allow for big sweaters underneath. Also, I have pocket envy. The pockets could have been configured a little differently, and while the liner jacket does have one inside pocket, another one on the other side would have been great. I'm guessing that the designers were trying to keep the look less bulky. Otherwise, it's a good look, and it's warm. Bottom line: order a size up!
I bought one of these and it come from moosejaw it was the north face brand and it says is has a lifetime warranty well it's falling apart and has always been washed on delicate cycle, in cold water alone and air dries.... So what does this warranty mean???
I was looking for a good jacket for running around New York - and most importantly, taking my dog to the park. I like that I can change up the jacket. However, the inner jacket is a bit snug. (I would have ordered the next size up, but the outer jacket was even a little big. I am normally a size 10 and ordered a large.) The armpits are a bit narrow for me. Also, the bottom front pockets have a very narrow opening - I can't be wearing a glove and get my hand in there. Unfortunately, these were things I did not discover until after I wore the jacket - otherwise, I probably would have returned it. This is a good jacket, but too expensive for not being great.
looking for the jacket ingread backstrom...
looking for the jacket ingread backstrom wore in the warren miller movie, blue northface jacket i love it,,,,do you know which one it is
Hi Keelie - I think the jacket that you are talking about is The North Face Tempest Down Jacket - Ingrid skis in this one quite a bit, and helped design it.
Hope this helps