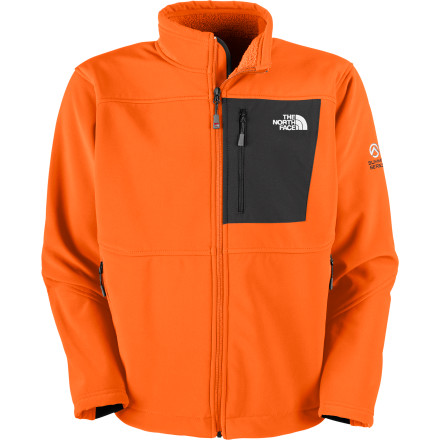 Detail Images

Community Images
The North Face Men's Apex Summit Thermal Jacket utilizes Polartec Windbloc on the outside to fend off biting ridge-line gusts and a high-loft fleece backer on the inside to prevent bone-deep chills.
All Summit Series gear is athlete tested and expedition proven to ensure you're getting the best outdoor apparel available
An alpine, hip-length fit ensures you don't have unnecessary materials to get tangled up in on your way to the summit or anywhere else
Soft-handed and stretchy Polartec Windbloc fabric completely blocks out the wind, is coated with DWR to fight off light moisture encounters, and is extremely durable
My go-to in winter/cold weather
Gender:

Male

Familiarity:

I've used it several times
For an expensive soft-shell, I would say this was well worth the money. I bought the jacket in October of 2011 and it has yet to let me down. You have to keep in mind it is not a full sized parka. With that in mind the windbloc works great and the thick fluffy fleece liner feels great! I can go outside in windy 20F weather without getting body chill. Fits good and snug like it should. Looks/feels like quality and it has stood up wonderfully so far. Main use has been more style/everyday than technical so I do not know how it would stand-up in those situations.
It takes a lot to get into my coat closet and this one passes the grade with flying colors. It is a solid jacket for days around the freezing mark, even with wind and light precip, also stylish and quality made, as expected from the TNF.



One caveat is the adjustment in sizing, I'm 5'10" with swimmers build (broad shoulders, thinner waist). I use to wear a medium in TNF but I discovered they are cutting the waist section larger to accomodate waistlines, so I ordered a small which fits perfectly for my body type, just snugger under the pits but not noticable.
excellent stylish jacket
Gender:

Male

Familiarity:

I've used it several times
this jacket is a little bit pricey but you really get what you pay for, warm enough for those days where a down is too much, it will hold itself on a rainy, and windy day with lots of style.
Warm and Stylish
Gender:

Male

Familiarity:

I've used it several times
After much debate between this jacket, The TNF Sentinel with Windstopper, and the apex bionic, I finally chose this one. The interior feels far more comfortable than any other softshell I've tried on , because of the high pile fleece. The fit is slim, or "Alpine" in North Face's terms. The sleeves fit well, with the cuffs being snug, but not too tight; just perfect. The only complaint I have are the armholes being a little tight sometimes, especially when driving and my arms stretched out. But when I'm not in that position, the jacket feels great. Wearing a sweater underneath is possible, but would make it a bit snug overall.



As I've been wearing it though, it HAS loosened up a bit, and has become less snug in the arms, now being more comfortable.



It doesn't breathe too well as I find myself sweating if it gets too hot. But overall, this jacket serves as a great softshell and even a light winter jacket. Warmest and most stylish softshell I think out there right now.
How is this jacket as a layering piece?
How is this jacket as a layering piece?
Best Answer
It really depends on what your using it for. I think if your layering for an high intensity activity this might be to warm, at least it would be for me. If you are layering for an activity where you stop and go often it might be perfect, especially if you would be carrying a bag to store it if you did not need it. It really depends on whether you run hot or cold and what temperatures you intend to encounter while using it. As far as fit, its meant for layering with an alpine fit so its a little slim in some spots to fit under a shell nicely.
Thanks. I'd be using it for skiing and other cold weather activities under a shell like an Arcteryx Theta SV or Crossbow.
Warm and Wind blocker
Familiarity:

I've used it several times
I have been using The North Face Denali jacket for over 3 years. Denali is a very good winter jacket but wasn't good for noreaster windy conditions. Did a lot of research and finally landed on the Apex Summit Thermal Jacket.



First impression OOPS did I made a huge mistake in spending $$$ compared to the Denali.



Jacket weight to warmth ratio is very good. Very warm up to 25 degrees and provides excellent wind block. Anything below that you may need a layer or a different jacket.



The jacket has 2 hand pockets. The pockets are OK size not big enough to stuff any puffy gloves or a scarf. Also pockets seems to be flimsy. I think it is more of a hand warmer use rather than to stuff things I guess. The chest pocket can hold a mobile phone nothing beyond that.



The jacket runs in small size. My Denali was Medium but the APEX Medium is little but tight around the shoulders/arm pit. But the jacket is flexible/stretchy.



The inside of the jacket has a very nice fleece lining. The jacket looks very stylish. This one is a keeper.
bought for son for Christmas, he loves it
I'm 5'8" and 150. Ordered a M and it fits perfectly. I was a little wary of the tapered arms (ie alpine fit) but now that I'm used to the fit it's excellent. The jacket is very warm for its weight and I've warn it in temps from 20-60 and was comfortable. The liner feels luxurious. I could do without the chest pocket but it does not detract from my overall opinion. I highly recommended this jacket
Nice and cozy!
Gender:

Male

Familiarity:

I've used it once or twice and have initial impressions
The material on the inside is the huge selling point for me. It's very smooth and comfortable yet breathes easy. The TNF soft shell material on the outside is great and repels water/elements easily. I got the black in large and it fits perfectly. I am 5'9, about 175lbs. The cuffs fit snug but not too snug. Overall this jacket is perfect for a sleek look, great functionality, and keeping you cozy during the cold.
Does the Apex Summit Thermal jacket come...
Does the Apex Summit Thermal jacket come in a womens. Have searched but no exact name match.
Yes it does, and has the exact same name. It's a great high quality made Jacket
Is this a re-named North Face Sentinel...
Is this a re-named North Face Sentinel jacket?
No,



The sentinel uses Windstopper exterior fabric
I am 6'4, 210 with 36 waist, I wear size...
I am 6'4, 210 with 36 waist, I wear size Large in other TNF jackets, what size should I get? I see that other people mention that as this jacket is an alpine fit it is on the smaller size, How much slimmer is an alpine fit compared to a standard fit?
It's a bit slimmer. Let me put it this way. If your stomach is flat, you'll be fine. If you have a beer gut like me, you'll be less fine, but not too bad.
No relation to the Apex Bionic, this thing rocks!
Size: 5'10, 160lbs. Small fits tight around armpits but everything else fine.

I switch this around with my "Arc'teryx Firee Softshell Jacket". Both are similar. Water resistant shell with high loft fleece on the inside. Warmth wise both jackets are similar, with TNF coming in at almost $200 cheaper than the Arcteryx.

Back to this jacket... Tapered wrists and forearms for a nice close fit. It fits snug all around. Does not have seamless shoulders like the Arc Firee. No internal pocket. No wrist gaiters. Collar fits close to neck, may chaff your chin/neck in dry/cold conditions. Quite snug around the armholes. Jacket length is longer than other jackets. Cinch cord pulls from inside handwarmers. This jacket is extremely warm yet breathable. Fairly stretchable. The handwarmer pockets flair out when open. Roomy in the gut area makes you look pudgy when sitting down. However, I find my self wearing this a lot. Looks great too.

Highly recommended especially at this price.
This jacket is much warmer than my North Face Apex Bionic Thermal jacket. Initially I was leary about spending so much $$ on the Summit Thermal, but trust me it is well worth it.

The Summit Thermal has a very high warmth to weight ratio. It has a lightweight soft and flexible exterior with a very high loft Polartec fleece insulated interior. My Apex Bionic Thermal has a high loft fleece lining too, but it is not as thick or warm as the Summit's. I also like how flexible and soft the exterior is on the Summit. The exterior on the Bionic Thermal is a lot more rigid, and becomes hard as a rock/inflexible when faced with very cold air. This never happens with the Summit Thermal.

Wow is this jacket warm for a softshell jacket! I was out the other night in 20 degree windy conditions with nothing but a single T-shirt underneath and I was fine. The Polartec Windbloc exterior is fantastic. I felt the harsh winds blowing against the jacket but could feel no cold whatsoever. The jacket is also waterproof which is always nice.

m 5'7" 130 lbs, and the size S fits me perfect. The sleeve length fits well unlike my Bionic Thermal which has slightly longer sleeves. The Summit Thermal does have TNF's "Alpine Fit", so the sleeves are a lot slimmer and more form fitting. Not the best for wearing a lot of bulky layers underneath, but with how warm this jacket is you don't need many. I also noticed the jacket has a slightly longer length around the waist, but still fits great.

If you are looking for a softshell jacket that does it all, this is the one to get! It is windproof, waterproof, flexible, warm, soft, lightweight, and stylish. It's hard finding a good softshell nowadays that has all these features in one. Don't let the price scare you off, it is well worth it.
This is a great jacket. I have the Denali and have worn that for years, however it does poorly in the wind, so I have searched for a replacement and this is it. The only down side I have is that, since it is fleece lined, it runs a little smaller. I am a L in the Denali, and a L is a little tight. (fine if wearing a T shirt or similar thickness under, but if you want to layer it gets snug).
Great jacket, but the sleeves were about four inches too short for the 6'4" recipient. A little odd, since he has another North Face jacket that fits fine.
Does the Summit Thermal Jacket have interior...
Does the Summit Thermal Jacket have interior pockets like the McKinley or Thermal Chromium jackets?
No internal pockets on the newest model of this jacket.
does the sleves have closers on ends of...
does the sleves have closers on ends of this summit tnf jacket?
No, the cuffs don't have the traditional velcro hook and loop closures. They have a stretchier material sewn in that helps the cuff stretch and form around your wrist.
I bought the "North Face Summit Thermal," and assume that this is this season's version of the "Apex Summit Thermal." I'm not really sure what the differences are, if there are any.

Upon opening the package, I first thought "ohhh crap… I just spent $230 on a 'spring' or 'fall' jacket." It is extremely light and pretty thin too. I took off my current winter coat which I was comfortable in all day and tried the Summit Thermal on. Within minutes I was uncomfortable warm indoors. Mindblowingly warm for the minimal bulkiness and weight of this jacket.

It took a minute for me to figure out the hem cinch. It loops all the way around the hem, out a hole near the bottom of the zipper, and loops upwards back into the pockets, where it ends with a knot and a plastic end piece. In the bottom, there are little disks on each side that you have to push to depress. Then pull the loop on each side of the jacket, and the bottom of the jacket is tightened. I had no idea that those little punch disks were in there.

As for construction and quality of feel, I'd say 10/10. This jacket seems very well made. The Summit Series logo on the sleeve is a cool touch, IMO.
For sizing, I am 6'3" and weigh 170lbs. I am very skinny, although muscular. I was on the fence about getting a large versus the XL, and I chose large. I chose right. There seems to be an inherent bagginess in the "stomach" area, making this jacket suitable for those with a beer belly. You may ask why I did not say "suitable for layering." Well, the arms are pretty tight. For a mid layer under this, choose a slim fitting layer. A big poofy insulation layer will make the arms feel tight. I do have pretty nice biceps though. A good combo with this would probably be the Under Armour Base 3.0 Crew or the 4.0 Crew, with a reasonably slim mid layer. With the hem cinched, the jacket fit pretty damn well and looks really, really nice. Wish the waist area and the sleeves on the jacket were in proportional diameters, but I won't take a star off because it doesn't affect MY situation too badly.

The pockets are nice, but I'd imagine putting any heavy items in them would cause discomfort. Seems like they are meant for light items, and the interior lining of the pockets is pretty light.

I haven't had a chance to really put it to the test, because I just got it a couple hours ago in the mail. Maybe I'll update later. Hope this all helps.