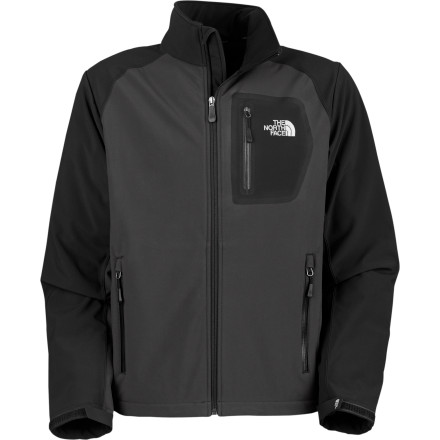 Community Images
Stand up to gnarly, windy conditions with The North Face Men's Apex Mckinley Softshell Jacket. Whether you're on pitch five or hanging around town, this windproof jacket's fleece lining and stretchy shell fabric provide just enough warmth and weather protection. And with its recycled Apex ClimateBlock fabric, the Mckinley Softshell also has a soft spot for the environment.
I am 6'1" 180 lbs with a long torso, and the large fits perfectly. I can wear it comfortably with a tshirt or with my patagonia nano puff. I wear it all the time around town, and on warm days snowboarding. The sleeves are long enough, and I really like the adjustable cuffs. They work well with or without gloves. The fabric is light and flexible, and adequately windproof. Go-to jacket.
Great running jacket - completely wind proof.
I bought this jacket to use as a running/cross country ski jacket for my winter escapades in suburban Chicago. It has served my purposes well so far. It is adequately water resistant and completely wind proof. It is very attractive in the red color, which also helps visibility. The chest pocket is great for an IPod Nano. I have added several iron on reflectors, which have negated the need for my ugly reflective vest without making this coat unnattractive. I would rate the temperature range for running in this jacket as 20-40 F. I just wear a long sleeve Under Armour cold gear shirt underneath and I'm good to go.
How does this compare with the Apex Bionic,...
How does this compare with the Apex Bionic, and why is it better?
Best Answer
Trevor,
They look to be very similar with the following differences: The Mckinley is lighter (although I'm not 100% certain of this), has a performance fit, and the biggest difference is the material. The Mckinley uses recycled TNF Apex Climateblock fabric, which has a nice 4-way stretch. I hope this helps you.
From what I have researched, the weight is practically the same. As for the fabric, what makes the Apex climate block a better fabric, and is it really worth the extra cost?
I bought the The North Face Chromium Thermal...
I bought the The North Face Chromium Thermal Softshell Jacket - Men's, I love it but must run small cut for North face, it was a little tight so I returned, then I saw this soft shell The North Face Apex Mckinley Softshell Jacket - Men's. Does anyone know which would be warmer? I am looking for a soft shell I can put on a warm base layer under and wear skiing. So I need the warmest they have in North Face.
Does anyone know also which jacket is warmer, The North Face Apex Bionic Softshell Jacket - Men's, or this Jacket on this page?????
they will be pretty much the same. I have the apex bionic and it's practically the same as this one.
Awesome Jacket
Gender:

Male

Familiarity:

I've used it several times
This is my fourth apex jacket and I love the material. This is a step up from the apex bionic jacket and fits a little larger then the bionic. I am 5'8" and 160 lbs, I got a Large, and it is a little loose on me. But fits perfect with a sweatshirt under it. Can be used almost year round.
It's not perfect -- the sleeves are a bit too long and the body too loose (par for the course with TNF). However, the jacket is well-constructed AND it's virtually windproof with excellent water repellency. For the money ($90 for the last season's color), you'll be hard-pressed to find a better jacket for the money. I'd buy it again.
Wore the Mckinley recently in 25-35 mph winds and not a wisp came through. I'm 5'10" 180 lbs. with an athletic build and the medium fits me very well. If it weren't for the fact that the sleeves are about and inch too long, this would be the perfect softshell.
Great style, fairly functional
Bought this jacket in TNF black when it was on sale, and I'm glad I did. Had purchased a Patagonia Guide and found it way too loose and not particularly functional in regard to wind/water-resistance. I had also tried on the Apex Bionic at a local store before purchasing the McKinley. The McKinley is definitely my favorite of the three. It's cut much narrower than the Guide, plus the fabric is much more water-resistant. Compared to the Bionic, the difference is mostly looks - the sealed pockets and upgraded zipper drawstrings look deluxe, and the TNF black with welded chest pocket look very sweet as well. The fit is fairly similar to the Bionic, and while I was hoping this one would be warmer, I don't think it is. I'd say it's good down to 45 degrees with a long-sleeve baselayer, but beyond that, it won't do much good without an insulation layer. The fabric is definitely much stiffer than the Guide and a bit stiffer than the Bionic. I'm sure this helps with water/wind, but it takes it one step closer to a hard-shell, without being a heck of a lot warmer. I bought this mostly for around town - my Patagonia hard shells serve hiking, boating, and skiing duties. One other thing - the wrist closures are pretty poorly designed - there is no "slack" built into the wrist itself, so when you cinch it closed, the wrist folds over on itself, which is pretty darn uncomfortable. I think this is similar on the Bionic...it's not a problem on the Guide, because the Guide doesn't have adjustable wrists! This was a selling point for me on trading the Guide for this, but in retrospect, TNF doesn't really have it right either.
dose this jacket have a draw string...
dose this jacket have a draw string bottom
Yes, there's a cinch cord.
dose this jacket have a draw string...
dose this jacket have a draw string bottom
Yes, there's a cinch cord.
On the apex Mckinley, dose this jacket...
On the apex Mckinley, dose this jacket have a draw string.
bottom.
Yes, there's a cinch cord.
I was looking at this and the Apex Bionic...
I was looking at this and the Apex Bionic but there are so many similar North Face jackets, I don't know really what's what. I'm looking for a jacket that is strongly wind and water resistant (Climateblock rating preferably or the Goretex version because of breath-ability). For now I'll use it as a hiking, light skiing and casual jacket that I'll pair with a tougher shell later on for cold weather skiing, etc. Any insight would be a huge help!
I dont own any APEX, but I cant say enough good things about my North Face softshell. Works great in the wet Southern Ontario winters
Did you find it to be breathable when your body heats up?
Sick jacket for lightweight and durable as hell. use it for work outside works great and holds up well!! good for temps outside ranging in the 30 to 40s with a light breez keeps you very warm and toasty with a base layer underneath.
A great all around jacket. Function on the trail and mountain, pretty water resistant. Can take on some good sized rain and snow storms. It covers a wide range of temperatures, plus looks good for around town!
How many polyester percent?
How many polyester percent?
, ☃bcs_badge_alumni_label☃
Best Answer
94% Recycled polyester, 6% elastane ClimateBlock.
North Face Apex McKinley Softshell Jacket
Best jacket I ever purchased.
This is a great lightweight jacket to wear on chilly weather. Very durable.

I originally ordered a medium then returned it because the sleeves were too long. When i got small size, it fit perfectly. Order one size smaller than you would normally buy.
The only ski jacket I needed
As the forecast in CO for the last week of February called for some sun and high 30s, I went looking for a soft shell to pack along with my insulated parka for colder days. Found the TNF McKinley and liked classic style and technical fabric, and the reviews sounded like it would do the trick.

I've skied with my TNF Freedom shell pants and Hot Shot daypack for a couple seasons, and the McKinley soft shell didn't disappoint. Weather ranged from high 10s to 40s, and the jacket was perfect on all days. Base layer, tneck 100 weight fleece vest and jacket was all I needed on the cold and snowy days, and on the sunny warmer ones, the tneck and the McKinley got it done.
So good that I had to buy it twice
If it were legal, I would marry this jacket. I rock it when it rains in the warmer months when around town or over my Patagonia R2 during the colder months. This jacket is extremely water repellent (probably the most out of the softshells I have used). I use this for kayaking, hiking, and fly fishing; and this jacket performs well at all these activities. Evidently, word is out regarding how awesome this jacket is because mine got stolen at a bar one night and I found myself at backcountry the next morning buying another one.
I was one of those that loathed North Face for a long time because so much of it that I saw I knew would never see a trail. I figured it was more city-worthy than backcountry ready. A friend of mine cured me of that bias by vouching for this softshell. It's a comfortable, stylish gust-buster. Only thing I'll note is that the arm pits feel just a little high -- hard to describe, but that's the best I can think of -- and the material used to tighten down the armsleeves at the wrist feels more like plastic than fabric. These really are mild points, and the wrist fastener has shown no signs of weakness so far.